McAdams and Morford Building
Introduction
Named for pharmacists McAdams and Morford who occupied the corner space of the building from 1898-1994, the McAdams and Morford Building was constructed in 1849. The building was also known as Melodeon Hall when it was home to a theater and meeting space in which Robert Jefferson Breckinridge spoke to a crowd in 1861. Breckinridge ran as a compromise candidate in 1860, and his remarks helped build support for Kentucky's Unionists. The state remained loyal to the Union during the Civil War, although sentiment was not united and the state maintained separate Union and Confederate governments during the war.
Images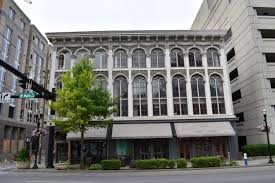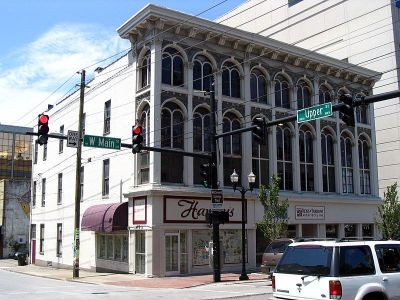 Backstory and Context
Mrs. Carol Mayfield, on her nomination form to The National Register of Historic Places, outlines the main significance of the McAdams and Morford Building as "its emulation in cast iron of the architectural designs of the Renaissance," noting the building's cast iron facade which was added sometime after 1857. Largely borrowing from Italian Renaissance architecture, the building features large windows, rounded arches, and intricate mouldings. At the time of its addition to the National Register in 1973, the building was believed to have remained largely unaltered, save for the replacement of a damaged roof, since the addition of the cast iron facade. In 2017, however, a vehicle damaged the building and during repairs it was discovered that previous remodeling efforts had covered arches which were part of the cast iron facade. It is unclear when exactly this remodel was made.
The second floor of the building housed Melodeon Hall, a theater and gathering place which sat 300. The first performance in the Hall was held on January 1, 1850. Notable speakers include Dr. Robert Breckinridge on January 4, 1861, whose comments on the State of the Union address is credited with "saving Kentucky for the Union" (Mayfield). Later, Colonel Frank Wolford would speak out against Lincoln's Emancipation Proclamation in the theater on March 11, 1864.
In addition to its place on The National Register of Historic Places, the McAdams and Morford Building is also included in the "Survey of Historic Sites in Kentucky" which was completed in 1971.
Sources
Mayfield, Carol. Nomination Form - McAdams and Morford Building, National Park Service. October 25th 1973. Accessed August 30th 2020. https://npgallery.nps.gov/NRHP/GetAsset/NRHP/73000799_text.
Eblen, Tom. After truck crashed into one of downtown's oldest buildings, an architectural discovery, Lexington Herald Leader. March 7th 2017. Accessed August 30th 2020. https://web.archive.org/web/20180924220715/https://www.kentucky.com/news/local/news-columns-blogs/tom-eblen/article136994558.html.
Image Sources
https://commons.wikimedia.org/wiki/File:McAdams_and_Morford_Building_(1).jpg

https://www.gpsmycity.com/tours/historic-buildings-5930.html

Additional Information