Under the Hood Cafe & Outreach Center
Introduction
Under the Hood Cafe & Outreach Center is a revitalization of the Oleo Strut GI coffeehouse from the GI anti-Vietnam War movement. During the Vietnam War a number of GI coffeehouses sprang up near different forts throughout the United States. These establishments gave the soldiers a place where they could freely vocalize their feelings on the war. Similar to the GI coffeehouses from the Vietnam War, the Under the Hood Cafe and Outreach Center wishes to provide a safe place to voice their opinions and seek help from others. This organization offers services for GI's and veterans. It is primarily run by Vietnam Veterans and others that are anti-war but pro-GI rights. Several of the participants are people who refute the necessity or do not condone the entrance of the Iraq War.
Images
A photo of the front of the Under the Hood Cafe & Outreach Center.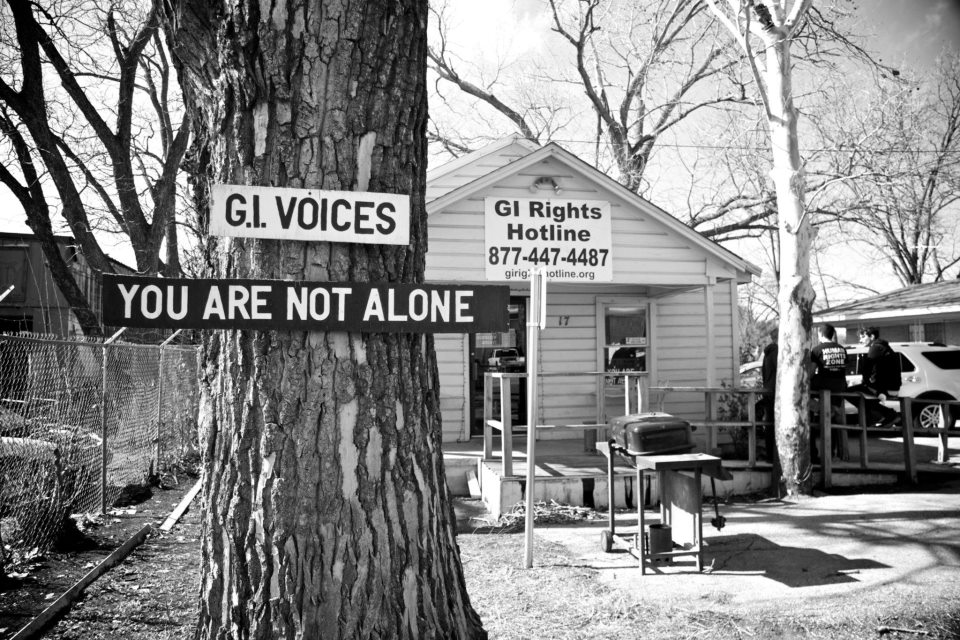 A photo of the Under the Hood Cafe & Outreach Center logo.

Backstory and Context
Under the Hood is a revitalization of the Oleo Strut, the GI coffeehouse that developed during the Vietnam War. GI coffeehouses were a place where GIs could spend their leisure time pleasantly without restriction. Later on the GI coffeehouses developed into places where GIs could express their anti-war sentiments without being reprimanded. These places also organized protests and offered legal guidance for GIs during this time of counter-culture against the Vietnam War.
The Oleo Strut was the GI coffeehouse located in the Killeen/Fort Hood community. Today now Under the Hood is the reemergence of this idea. Cindy Thomas, Tom Cleaver, Jeff Segal, Alice Embree and Fran Clark developed the idea to create a new GI coffeehouse in the Killeen area. The Fort Hood Support Network (FHSN) was introduced and developed fund raisers and located a spot to begin their project. They were able to establish Under the Hood in 2009.
This new GI coffeehouse offers advice and information to servicemen and veterans of the war in Iraq. This establishment also offers programs and training for the servicemen who participate in the activities or are interested. The UTH has created a strong bond between other organizations with similar intention such as the Iraq Veterans Against the War (IVAW) and the Military Law Task Force.
For more information on the original Oleo Strut please see "Oleo Strut".
Sources
"Our History." Under the Hood Cafe Outreach Center. Fort Hood Support Network, 2013. Web. 15 Oct. 2014. .
Additional Information