Manpower Park Dedicated in Honor of Admiral Stanley R. Arthur
Introduction
One of several parks for residents of Jackson, Manpower Park was made possible by the donation of land to the city by the Manpower Training Center. On June 9, 2014, it was officially renamed Manpower Park, dedicated in honor of Admiral Stanley R. Arthur. A graduate of Jackson High School, Admiral Arthur served as a Naval officer for 38 years. Between the years 1992-1995, Arthur was the second-ranking officer in the U.S. Navy as Vice Chief of Naval Operations. In his early career, he was a combat pilot in Vietnam, and he retired from the Navy in 1995.
Images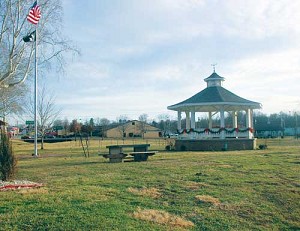 The Manpower & Technical Training Center, ca. the 1960s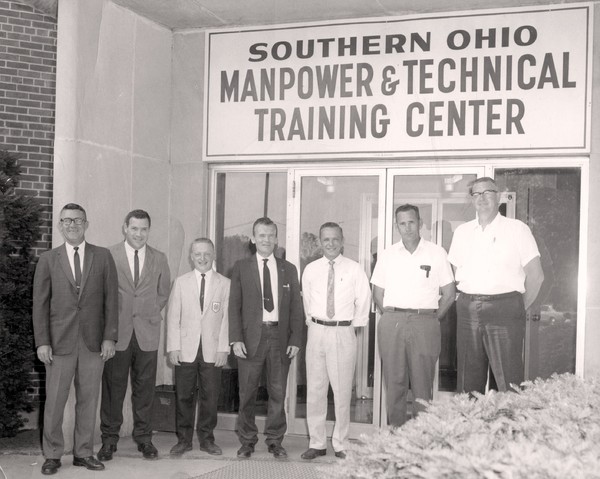 An aerial shot of the Globe Iron Company plant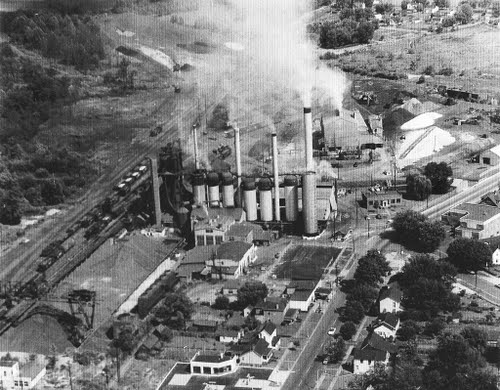 Backstory and Context
Most of the park is located on land that was once owned by the Globe Iron Company. Globe Iron was started by Welsh immigrant Thomas T. Jones who purchased and consolidated Globe Furnace and Fulton Furnace into a single iron company. Thomas T. Jones's grandson, John E. Jones, was the innovator of silvery pig iron (a type of iron with a high concentration of silicon). Silvery pig iron had special applications due to its high heat tolerance, and Globe Iron became the world's leading manufacturer of silvery pig iron. The second leading manufacturer of silvery pig iron was Jackson Iron and Steel Company (JISCO). John E. Jones was a major shareholder of JISCO.

Globe Iron was in operation for nearly a century. The Globe plant was located across the street from Manpower where the Jackson Square Shopping Center is currently located. Thomas T. Jones began the company in 1872, but in 1960, an explosion occurred at Globe that killed one person and injured several others. The damage to the facility was too extensive to be repaired, and Globe Iron was closed permanently. As a result, Globe offices located across the street were converted into the Manpower Training Center.

The Manpower Center operated as a vocational school to help train workers for new jobs after Globe Iron closed. In the early 1980s however, this training facility also closed. The park was named in honor of Manpower after the company donated the land to the center to create this park.
Sources
Globe Iron and JISCO Furnace- The Furnaces of the 20th Century. jacksonohio.org. . . http://www.jacksonohio.org/history.html.
Sherman, Bradford. Jackson City Counsel Passes Manpower Name Change. The Telegram. . . http://www.thetelegramnews.com/Main.asp?SectionID=6&SubSectionID=83&ArticleID=20908.

Our Town: Jackson
. United States of America. WOUB Public Media, 2017. DVD. https://woub.org/2017/03/27/woubs-our-town-series-selects-location-of-next-episode/
Additional Information