Neal-Kilgore Collier Funeral Home
Introduction
In 1866, 28-year-old carpenter Robert Henderson Kilgore moved from Pikeville, Kentucky to the bustling river port town of Catlettsburg. Kilgore opened a cabinet and furniture shop on Front Street overlooking the mouth of the Big Sandy River. After being asked by many residents to build coffins, he responded to the needs of his customers by serving as an undertaker starting in 1868. Kilgore rebuilt his shop following an 1875 fire and increasingly focused his efforts on providing mortuary services for the residents of Catlettsburg. From its origins as a subsidiary business, Kilgore created this funeral home on Panola Street in 1888. The funeral home has changed hands over the years but has served the residents of Boyd County for over 140 years and is the county's oldest continuously operated business.
Images
The Neal-Kilgore Collier Funeral Home has operated from this building since 1888.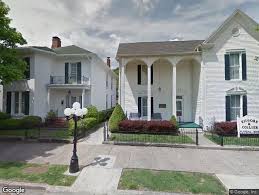 Backstory and Context
In 1916, Henry W. Collier joined R.H. Kilgore, and the business became the Kilgore & Collier Funeral Home. The company was later operated by Robert Hutchinson, grandson of Mr. Kilgore, and Nellie S. Collier, the widow of Mr. Collier. In later years, Russell Compton and Allan Collier, the son of Henry and Nellie Collier, served as funeral directors under the tutelage of Robert Hutchinson.

In 1958 Robert Hutchinson suddenly and unexpectedly passed away and Russell Compton and Allan Collier became partners and continued to operate the business. Finding themselves shorthanded, they hired a young man born and raised in the Big Sandy's gate city, Mike Neal. Neal worked with Compton and Collier until 1978 when he opened the Neal Funeral Home on Center Street. After nearly a decade, Mike returned and purchased the Kilgore & Collier Funeral Home in the fall of 1987, and the business has been known as the Neal-Kilgore Collier Funeral Home since that time.
Sources
History. Neal-Kilgore Collier Funeral Home. Accessed May 01, 2018. http://www.kilgorecollierfuneralhome.com/about-us/history.


Additional Information