Searight's Fulling Mill
Introduction
William Searight acquired this farm on property that had once belonged to George Washington. He built this mill around 1810. Searight is credited for realizing that rural fulling mills (fulling is a process in the creation of woolen cloth) could not compete with urban mills that were serviced by canals and combined each process of cloth production in one area. Recognizing that fulling mills would no longer be viable businesses, he sold this property before the mill became unprofitable. The building is now owned by the Parks and Recreation Authority of Perryopolis. It was added to the National Register of Historic Places in 1973.
Images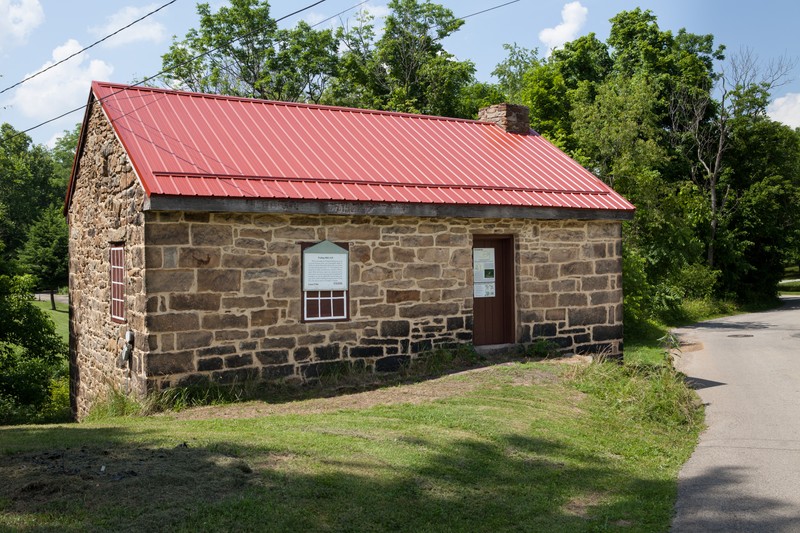 The mill from another angle showing the lower level that drops off to Washington Run.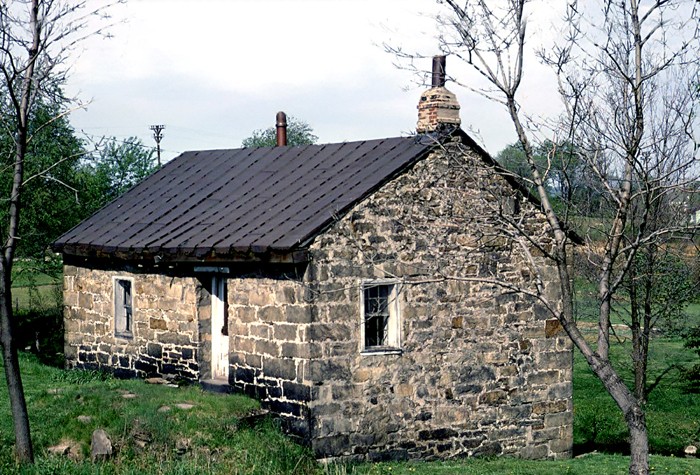 An artist's rendition of the mill.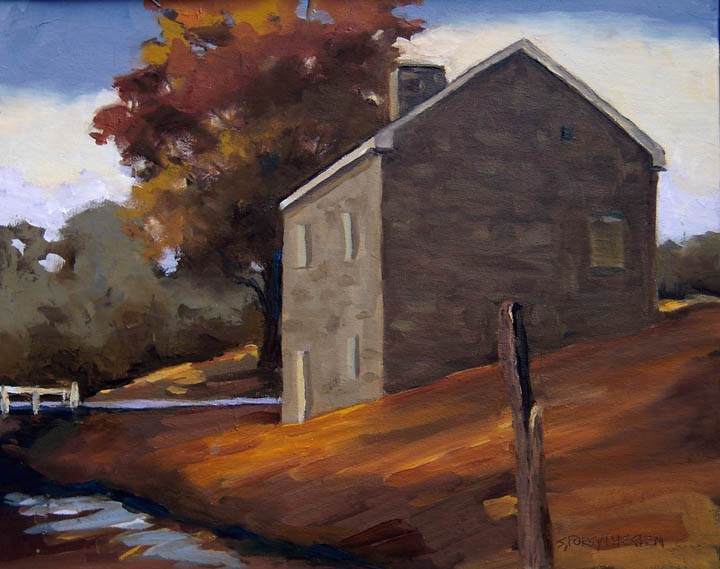 Backstory and Context
This is the only free-standing fulling mill in the United States. The 20' x 30' sandstone building was built with a gable roof and was only in service as a fulling mill until 1820 when Searight closed its doors. It was later converted into a dwelling.
Fullling is a process by which the fibers of a cloth are both cleaned and shrunk in water, creating a more dense and therefore more durable and valuable textile. Prior to the adoption of mills to complete this process, people known as fullers used their feet to trample cloth while it sat in a trough of water.

In later years, fulling mills were erected along streams and applied the energy of moving water to power the mill. As early as 1815, Jonathan Hewitt had a fulling mill and a saw mill at the mouth of Washington Run. The site was bought by John Bradley who later established a brickyard a short distance north of Washington's Grist Mill.

William Searight was of a settler of Scotch-Irish descent who became an influential landowner. After Searight sold this mill, he purchased a farm on Route 40, which is now known as Searight's Crossing.

Sources
Nelson, S.B. "Nelson's Biographical Dictionary and Historical Reference Book of Fayette County, Pennsylvania Containing a Condensed History of Pennsylvania, Fayette County and of the Boroughs of the County." S.B. Nelson Publisher, Uniontown, PA. 1900. Accessed December 4, 2016. https://books.google.com/books?id=t80wAQAAMAAJ&pg=PA266&lpg=PA266&dq=searights+fulling+mill&source=b...
"Searight's Fulling Mill." Explore PA History. Accessed December 4, 2016. http://explorepahistory.com/attraction.php?id=1-B-25BF
Additional Information