St. Nicholas Byzantine Catholic Church
Introduction
Also known as St. Nicholas Greek Catholic Church, the St. Nicholas Byzantine Catholic Church is a historical Catholic church in Perryopolis, PA. It was built between 1912 and 1918, and is a 30 feet by 60 feet yellow brick building in the Byzantine Revival style. It has a cruciform plan and the gabled roof is topped by four onion domes. The church served a community of Rusyns who originally settled in the area prior to 1907.
Images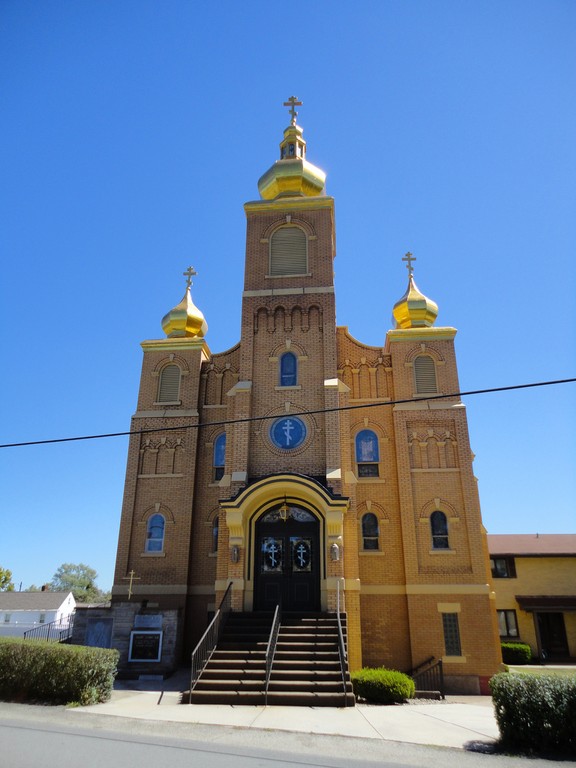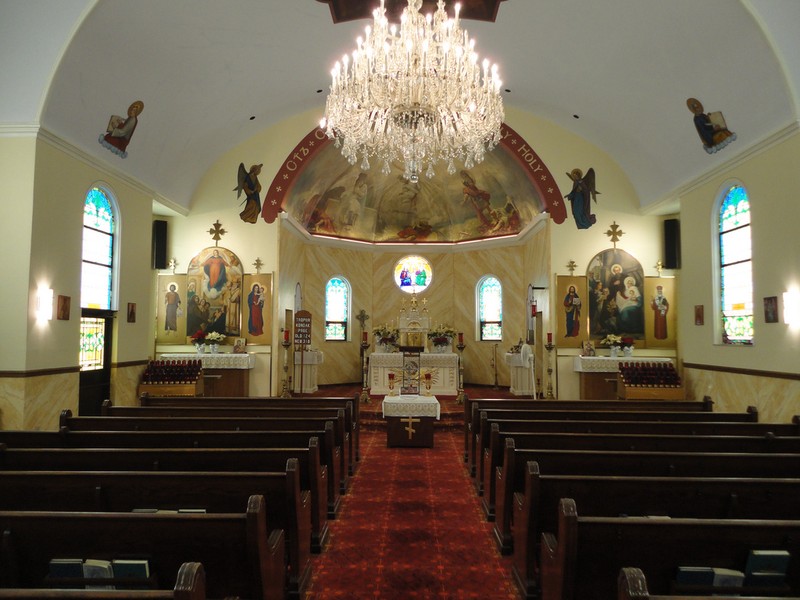 Close-up of the church's two of the church's towers and onion domes.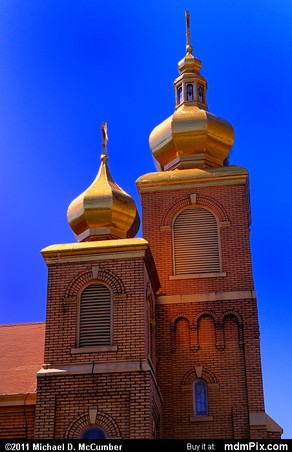 Backstory and Context
When the Slavs settled in Fayette and surrounding counties of Pennsylvania at the turn of the 20th century, their numbers became a source of security and comfort. They did not dread traveling a distance to a place of worship, as some walked as far as 13 miles to St. Stephen's Greek Catholic Church in Leisenring. The decision to build a church created a controversy over the site.

The parish was organized in 1911 and named after St. Nicholas to memorialize the Darr Mine disaster of 1907 in which 239 miners died on St. Nicholas Day. The basement was completed in 1912 and services were held there until the church was completed in 1918, having been delayed by the onset of World War I. A crystal chandelier was imported from Czechoslovakia and a bell from Moscow and the ceiling murals were painted sometime during the 1920s.
Other than the addition of the rectory in 1966 there have only been minor changes made to the church over the years. It was added to the National Register of Historic Places in 1997.


Sources
National Register of Historic Places Registration Form: St. Nicholas Byzantine Catholic Church. United States Department of the Interior/National Park Service. June 1997. Accessed December 2, 2016. http://www.dot7.state.pa.us/CRGIS_Attachments/SiteResource/H098959_01H.pdf
Additional Information