Sulgrave Club
Introduction
The Sulgrave Club is a private women's social club, similar to New York's Colony Club. It is headquartered in a Beaux-Arts mansion designed by George Cary near Embassy Row in Washington, DC. It has also been known as the Wadsworth House. The National Register of Historic Places recognized the building in 1972.
Images
Sulgrave Club by Kurt Kaiser on Wikimedia Commons (CC0)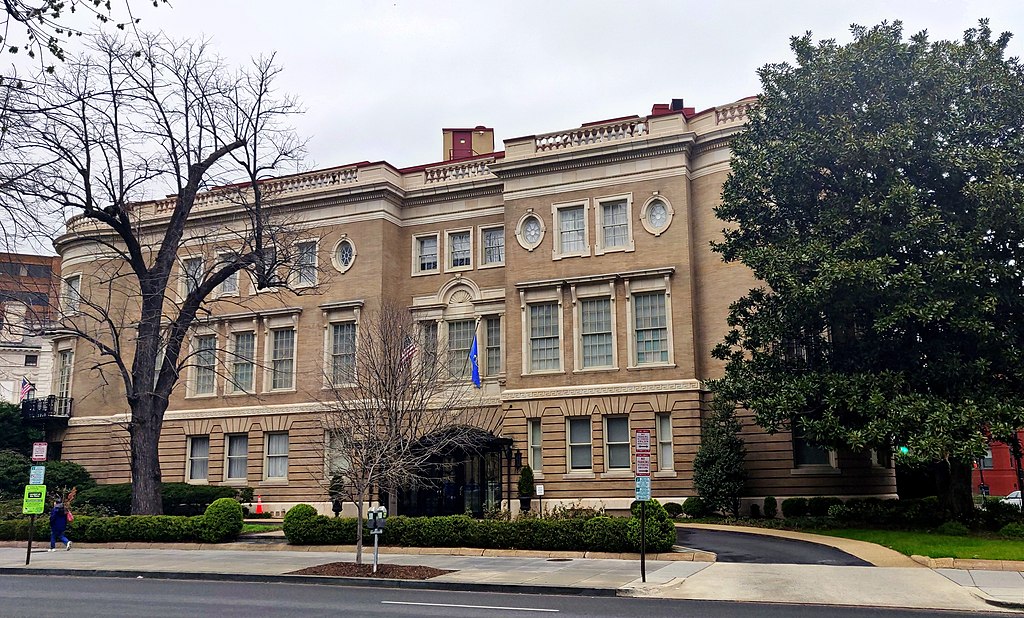 Backstory and Context
Architect George Cary constructed this house, which takes up an entire city block, around 1900 for Herbert Wadsworth (1851-1927) and his wife, Martha Elbert Blow Wadsworth (1864-1934). Wadsworth, a wealthy gentleman farmer, hailed from Geneseo, New York, and built the mansion primarily for entertaining. Charles A. Langley was the chief builder for the project. The house follows the shape of its triangular lot, and features curved faces on two corners. It rises three and a half stories from a cyma capped limestone base. The exterior is yellow Roman brick with cream-colored terra cotta trim. Broadly, the building's style is Beaux-Arts, incorporating aspects of French and English 17th and 18th-century architectural styles. Many details in the interior of the house remain intact. The eclecticism of the house reflects the mood of the period in which it was built. One of the city's first internal garages was the mansion's "automobile room."
The American Red Cross briefly occupied the mansion as its headquarters, when Wadsworth transferred it to the organization in 1917. After Wadsworth's death in 1927, his widow Martha owned the building for five years. Miss Mabel Boardman purchased the building in 1932 for use as a private women's club. The original entrance was changed in this same year as part of a remodel designed by Frederick H. Brooke. The new entrance was also renovated in 1952.
Boardman lived across the street from the mansion, and sought to found a private club to sponsor social, artistic, literary, and musical activities. Furthermore, she and her associates bought the Wadsworth house to prevent it "from falling into undesirable hands" (Ganschinietz 3). The Sulgrave Club took its name from the ancestral home of George Washington and the inspiration for its organization from the Colony Club in New York and Chilton Club in Boston.
Sources
DC Preservation League. Herbert Wadsworth House (Sulgrave Club), Historic Sites. Accessed November 16th 2020. https://historicsites.dcpreservation.org/items/show/632.
Ganschinietz, Suzanne. Sulgrave Club, National Register of Historic Places Inventory -- Nomination Form. February 26th 1972. Accessed November 14th 2020. https://npgallery.nps.gov/GetAsset/dcbc97c5-1d36-49e4-80a0-9a4f86bae857/.
Image Sources
https://commons.wikimedia.org/wiki/File:Sulgrave_Club_front.jpg

Additional Information