German Historical Institute
Introduction
The German Historical Institue, located near Dupont Circle, is an archive that is dedicated to promoting research in German/European and Jewish history, History of the Americas and transatlantic history, and global and transregional history. The institute is the largest institute for historical research in the US not affiliated with a university. The building it occupies, named the Second Blair House, was constructed in 1911.
Images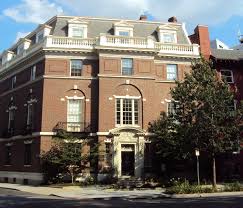 Backstory and Context
The German Historical Institue was founded in 1987 as an independent nonprofit organization. In 2002, they joined the Max Weber Foundation, which coordinates an international network of humanities institutes. The GHI also has a Pacific Office in Berkley, CA. The team at GHI performs advanced research and publishes many papers in top peer-reviewed journals. The GHI has a non-lending reference library that anyone in the general public may access, although it is temporarily closed due to COVID-19.
The house that the GHI is currently located at was chosen as the headquarters for GHI in 1988. The building was built in 1911 for the Blairs, a wealthy DC family, designed by architect Jules Henri de Sibour.
Sources
About Us, GHI. Accessed January 3rd 2021. https://www.ghi-dc.org/about-us
Washington's Second Blair House: 1607 New Hampshire Avenue, an Illustrated History, GHI. Accessed January 3rd 2021. https://www.ghi-dc.org/publications/publication/publication/second-blair-house
Additional Information