Grauman's Egyptian Theatre
Introduction
The Egyptian Theatre, completed in 1922, was one of many movie theaters in the United States whose design was inspired by the nation's interest in Egyptian architecture and culture following the search for and discovery of King Tut's tomb. Showman Sid Grauman and real-estate developer Charles E. Toberman worked with designers to give the picture palace an "oriental" feel with details such as painted ceilings, arches, and hieroglyphics. Over the decades, the Egyptian was remodeled to meet the needs of larger screens and other equipment. It was restored in the 1990s by American Cinematheque, a Los Angeles organization that works to celebrate and present motion pictures through festivals and other events.
Images
The Egyptian Theatre today.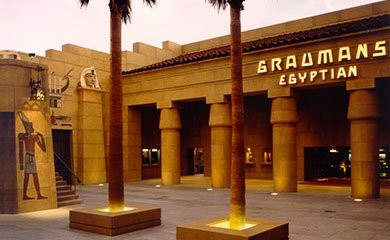 The Egyptian Theatre in the 1920s.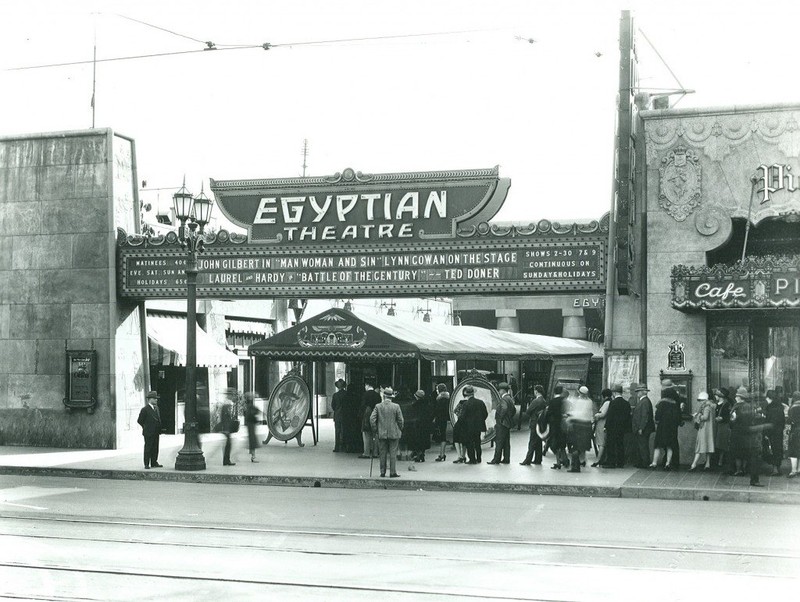 A railway in front of the theater in 1924.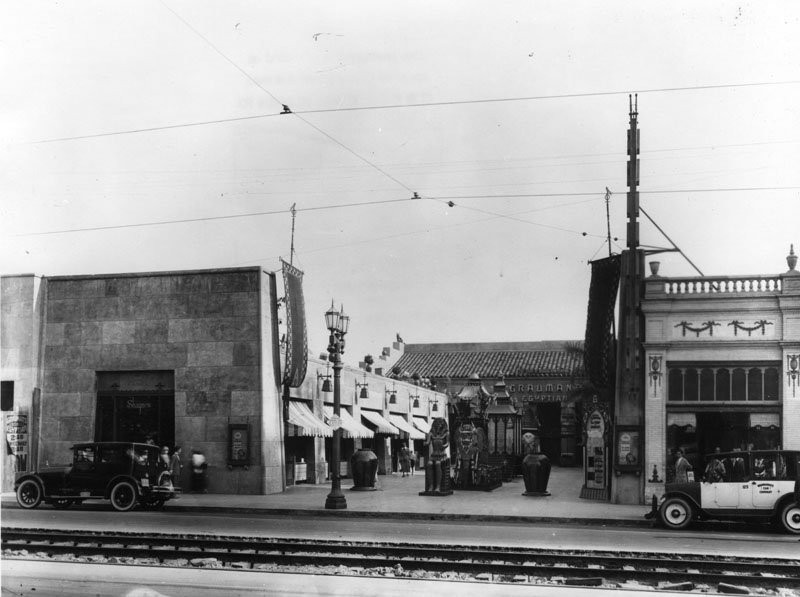 Inside the theater in 1922.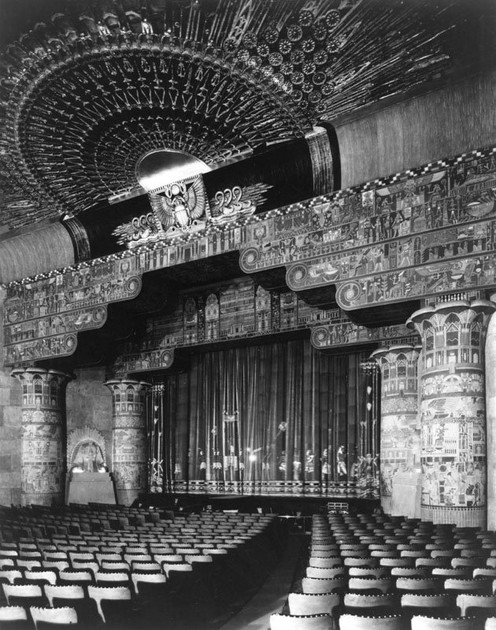 Backstory and Context
The Egyptian Theatre was first conceptualized by real-estate developer Charles E. Toberman in 1920. He saw potential for a grand movie palace, like those in downtown Los Angeles, on Hollywood Boulevard. To help him execute his vision, Toberman enlisted the help of showman Sid Grauman. Grauman was born in Indiana and moved west as a teenager to produce stage shows with his father. He entered the film industry as an exhibitor and went on to build such opulent theaters as the Metropolitan and the Million Dollar. He joined Toberman, and the two men began work on what they intended to be a Spanish-style theater. Plans changed with the discovery of King Tutankhamen's tomb in Egypt. Americans were then fascinated with anything Egyptian, so while the theater kept its Spanish red tile roofs, the other features were redesigned.
Grauman's Egyptian Theatre opened October 28, 1922 with the premiere of Robin Hood starring Douglas Fairbanks. Celebrities in attendance included Fairbanks and his wife Mary Pickford, Charlie Chaplin, director Cecil B. DeMille, and producer Jesse L. Laskey. On the thirty-by-seventy-foot stage, Grauman's carefully organized prologues played out. Actors, sometimes those in that evening's showing, would act out skits relevant to the plot of the evening's feature. The prologue for The Ten Commandments, which premiered at the Egyptian nine months after its grand-opening, included over one-hundred actors in elaborate costumes. In 1927, Grauman left the Egyptian for his and Toberman's new Chinese Theatre taking his extravagant publicity stunts with him.
Fox then leased the theater for its films until 1944, when MGM took over. United Artists ran things from 1949 on. In the 1950s, theaters had a hard time winning over audiences from their new competitor: television. To entice patrons, the Egyptian was given a makeover with a new marquee and entrance. The large stage inside was demolished in 1955 to make room for a larger screen. An even larger, curved screen was installed in 1968, at the expense of the proscenium arch that had been adorned with columnns and hieroglyphics. It was during this period, the 1950s and 1960s, that the Egyptian returned to its roots by showing long-running "road movies," which opened in a few towns at first, then made their way to new places.
The theater closed in 1992. The following year, the structure was named a historic-cultural monument of the city of Los Angeles. The 1994 Northridge Earthquake complicated plans for restoration, but rather than let the historic building be demolished, the city sold the dilapidated theater to American Cinematheque, a preservationist group founded in 1984. In the years that followed, plans were drawn up and a renovation, costing more than ten million dollars, began. Signs, marquees, and ceilings with Egyptian-style motifs were all restored. The original box office windows and a hand painted ceiling in a restroom were rediscovered. The auditorium, with 2,071 seats, was split into a 650-seat theater and an 83-seat screening room, named for donor Steven Spielberg. The theater reopened December 4, 1998 and remains a fully-functioning movie palace today.
Sources
A Brief Egyptian Theatre History and Other Interesting Related Facts. The Egyptian Theatre. Accessed February 21, 2018. http://egyptiantheatre.com/egyptian/eghistor.htm.

The Egyptian Theatre Today. The Egyptian Theatre. Accessed February 21, 2018. http://egyptiantheatre.com/egyptian/egypt.htm.

Crust, Kevin. Who was Sid Grauman anyway? Master showman, seasoned prankster and Chinese Theatre impresario. Los Angeles Times. May 18, 2017. Accessed February 21, 2018. http://www.latimes.com/entertainment/movies/la-et-mn-chinese-theatre-sid-grauman-20170518-htmlstory.....

Purdum, Todd S. Hollywood Is Digging Out To Restore Its Heritage; Phoenix Motifs of Grauman's Egyptian Theater Take on New Meaning 75 Years Later. June 09, 1998. Accessed February 21, 2018. http://www.nytimes.com/1998/06/09/movies/hollywood-digging-restore-its-heritage-phoenix-motifs-graum....

Egyptian Theatre Events. Amerian Cinematheque. Accessed February 21, 2018. http://www.americancinemathequecalendar.com/egyptian_theatre_events. Photo source.

Satterfield, Bob. Laurel and Hardywood - Convention Update #45. Laurel and Hardywood. Accessed February 21, 2018. https://www.laurelandhardywood.com/newsletters/laurel-and-hardywood-convention-update-45/. Photo source.

Early Los Angeles Historical Buildings (1900 - 1925). Water and Power Associates. Accessed February 21, 2018. http://www.waterandpower.org/museum/Early_LA_Buildings%20(1900%20-%201925)_Page_3.html. Photo source.

Handy, Bruce. Watch Like an Egyptian. Vanity Fair. January 29, 2008. Accessed February 21, 2018. https://www.vanityfair.com/news/2008/01/egyptomania200801. Photo source.


Additional Information