Musso and Frank Grill
Introduction
Author-Uploaded Audio
Musso and Frank Grill prides itself on being "the oldest restaurant in Hollywood," which emblazons on the historic sign visible from Grauman's and the Walk of Fame. While other famous Hollywood restaurants such as the Brown Derby and Chasen's did not stand the test of time, Musso's has the magic touch that keeps it going. Since 1919 when Frank Toulet opened the Hollywood Blvd. joint, it has remained a staple in Hollywood frequented by stars from Charlie Chaplin to Johnny Depp. Musso and Frank holds fast to its traditions, the same family has run the restaurant since the 1930s and the bartenders and waiters still wear the iconic red coats. The feeling of nostalgia and welcoming service is alluring and timeless.
Images
Musso and Frank Grill on Hollywood Blvd.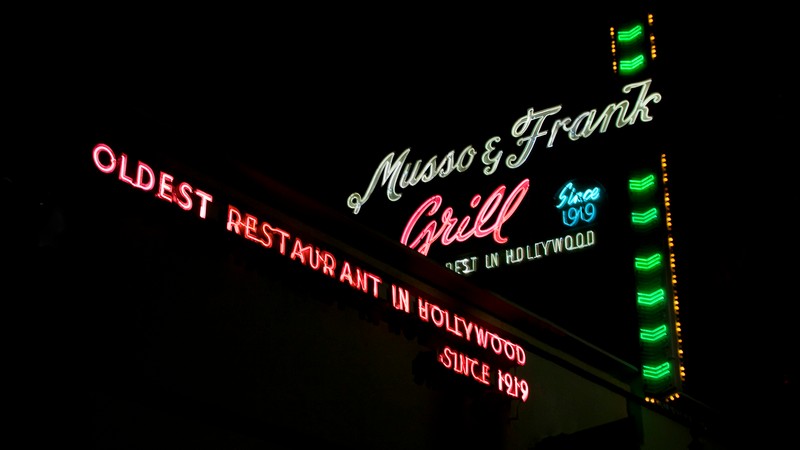 Musso and Frank in the 1920s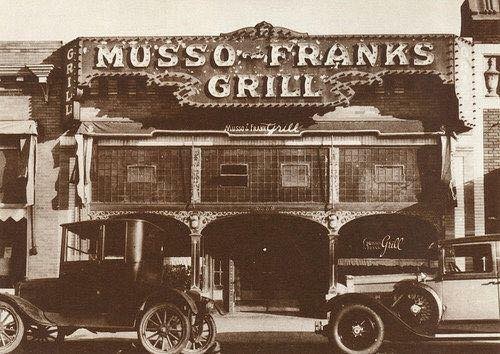 Singer and actor Frank Sinatra with actress Lauren Bacall at Musso and Frank, 1957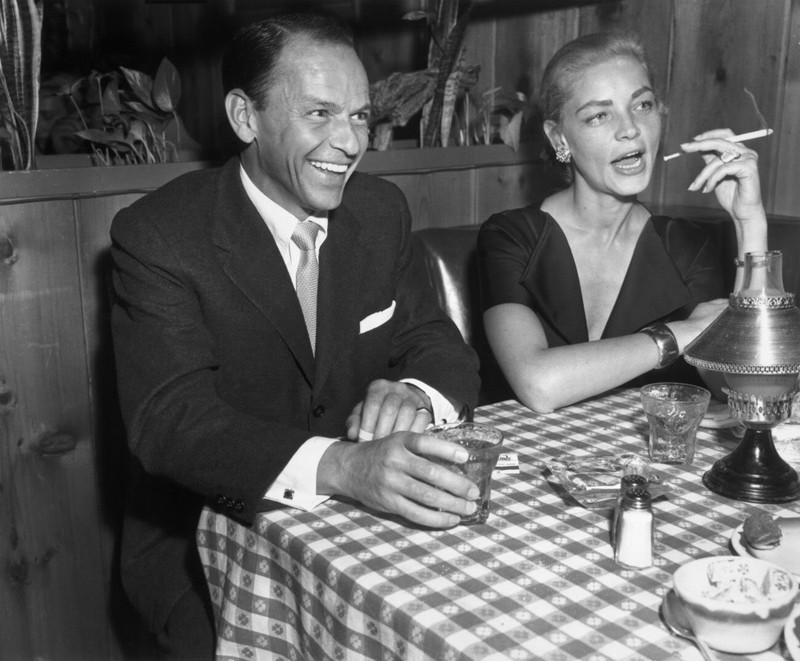 The main dining room as it appeared in the 1950s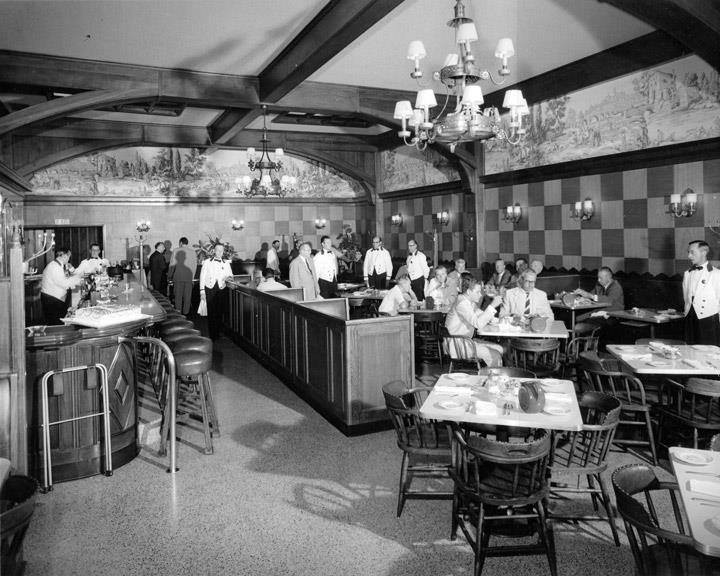 Musso and Frank dining room featuring the classic red leather booths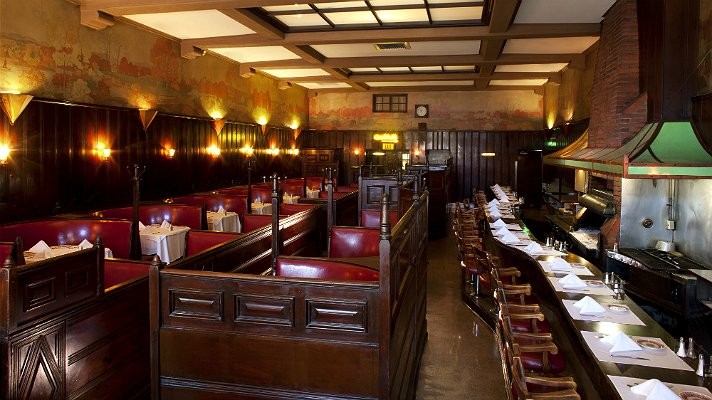 Backstory and Context
Author-Uploaded Audio
What would become the legendary Musso and Frank originally opened at 6669 Hollywood Boulevard as Frank's Café in September 1919, named after its founder Frank Toulet. Shortly thereafter, Toulet partnered with Joseph Musso and changed the name of the restaurant to Musso and Frank. French chef Jean Ruse created a classic American cuisine menu that has changed little since its establishment. In 1927, Toulet and Musso sold the grille to another pair, Joseph Carissimi and John Mosso, who moved the restaurant next door to 6667 Hollywood Blvd. Musso and Frank continues to be operated by descendants of John Mosso.
From time Musso and Frank Grille opened, it has been a hot-spot for stars. In the early days Charlie Chaplin was a regular, along with Douglas Fairbanks, Mary Pickford, and the beloved Rudolph Valentino. One legend has it that Chaplin would challenge Fairbanks to a horse race from the studio to Musso's; lunch was on the loser. Chaplin's preferred dish was the Roast Lamb Kidneys. 
Through the 30s and 40s, faces such as Greta Garbo and Gary Cooper frequented Musso's, as well as Humphrey Bogart and Lauren Bacall. In the 1950s came Marilyn Monroe and Joe DiMaggio, Elizabeth Taylor with Mike Todd, Eddie Fisher, and Richard Burton, Groucho Marx, Jimmy Stewart, and more. Musso's has always requested respect and privacy for their famous customers, but for celebrities looking for exclusivity, the Back Room, which opened in 1934, was at their avail.
Not only was Musso and Frank a place for the Hollywood elite, but also literary giants of the 20th century. In the 1930s, studio heads began hiring well-known authors to write screenplays in the hopes more moviegoers would flock to theaters. At the time, the Screen Writers' Guild was located across the street from Musso's, so writers would retreat to the Back Room for privacy. F. Scott Fitzgerald could often be seen sitting in one of the red leather booths proofreading his work. William Faulkner was such a regular in the Back Room he was allowed behind the bar to mix his juleps. Years later when the Back Room bar closed and moved to the New Room, faces such as Joseph Heller and Kurt Vonnegut could be found chasing the ghosts of the greats who came before them.
When visitors walk into Musso's, the pink and green pastoral wallpaper remains intact, just as it did in the days of Chaplin, Sinatra, Bacall, and Monroe. They come for the renowned martinis and signature flannel cakes. More importantly, they come for nostalgia, to see what Hollywood's oldest restaurant is all about and why it remains so popular. In a world constantly evolving and modernizing, there is something strangely comforting about the faded wallpaper, extinct telephone booths, and hospitable waiters and bartenders outfitted in the classic red jackets. Whatever the secret to longevity and success, Musso's has found it. 
Sources
Restaurant History. The Musso & Frank Grill. Accessed June 17, 2018. http://mussoandfrank.com/history/.  
Hollywood History. The Musso & Frank Grill. Accessed June 17, 2018. http://mussoandfrank.com/history/.  
Literary History. The Musso & Frank Grill. Accessed June 17, 2018. http://mussoandfrank.com/history/.  
Ryder, Caroline. Musso & Frank's Hollywood Legend. Chandelier Creative. June 19, 2017. Accessed June 17, 2018. https://www.chandeliercreative.com/article/musso-and-frank-s-hollywood-legend.  
Additional Information