Bernheimer Residence and Gardens
Introduction
The German brothers Eugene and Adolph Bernheimer arrived in California in 1911 and hired New York architect Franklin Small to build a ten room Sino-Japanese style mansion and gardens 250 feet above Hollywood Boulevard. The complex was completed in 1914, and became the permanent residence of the brothers and the location in which they kept their enormous collection of Oriental art and artefacts. When Eugene died and Adolph moved to his equally stunning residence in Pacific Palisades the Hollywood complex was abandoned until it became a gathering place for the area's celebrities in the blossoming TV and movie industry in the 1950s. The house and landscape has been used extensively in a number of films, including I Spy, Route 66, Perry Mason, My Three Sons, Lethal Weapon 4, Rush Hour, Memoirs of a Geisha, Gone in 60 Seconds, Kill Bill, and Sayonara, starring Marlon Brando.
Images
Aerial view of the Bernheimer Residence and Gardens (www.image-archeology.com)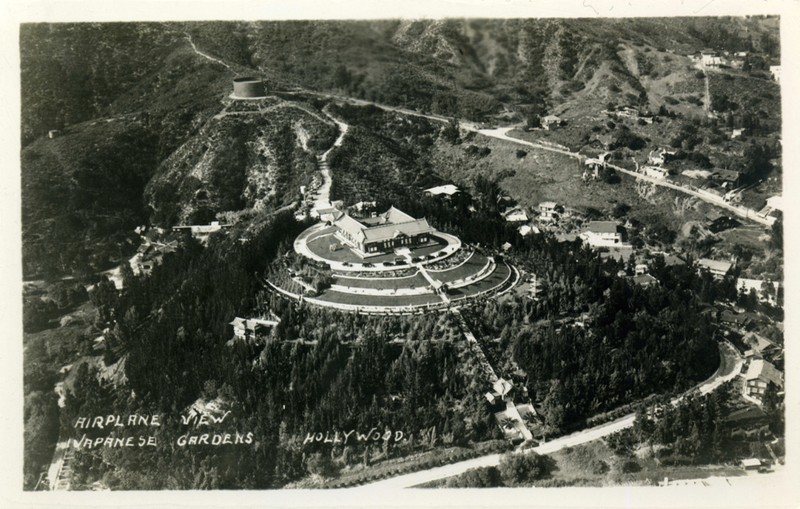 Bernheimer Residence and Gardens looking up from Hollywood, with the Magic Castle in view (www.image-archeology.com)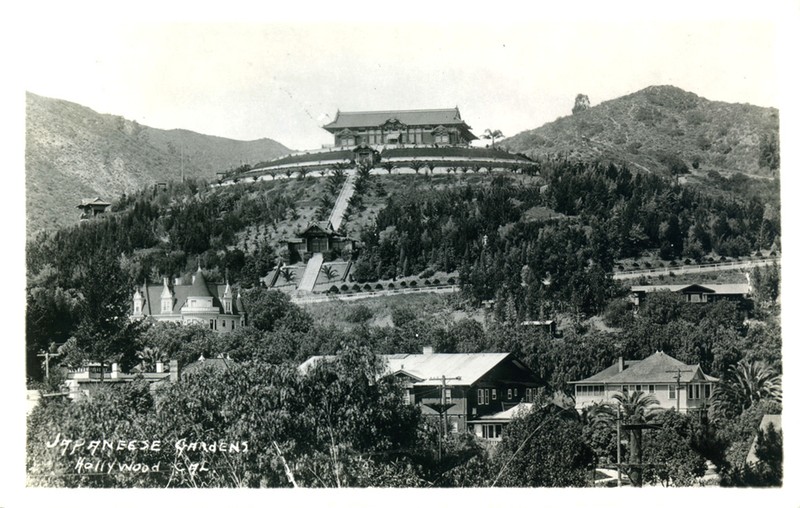 Bernheimer Residence and Gardens (www.image-archeology.com)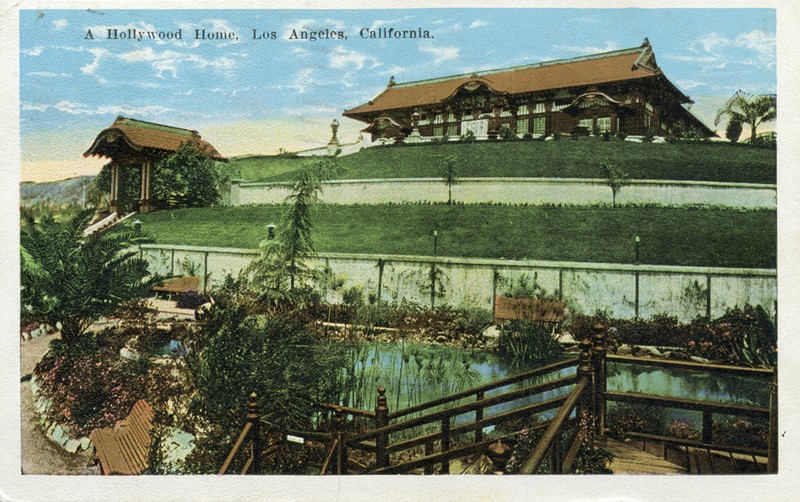 Interior courtyard of the Bernheimer Residence (www.image-archeology.com)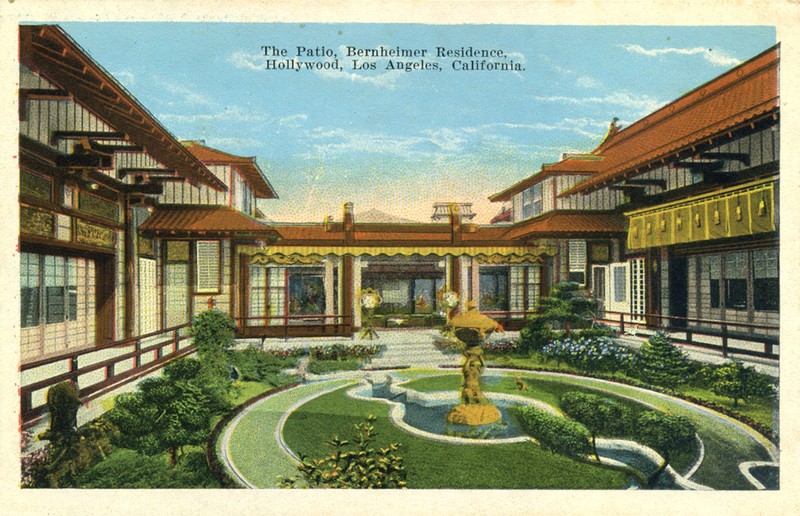 Bedroom in the Bernheimer Residence (www.image-archeology.com)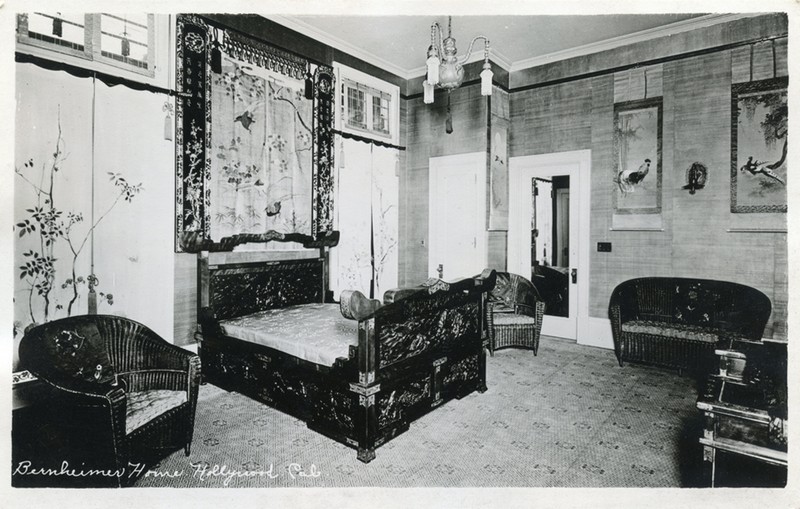 Lounge in the Bernheimer Residence (www.image-archeology.com)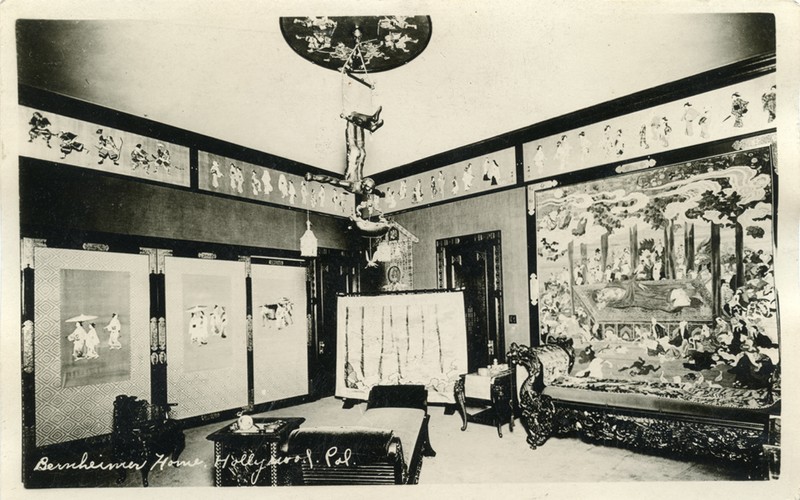 Backstory and Context
The Bernheimers came from a family-run silk and cotton business, Bear Mill Manufacturing Company, that were based in New York and through which they made their millions. Over a period of fifty years they travelled across China, Korea, and Japan for the company, and during this time amassed a staggering collection of art and artefacts.
The entire complex is a fusion of Asian styles, containing a mixture of Chinese and Japanese architecture and decoration. It is believed to be an exact replica of a palace found in the Japanese province of Yamashiro, though the Bernheimers advertised it to be inspired by the Summer Palace of the last Empress Dowager in Beijing. It consists of a square-shaped mansion enclosing an open central courtyard, in which a five hundred year old Korean fountain was placed. The structure was made of redwood and cedar, and covered with Japanese-style accoutrements decorated with lacquer and gold. Decorative bronze dragons peeked from timber joists, and the rooms inside were furnished in a staggering mixture of American portraits and chaise lounges alongside Asian hanging scroll paintings, silk wallpaper, and lacquer furniture.
There were eight acres of gardens and ponds surrounding the house. Decorative trees, pavilions, and statues were placed around the landscape, including a six hundred year old pagoda that was brought intact from Japan, and is now the oldest structure in the city. Visitors could push miniature Japanese boats around the ponds, or be shuttled around the grounds on a Taiwanese pedicab. The mansion and gardens were situated on an enormous manmade hill – the cost of landscaping alone was an estimated two million dollars. A long, steep staircase leads up from a Japanese gatehouse on Hollywood Boulevard, climbing through a series of concentric terraces that were decorated with exotic flowerbeds planted in a rounded-arch pattern.
When both brothers Adolph passed away much of the collection was sold, and the residence became a military school, and later a brothel and apartment complex. During the 1940s anti-Japanese resentment following the attack on Pearl Harbor led to the building's vandalism, and its condition was allowed to fall into a poor state. In 1948 Tom Glover bought the house and surrounding land, and rediscovered the Asian structure hidden behind the veneer of the last two decades. He restored it to its former glory, and during the 1950s the building found new life as the headquarters of the "400 Club", a group of staff and celebrities in Hollywood's film industry. Many acclaimed figures, including Buster Keaton, Irving Thalberg, and Cecil DeMille would have ambled through the house and gardens. The Monkey House, originally built as a miniature zoological display, was converted into an apartment and rented to Randy Prince, a Hollywood figure made infamous by his wild parties.
Today Tom Glover's son, Thomas, continues running the building as the Asian-fusion Yamashiro restaurant and is committed to preserving this piece of Los Angeles heritage for future generations.
Sources
"Bear Mill Mfg. Co. v. Federal Trade Commission." U.S. Court of Appeals for the Second Circuit. July 5, 1938. http://law.justia.com/cases/federal/appellate-courts/F2/98/67/1508273. "Yamashiro's History." Yamashiro Hollywood. Accessed February 23, 2016. http://yamashirohollywood.com/about/yamashirohistory.
Additional Information