Hollywood and La Brea Gateway
Introduction
The Hollywood and La Brea Gateway structure, designed by production designer Catherine Hardwicke, was dedicated in February 1994. It is also commonly known as Gateway to Hollywood (possibly because it stands at one end of the Hollywood Walk of Fame) and The Four Silver Ladies of Hollywood. The four ladies in question are the subjects of the art piece: Dorothy Dandridge, Dolores del Rio, Mae West, and Anna May Wong. These four actresses were chosen to represent the multi-cultural history of Hollywood.
Images
The Hollywood and La Brea Gateway gazebo (photo by Floyd B. Bariscale)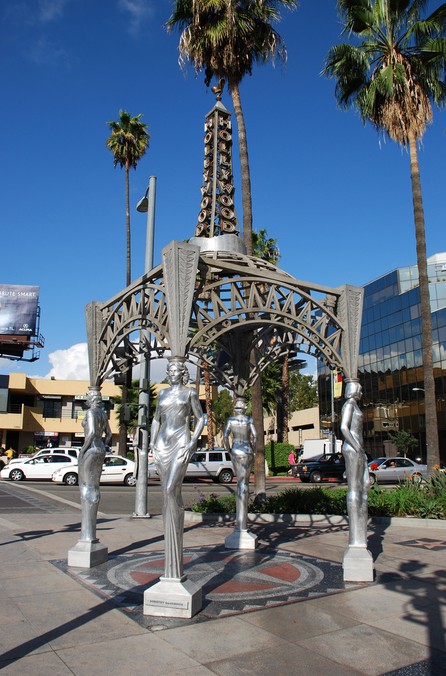 Backstory and Context
The Hollywood and La Brea Gateway gazebo was made in the art deco style with materials such as glass, steel, and neon. Artist Catherine Hardwicke intended for the piece to acknowledge the different cultural backgrounds of people who helped create the Hollywood we know, while also encouraging an examination of the place. Said Hardwicke:
The design embraces and pokes fun at the glamour, the polished metallic male form of the Oscar, and the pastiche of styles and dreams that pervades Tinseltown.1
The public artwork depicts four women of different cultures who brought change to Hollywood. One of those women is Dorothy Dandridge, the first African-American to be nominated for the Best Actress Academy Award. Dandridge was born in Cleveland, Ohio in 1922. She and her sisters formed a musical group while she was still a child, and by the time she was a teenager, Dandridge was acting in films. After her Oscar-nominated performance in 1954's Carmen Jones, unfortunately, few good roles came her way. She developed problems with drugs and alcohol and died in 1965 of an overdose. Many believe that it was the racial prejudices of her time that prevented Dorothy Dandridge from becoming an even bigger star than she was.
Dolores del Rio, another figure of the piece, was of Mexican descent. She was born in 1904 and raised in Durango, Mexico. In Hollywood, she played "exotic" types during the silent era and was even more typecast because of her accent after the coming of sound. Del Rio never lost her pride in where she came from, however. Early in her career, she insisted on being listed as a "Mexican" actress as opposed to the more socially-esteemed alternative, a "Spanish" actress. After establishing her place as a glamour girl in American cinema, she returned to Mexico to help with its blossoming film industry. She died at age seventy-seven in California.
Mae West was born in Brooklynn, New York with Irish and German heritage. As a teenager, she worked in vaudeville and burlesque, often making jokes at the expense of Victorian-era values. She found success as an adult by writing and performing controversial plays on Broadway that dealt openly with subjects such as sex and homosexuality. Hollywood came calling, and West went west, making films such as She Done Him Wrong and I'm No Angel. After 1934, her popularity waned as the Hayes Code disapproved of her style of humor and tried to censor her. West passed away in 1980 at the age of 87, leaving behind a legacy as a performer and playwright who often took matters into her own hands.
The last of the four ladies, Anna May Wong, was born in Los Angeles in 1905. Of Chinese background, she was not allowed by studios to play opposite white leading men, forcing her into smaller, supporting roles. Even when movies focused on Chinese characters, the bigger parts were often given to white actors in "yellowface." Wong felt trapped between two cultures. Many Chinese felt that she was too American, while many Americans were deeply prejudiced against Asian peoples. She worked in Europe for a time, becoming a major international star. Still, when she returned to America, Wong had trouble finding good characters to play. Hollywood's first Chinese-American star died after a heart attack in 1961.
When the Hollywood and La Brea Gateway was finished, opinions of it were split. Some felt that the gateway was a flattering commemoration of the four women and a beacon of hope to people of any background trying to make it in Hollywood. On the other hand, one critic lambasted it for being sexist, campy, and poorly done. In an article of her own, Hardwicke argued that the artwork was a success because its purpose had been fulfilled:
People are interacting with it--proud to discover that Hollywood was created by people of many cultures and that women, as well as men, can make valuable contributions.1
Sources
1. Hardwicke, Catherine. Critic Missed the Humor and Symbolism. LA Times. February 14, 1994. Accessed January 17, 2018. http://articles.latimes.com/1994-02-14/entertainment/ca-22915_1_art-critic.
2. Dorothy Dandridge. Biography.com. Accessed January 17, 2018. https://www.biography.com/people/dorothy-dandridge-9542081.
3. Gaiter, Dorothy J. Dolores Del Rio, 77, is Dead; Film Star in U.S. and Mexico. The New York Times. April 13, 1983. Accessed January 17, 2018. http://www.nytimes.com/1983/04/13/obituaries/dolores-del-rio-77-is-dead-film-star-in-us-and-mexico.html.
4. Mae West. Biography.com. Accessed January 17, 2018. https://www.biography.com/people/mae-west-9528264.
5. Macnab, Geoffrey. Lady Defiance. The Guardian. March 12, 2004. Accessed January 17, 2018. https://www.theguardian.com/books/2004/mar/13/featuresreviews.guardianreview5.
6. Knight, Christopher. Caution: Bad Art Up Ahead. LA Times. January 19, 1994. Accessed January 17, 2018. http://articles.latimes.com/1994-01-19/entertainment/ca-13098_1_la-brea-gateway.
7. Bariscale, Floyd B. Silver Four Ladies of Hollywood. Flickr. November 02, 2008. Accessed January 17, 2018. https://www.flickr.com/photos/7294653@N07/3004131419. Photo source.

Additional Information