The First National Bank Building at Tryon Plaza
Introduction
The 22 story skyscraper is located in Uptown Charlotte, at a location known as "The Square". Comprised of the intersection at Trade St. and Tryon St., along with an adjacent park, the Square is a well known focal point in downtown Charlotte. The Tryon Plaza was formerly the First National Bank Building. The First National Bank Building had a significant historical role in Charlotte's past, and is now considered a historic landmark.
Images
This recent photo shows some of the changes to the facade of the historic building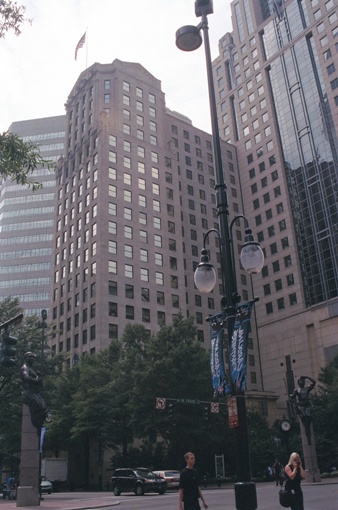 This picture shows how the building looked shortly after it was acquired by Liberty Life in 1942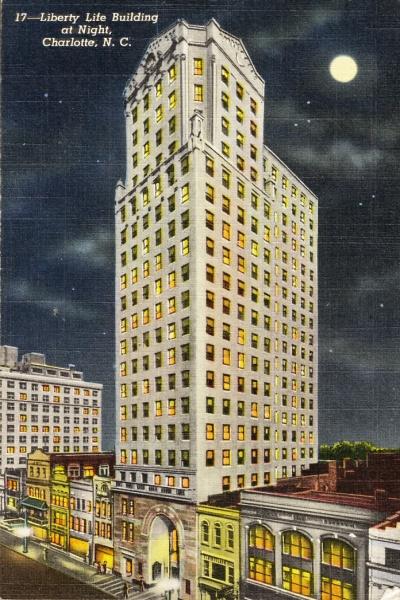 Backstory and Context
Built in 1927 as the First National Bank Building, this was the tallest building in Charlotte prior to World War II. The 1927 First National Bank Building's association with the now defunct First National Bank of Charlotte is significant, as that institution opened immediately after the Civil War and contributed to the phenomenal economic success that the city experienced during the late nineteenth century. The bank closed on December 4, 1930, as a result of the Great Depression.
Despite the demise of the bank, the building continued to be called the First National Bank Building until 1942, when it was known as the Liberty Life Building. By 1964 the building's name changed again and became the Baugh Building, and a new modern facade was added. By 1976 businesses were leaving the Uptown, and the building, now called the Bank of North Carolina Building, was half empty with many of the floors completely vacant.
The building was converted to offices and condos in 2007, and given the name Tryon Plaza. An interior and exterior renovation was completed, including a restoration of many of the building's original rooms, including the bank board room. Today the building contributes to the growing downtown center.
Sources
http://www.cmhpf.org/S&Rs%20Alphabetical%20Order/surveys&rFirstNatl.htm
Additional Information