Lawndale Art Center
Introduction
Lawndale Art Center is centered around four museum-quality galleries, three artist studios, and an outdoor sculpture garden that facilitate its role as a vital cultural resource for Houston. Lawndale also provides educational opportunities to area elementary, middle and high school children, and to local college and university students through its teacher orientation program, internship program, and guided tours and activities. Lectures and Workshops are held throughout the year. Topics and themes for these events vary, though some are scheduled annually. Guided tours are available to small groups, including school tours Mon-Fri 10 AM to 5 PM, and generally last 45 minutes. Contact the museum for more details.
Images
Lawndale Art Center from the street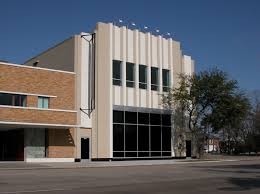 Backstory and Context
Lawndale Art Center develops local contemporary artists and the audience for their art. LAC is one of the only city institutions dedicated to contemporary regional artists and their work. Located on the edge of the Museum District, the organization use its prime location to present exhibitions, performances, lectures, film screenings and special events, and offers an annual residency program to further the creative exchange of ideas from among Houston's diverse communities. A board Programming Committee made up of local artists and professionals to guide the venue and to select artists and exhibitions for presentation. The Art Center also dedicates itself to the arts through an internship program and a residency program.
The Artist Studio program is a nine month residency program wherein the artists have access to a studio, a stipend and an initial materials allowance. Participating artists present workshop or presentations, engage the general public and the local arts community to share their practice or explore related topics.
From the beginning, Lawndale has been an artist-driven organization. From inception, it has been the premiere center for arts in Houston, and the region to show work, experiment, perform and meet other artists. Early projects included art works by Luis Jimenez, Sue Coe, The Art Guys, Nam June Paik, and Rev. Johnnie Swearingen. Performance art and music were also a big part of the early years, including performances by Alan Ginsberg and Spaulding Gray, to Black Flag and the Meat Puppets.
As an artist- centered facility, there are opportunities throughout the year for local artists to share their talents, and to have a chance to exhibit their art through the Lawndale Art Center. From an ongoing artist registry on their website, to exhibition proposals considered early in the year, to the Big Show, the open-call juried exhibition. Each year, for that event, Lawndale invites a guest juror to select from works submitted by artists living within 100 miles of Houston to show three works of art not seen before in Houston to be shown on-site for a chance to be included in the Show. See the show site for details.
The Lawndale Art Center's on-site archives contain materials dating back to 1979 including exhibition announcements, posters, photographs, slides, artist's correspondence and materials on exhibits and programs presented by the facility.
For more information on the artist programs, special exhibits, and tour details, call Lawndale Art Center.
Sources
"About Lawndale." Lawndale Art Center. Accessed March 31, 2015. http://www.lawndaleartcenter.org/about/index.shtml
Additional Information