Schewe Library
Introduction
Schewe Library is a crucial aspect of Illinois College's campus. Opened in 1976, Schewe Library was the answer to the overcrowding problem of the previous library at Illinois College. The two-story structure houses the original books, new additions, and even the Khalaf Al Habtoor Archives, which preserves the history of the college and is open to students for research.
Images
This is a blueprint drawing of the architecture of Schewe Library.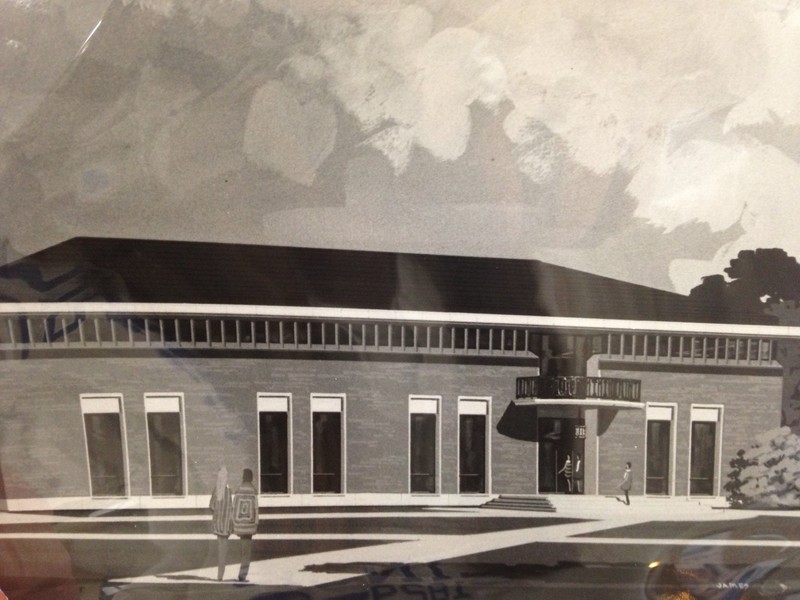 This picture shows President Sturtevant, Karl and Louise H. Schewe on the dedication day of the Schewe Library.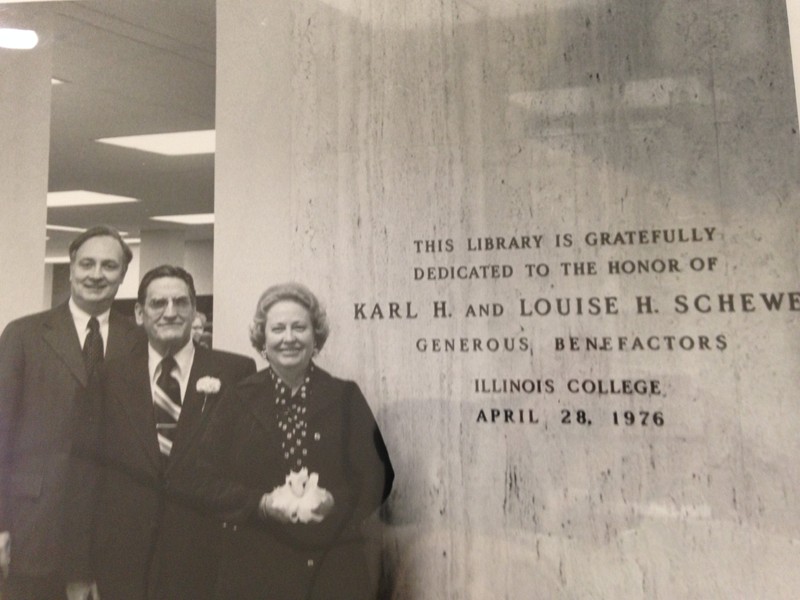 This is a photograph of a worker laying the carpet during the construction of Schewe Library.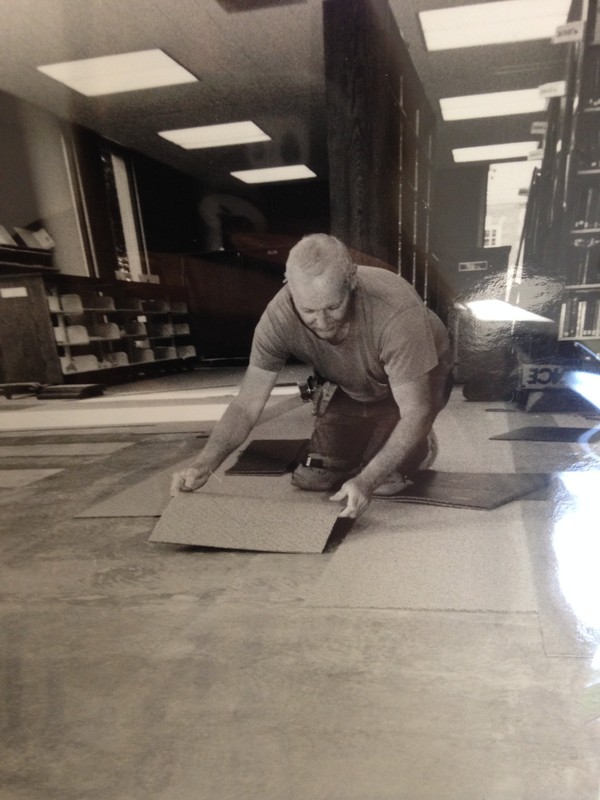 This picture shows Dr. Khalaf Al Habtoor (left), Professor Jenny Barker-Devine (middle), and former president Jimmy Carter on the day the archives where dedicated. Taken from within the archives.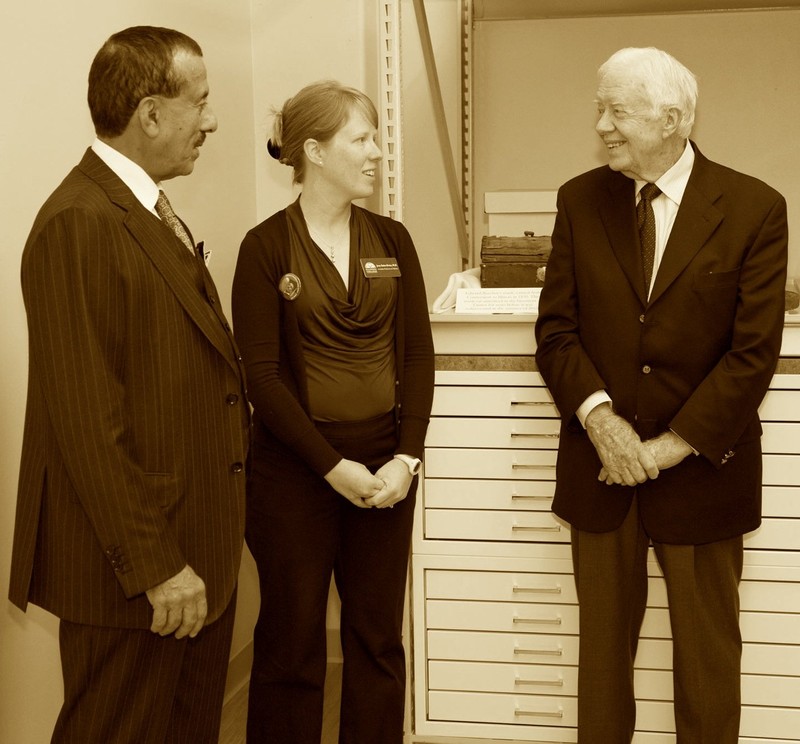 Backstory and Context
Contemporary IC History
From 1830 to 1897, Illinois College's library consisted of a small area of the second floor of Beecher Hall. By 1880, the library was comparable to that of the University of Illinois with 11,000 books. Although this library was rather large at the time, it kept growing and would need a bigger facility. The library was then moved to Jones Memorial Hall in 1879 and later to Tanner Hall in 1930. After 46 years in Tanner Hall, and reaching a book count of about 80,000, there was minimal room left for new additions to this library. After many surveys, the faculty and students decided a new library was the greatest priority of the college in 1970.

In order to carry out this idea of a new library, the college needed money. Between alumni, friends, faculty, alumni, trustees, corporations, foundations, and a federal grant of $416,000, Illinois College had enough money to carry out their plans for Schewe Library. This two-storied structure began construction in 1972 and was completed in March of 1976. Today, the library contains extra, technological amenities such as dry erase writing stations and computer television monitors.

Schewe Library was named after generous sponsors, Karl and Louise Schewe. Karl Schewe has been a member of the New York Stock Exchange, the Midwest Stock Exchange, and the Chicago Board of Trade. Louise was active in the real estate business in Chicago.

Within Schewe Library, buried in the back corner of Schewe's bottom floor is Illinois College's archives. This, although a relatively new addition, houses some historical information on the college that predates the founding in 1829. The Khalaf Al Habtoor archives are named after Dr. Khalaf Al Habtoor himself, after receiving an extremely generous donation of $600,000 to help construct the archives. The archives were a desperately needed resource on campus to house the colleges old documents and artifacts. A few of these eye catching relics, for example are Edward Beecher's old trunk believed to have been carried by the college's first president himself. Also protected within is a 19th century painting of Monticello, Illinois. The interesting part about this painting is that the canvas for this painting is human hair. There are also a few old books from the 1840s when the college had a medical school on campus. That was short lived however and was discontinued for unclear reasons.


Sources
History. Schewe Library @ IC. Accessed October 20, 2017. https://icschewelibrary.wordpress.com/history/.

"Karl H. and Louise H. Schewe." Service of Dedication. Service of Dedication, April 28, 1976. Khalaf Al Habtoor Archives.

Photo of a Man Laying Carpet in Schewe Library. Khalaf Al Habtoor Archives.


Additional Information