Beecher Hall
Introduction
Beecher Hall is a building of firsts for Illinois. It was the state's first college campus building, and it housed the original medical school in Illinois. Beecher Hall also represents Illinois College's anti-slavery roots.
Images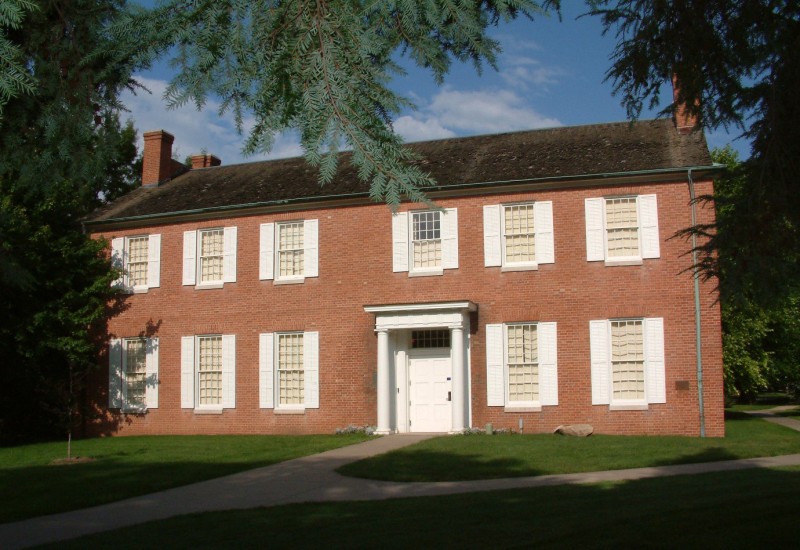 Newspaper Caption: "...A mob gathered about the medical school looking for the Professor of Anatomy and his helpers, who were accused of exhuming the body of Governor Duncan for anatomical study." Newspaper Clipping from IC Time Capsule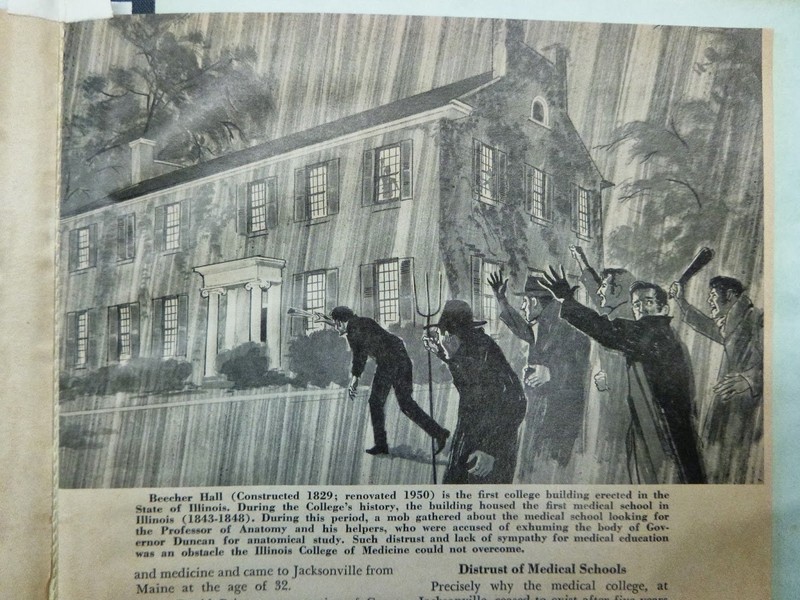 Backstory and Context
Early IC History
Plans for the construction of Beecher Hall began in 1829, and it became known as the state's first college campus building when it was completed in 1830. The building was named to honor Edward Beecher, the first president of Illinois College and an anti-slavery activist. Beecher was a member of a notable abolitionist family, and his sister, Harriet Beecher Stowe, penned the popular anti-slavery novel Uncle Tom's Cabin ("Beecher Hall"). Edward Beecher travelled to Jacksonville, Illinois after earning a degree from Yale and leaving a pastoral position at a church in Boston.Beecher and other Illinois College faculty members established an anti-slavery sentiment throughout the college campus, despite the varied beliefs of the Jacksonville community during this time period. In 1837, Edward Beecher assisted Elijah Lovejoy, an abolitionist printer, with the establishment of the Illinois Anti-Slavery Society (Rammelkamp, 109). When Lovejoy was shot and killed by pro-slavery supporters in Alton, Illinois, Illinois College students and faculty upheld their anti-slavery beliefs, even though the college's "radical" views caused funding and enrollment cuts. Students often expressed their anti-slavery views in the classrooms of Beecher Hall, and some even went as far as to assist slaves on their journeys to freedom. Because of their actions, the National Parks Service recognized Beecher Hall as an official Underground Railroad site ("Beecher Hall").
The first medical school in Illinois was housed in Beecher Hall from 1843-1848. Although it was rather successful, there is no definite proof as to why the medical school closed in 1848. Some say medical students obtained cadavers from the local hospital, which caused great controversy. Others speculate instructors were not satisfied with their compensation for leaving their private practices (Rammelkamp, 100). Beecher Hall has also served as a dormitory, library, and meeting place for college organizations. It is still used by the Sigma Pi and Phi Alpha literary societies today, which were founded back in 1836. Lincoln came to deliver many a speech there, as he was an honorary member of the society, thanks to his association with Dr. William Jayne, one of the founders of the society, and Julian Sturtevant, the president of the college at the time.
IC Ghost Stories
Members of the Sigma Pi and Phi Alpha literary societies have reported hearing peculiar footsteps on the upper floor of Beecher Hall. Literary society members claim that a person can hear footsteps from the adjacent room, even if one follows the sound to another room. Many students believe the footsteps are created by the "ghost" of William Jennings Bryan, a great speaker and politician who was a member of Sigma Pi at IC. However, another account claims the body cadavers used by the medical school were stored in the attic of the building, which could possibly be the cause of the phantom footsteps (Taylor and Horton)
Sources
"Aboard the Underground Railroad: Beecher Hall." National Parks Service U.S. Department of The Interior, Accessed October 1, 2017.https://www.nps.gov/nr/travel/underground/Beecher_hall.html.
"About Us - Firsts in Illinois," http://www.ic.edu/default.aspx?RelID=607297&issearch=beecher%20hall#item607763. Retrieved 8-12-15. Robert Kren. "Beecher Hall," National Register of Historic Places. 4-8-74.

Jenny Barker-Devine, "Illinois College Ghost Stories," IC Time Capsule, October 21, 2013, http://ictimecapsule.blogspot.com/2013/10/illinois-college-ghost-stories.html.
Rammelkamp, Charles H. Illinois College: A Centennial History, 1829-1929. Yale University Press, 1928.
Taylor, Troy and L.T. Horton. Haunted Jacksonville. Decatur: Whitechapel Press, 2014.
Additional Information