Old Albany Academy Building
Introduction
This federal-style brownstone was built in 1815 and remains the oldest public building in the city. It served as home to the Albany Academy, a college preparatory school, until the 1930s. During the 1820s and 1830s, Albany was the tenth-largest city in the United States and this was the largest school of its kind at that time. The building is currently the headquarters of the Albany City Schools.
Images
Front view from inside Academy Park.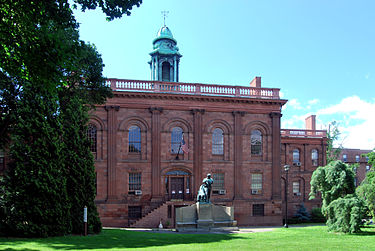 Backstory and Context
The Albany Academy was established by a charter signed in 1813 by the mayor of Albany, Philip Schuyler Van Rensselaer. It was created to provide a location for the growing elite to educate their sons and prepare them for their future careers in commerce and politics. The Academy building was designed by prominent local architect Philip Hooker. Hooker designed an imposing Federal style edifice that reflected the ethos of the new school. Hooker may have been inspired by the recently constructed city hall in New York, as it features a similar facade and central cupola. The Academy was constructed using reddish hued sandstone brought to Albany from Nyack located further south along the Hudson river.
For many years, the building was known as the Joseph Henry Memorial after one of its earliest professors. He discovered electrical induction while experimenting in his lab here. This was an important step in the development of the telegraph. This location served the Academy well for over 100 years but by the 1930s the school had outgrown these facilities. In 1931 it moved to a new building at 135 Academy Road. At that time the Albany City School District purchased the location and began to use it as their offices.






Sources
Waite, Diana S. ed. Albany Architecture: A Guide to the City. (Albany: Mount Ida Press, 1993), 72. https://books.google.com/books?id=B_M7vlQPa8kC&pg=PA72#v=onepage&q&f=false