Buffalo Bill
Introduction
This is part of the Walldog Murals. It was made by Bill and Jane Diaz
Images
image from http://jacksonvilleil.org/walldog-murals/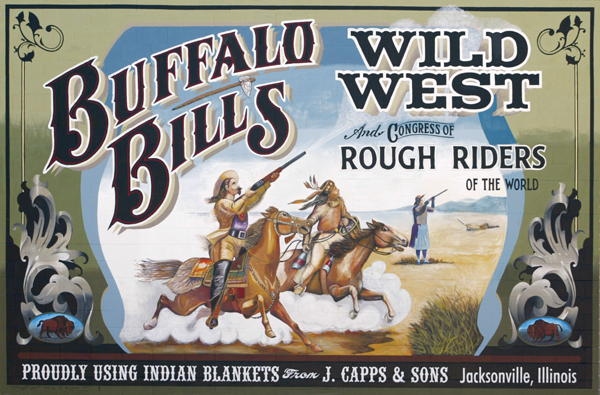 Backstory and Context
The mural is of the Buffalo Bills. Buffalo Bill Cody earned his name from working on the Pacific Kansas Railroad. He took a break from that to join in the Civil War; little did he know that it was more than just a mere break to serve his country. It was there he got his claim to fame. Buffalo Bill Cody was noticed by some people from Hollywood who were looking to capture the Manifest Destiny taking place. They picked Cody due to his natural swagger and poised attitude. He took on acting (as Buffalo Bill) and was the living embodiment of the American frontier. His image was that of a man who grew up on the western front but had city citizen class. His crew was that of a Calvary, they rode horses and fought Native Indians. That is actually quite ironic because Cody was a big spokesperson for the correct and proper treatment of the American Indian population. He also used his celebrity status to advocate for women's rights.
Buffalo Bill's tie to Jacksonville, IL is that he helped support local businesses by buying products here. His crew and he made quite a few trips to town of Jacksonville between 1876 and 1911. Records show that on one trip he bought blankets from J.Capps and Son's textile and clothing factory. Just like Buffalo Bill supported local businesses here, the WallDog Murals tour hopes to do the very same. Be sure to stop at some of the restaurants and stores mentioned!

For the kids***
Can you find the buffalo facing left?
Sources
Buffalo Bill. Center of the West. https://centerofthewest.org/explore/buffalo-bill/research/buffalo-bill/.