2nd Battle of Independence (Price's Raid)
Introduction
One of the final engagements in Confederate General Stirling Price's 1864 raid through Missouri before his disastrous defeat at Westport, Kansas, the 2nd Battle of Independence was a fierce, all-day fight that progressed from the Little Blue River (7 miles east of the city) to the Big Blue River (several miles west). As Price moved his army southwest to avoid fighting heavily entrenched Federals on the banks of the Big Blue, Union General Alfred Pleasonton aggressively attacked his rearguard with nearly 10,000 Union cavalry. Though the battle's result was, by end of day, a tactical draw, Pleasonton nevertheless forced Price to commit a large portion of his army to protecting his retreat. A marker near the city center commemorates the fighting that took place within town boundaries, and the nearby Jackson County Courthouse served as Pleasonton's headquarters after the Confederates retreated.
Images
Battle marker near the Independence city center, fourth of six markers pinpointing places of historical significance in the two back-to-back battles of Little Blue River and Independence.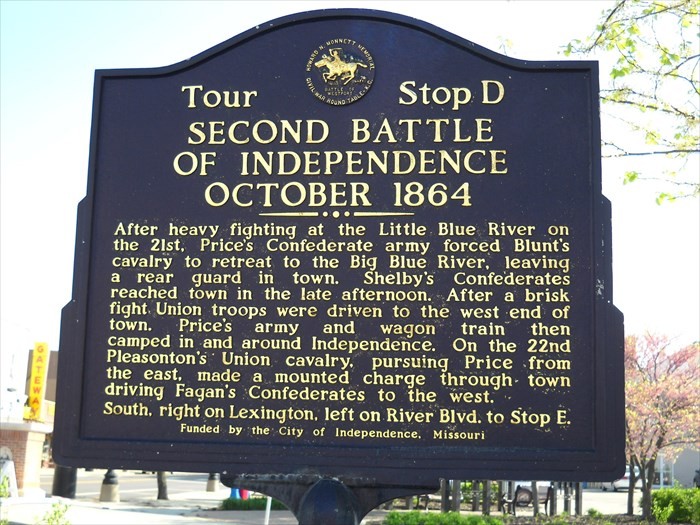 Union General Alfred Pleasonton did much to recover his tarnished reputation at Independence and Westport. He had been criticized the year before for his command at the Battle of Brandy Station and the Union pursuit of Lee at after Gettysburg.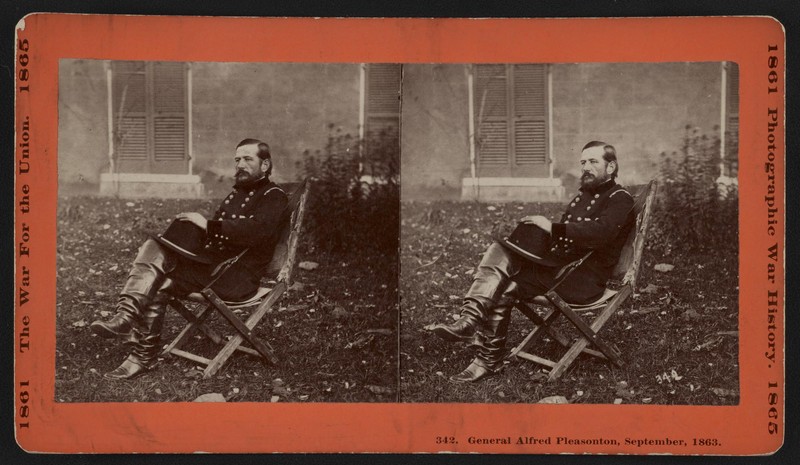 Confederate General William Cabell, who commanded Price's rearguard as it was pushed back from Independence to Rock Creek. Known as "Old Tige," he was captured a few days after Westport and spent the rest of the war a prisoner.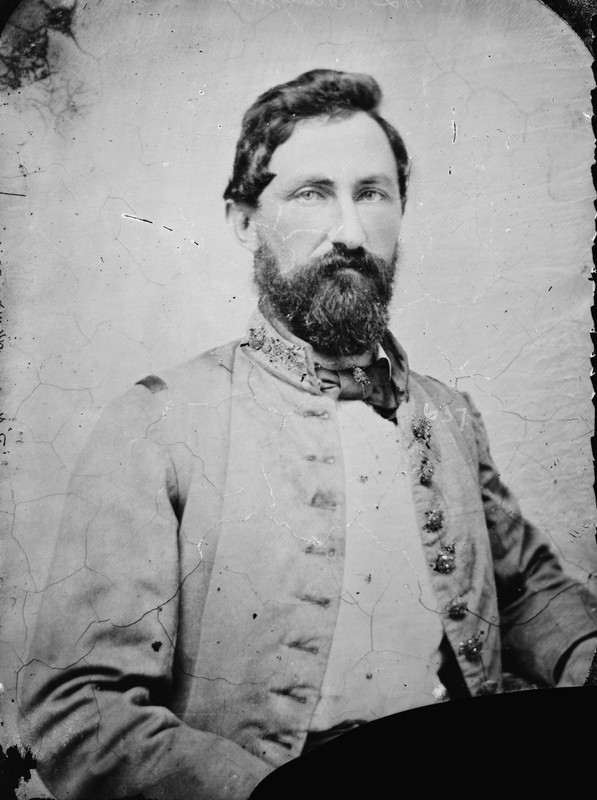 Confederate General William Slemons, whose brigade defended against Pleasanton's Union cavalry at the Little Blue River. They fought along the entire seven-mile stretch between the river and Independence.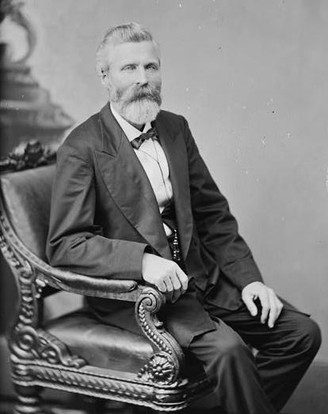 Union General John Mcneil, whose brigade bore the brunt of the fighting on Oct. 22. He'd gained notoriety for executing 10 Rebel prisoners in 1862, an event labeled the "Palmyra Massacre."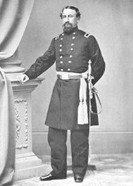 Union General John Sanborn. Elected several times as a Representative and Senator before and after the war, a statue of him stands at the Minnesota State Capital.
The Jackson County Courthouse in 1900. The structure served as Pleasanton's headquarters on Oct. 22, after Confederates were pushed out of Independence. Harry S. Truman later served here. Courtesy of University of Central Missouri History.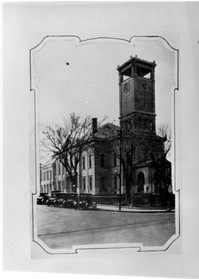 Detailed map of the 22 October action around Independence, extracted from Charles D. Collins Jr.'s excellent "Battlefield Atlas of Price's Missouri Expedition of 1864," cited below. The Atlas is free and available online.
Backstory and Context
"We could see a far-off flash of red fire coming out of the guns and pistols, and men fell by the dozens. It was one of the most sublimely thrilling sights that one could imagine."1
This was how Mrs. Kate Doneghy, a resident of Independence, Missouri, described an episode of the dramatic clash in her town on October 22, 1864. But from the high balcony of her house, she was witnessing only a snapshot in the growing climax that would soon crush General Sterling Price's Confederate Army of Missouri and dash Rebel ambitions in the Trans-Mississippi Theater.
Price had invaded Missouri from Arkansas a month before, winding slowly northward toward St. Louis while snapping up small Union garrisons (with the exception of a bloody, pyrrhic victory at Pilot Knob on September 27) and picking up recruits--though his total force never appears to have surpassed 12,000 men. The goal of his ragtag army--comprised in almost equal proportions of regular troops, bushwackers, guerillas, and reconscripted deserters--was to seize Union-held St. Louis and Jefferson City, install governor-in-exile Thomas C. Reynolds at the head of a Confederate state government, and strike a powerful propaganda victory against Abraham Lincoln's prospects in the fast-approaching 1864 Presidential election.
Price moved too slowly, and strategic victory eluded him. Despite Price's small wins along the way, Union General William S. Rosecrans reinforced St. Louis and Jefferson City before he got there. Stymied, he turned his army west with an eye for plundering Kansas, but the Confederate commander failed to pick up the pace while Union forces massed on the Kansas border in front of him and a similarly formidable army of Union cavalry began to shadow his steps behind.
Union General James Blunt slowed Price's march still further with two fierce delaying actions at Lexington (Oct. 19) and the Little Blue River (Oct. 21)--the latter just seven miles east of Independence. By that evening, Blunt and his men had pulled across the Big Blue River (west of Independence) to rejoin General Samuel Curtis's 15,000-strong "Army of the Border," which lay in wait behind daunting defensive works. Unfortunately, Curtis misjudged Price's willingness to continue advancing on Kansas City--instead, Price deceived Curtis on the morning of October 22, creating a diversion near Independence that convinced Curtis the attack was occurring right where he'd hoped. More than three hours passed before Curtis realized Price's main columnn was attacking his weakly defended right flank more than ten miles south at Byram's Ford.
Price was not to get away without a scratch, however. Union General Alfred Pleasonton's force of nearly 10,000 cavalry finally took the plunge after several days of shadowing Price's army at a distance, falling upon the Confederate rearguard at the Little Blue River. In a more successful version of the Confederate attack on General Blunt's Federals the day before, Pleasonton's men quickly flanked the lone Confederate brigade of Col. William Slemons and forced them off the riverbanks. By 11 AM, Slemons was conducting a fighting withdrawal all the way back to Independence. Price, his main columnn several miles down the road toward Westport, Kansas, soon learned of the threat to his rear and ordered Col. William Cabell's brigade back to Independence in support.
By 2 PM, battle had been fully joined on the western outskirts of Independence--the flat, open prairie of which Pleasonton realized favored his well-armed Union cavalry. First flanking the town from the north with John Sanborn's brigade, he then sent seven companies of John McNeil's brigade in a columnn only four abreast charging up the main street into the town. The Confederates were swept violently out of Independence; 300 were captured, along with two cannons. This was the "thrilling" sight to which Mrs. Kate Doneghy referred, repaying in spades the ignominy of that morning, when she'd awakened to find Confederate troops still occupying her town.
Price was forced to send still more troops back toward Independence to prevent Pleasonton from attacking his supply train unopposed. For the remainder of the afternoon, as Pleasonton relentlessly pushed troops forward, the battle seesawed between the town and nearby Rock Creek. Price's rearguard, now under one of his three division commanders, General John S. Marmaduke, finally stabilized their lines at Rock Creek around sundown.
However, in a rare move for Civil War battles, Pleasonton continued the attack well after darkness. For four hours, dismounted Union cavalry incessantly assaulted Marmaduke's lines, pushing them steadily back until about 10 PM. By then, Pleasonton had passed the point where Curtis's Union troops had unsuccessfully opposed Price's crossing at Byram's Ford that morning. The fighting fell off by 10:30 PM, but would be rejoined the next morning as the stage was set for the Battle of Westport, arguably the most decisive battle in the Trans-Mississippi Theater during the war.
---------
Today, six markers in and near Independence denote important geography during the battles of Little Blue and Independence (often considered part of the same battle). This Clio entry is pinned to Marker D, fourth in the series. The city of Independence also offers a 10-stop tour brochure to guide visitors through the battle's key moments. The Jackson County Courthouse, a large two-story building near the center of Independence, also served as General Pleasonton's headquarters after the Confederates were pushed out of town, though it has been remodeled several times since.
Sources
1. Sinisi, Kyle S.. The Last Hurrah: Sterling Price's Missouri Expedition of 1864. Rowman & Littlefield, 2015. pp.193-216

2. 1. Swain, Craig. Pleasonton, Price, and the Big Blue River. To the Sound of the Guns. October 22, 2014. Accessed December 11, 2017. https://markerhunter.wordpress.com/2014/10/15/sedalia-and-glasgow/.

3. Webb, W.L.. The Centennial History of Independence, MO. Independence, MO. Self, 1927. http://vintagekansascity.com/historyofindependence/chapter_13_second_battle_of_indep.html

4. 7. Collins, Charles Jr. D.. Battlefield Atlas of Price's Missouri Expedition of 1864. Fort Leavenworth, Kansas. Combat Studies Institute Press, 2016.

5. Sallee, Scott E.. "Missouri! One Last Time: Sterling Price's 1864 Missouri Expedition." Blue & Gray Magazine. Blue & Gray Magazine, 10-20, 48-62.

Additional Information