Battle of the Little Blue River (Price's Raid)
Introduction
Though technically a Confederate victory, the Battle of Little Blue River proved another nail in the coffin of General Sterling Price's cavalry raid into Union-held Missouri and Kansas in September-October of 1864. Desperate to gain a political victory and sway the outcome of the 1864 Presidential election against Abraham Lincoln, the Confederate War Department had ordered Sterling Price to seize St. Louis and Jefferson City in order to install a Southern governor in Missouri--and initially, all seemed to go well. Despite a series of victories over scattered Union garrisons, however, Price squandered valuable time and failed to meet his objectives, instead turning west to raid Kansas. At the Little Blue River, only a day's march from the Kansas-Missouri border, a much smaller Union force fought a fierce delaying action and cost him more time, bringing Price's 12,000-man army one day closer to annihilation.
Images
Marker placed at the Battle of Little Blue River in Independence, Missouri.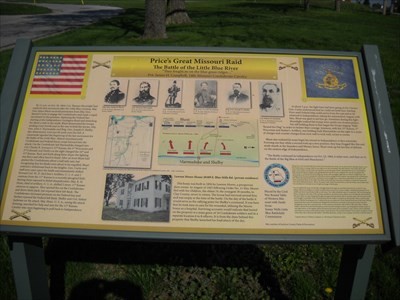 Image of Little Blue River.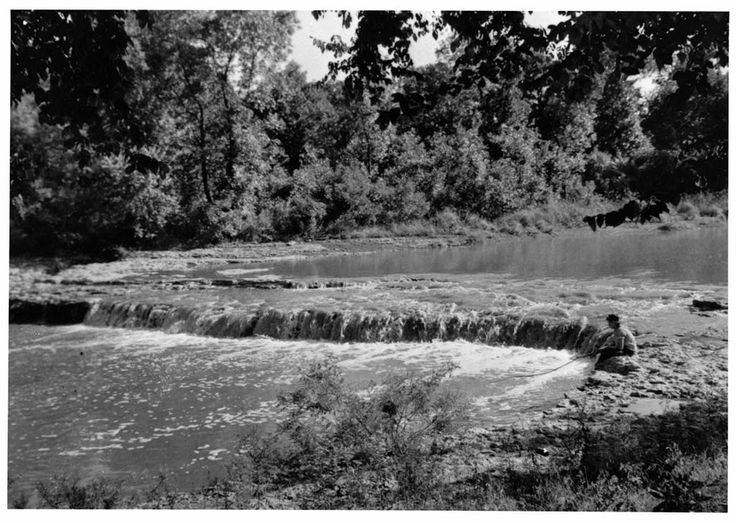 Brigadier General Sterling Price led the Missouri Expedition, which included the Battle of Little Blue River.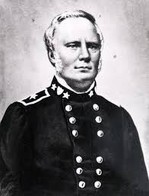 This marker is on the westbound side of the highway on the east side of the Little Blue River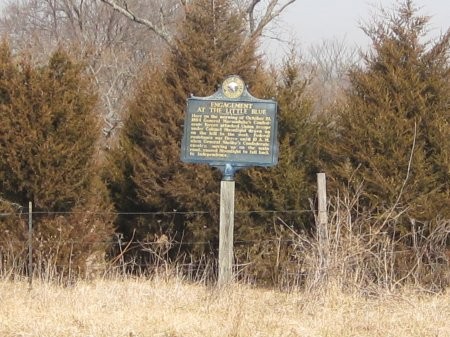 Another battlefield marker located nearby on the Little Blue Trace Trail. The size of the Rebel force is exaggerated--though Union commanders often received false reports of Price's army being as large as 25,000. Photo by Ann Wilhelm.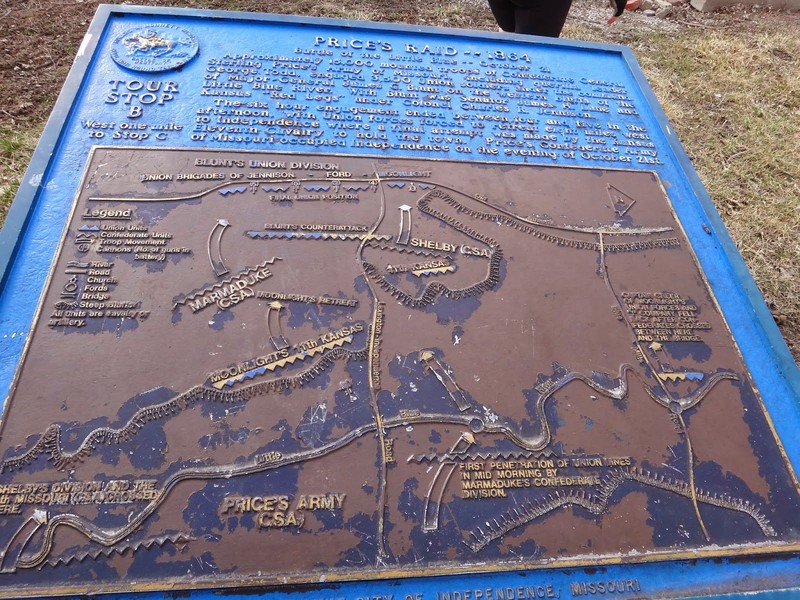 Excellent hand-drawn map of the battle with suggested tour stops by Hugh Welsh.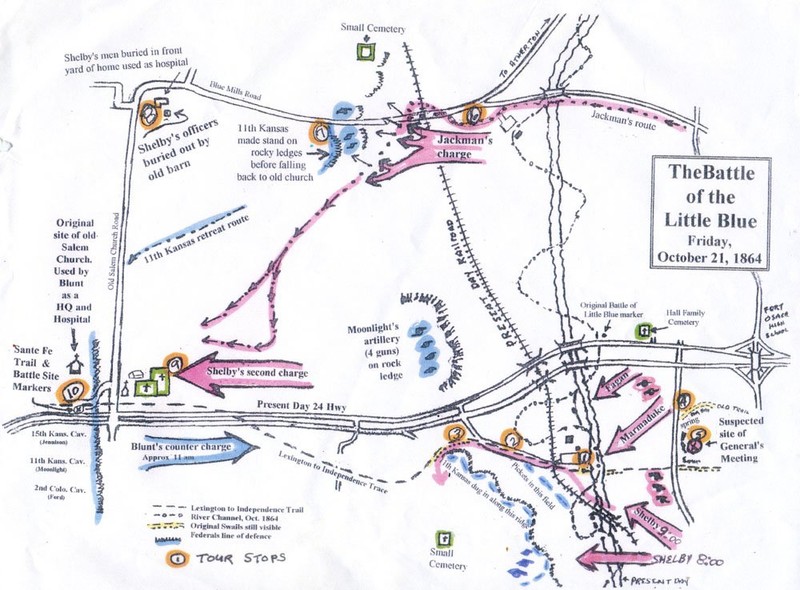 Union Colonel Edmund G. Ross, later a Kansas Senator. When two horses were shot from beneath him, Ross calmly saddled a third in the open between the clashing armies to inspire his men. Photograph by the famed Matthew Brady.
Colonel Thomas Moonlight led his small contingent of Kansans in a spirited defense against Price's overwhelming Confederate force at the Little Blue.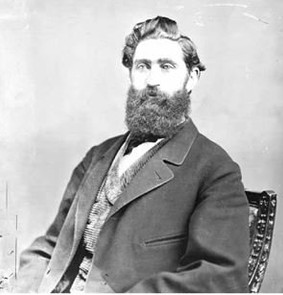 Union General James Blunt came to Moonlight's rescue later during the battle. An ardent abolitionist, he was the only Kansan to achieve the rank of Major General during the war.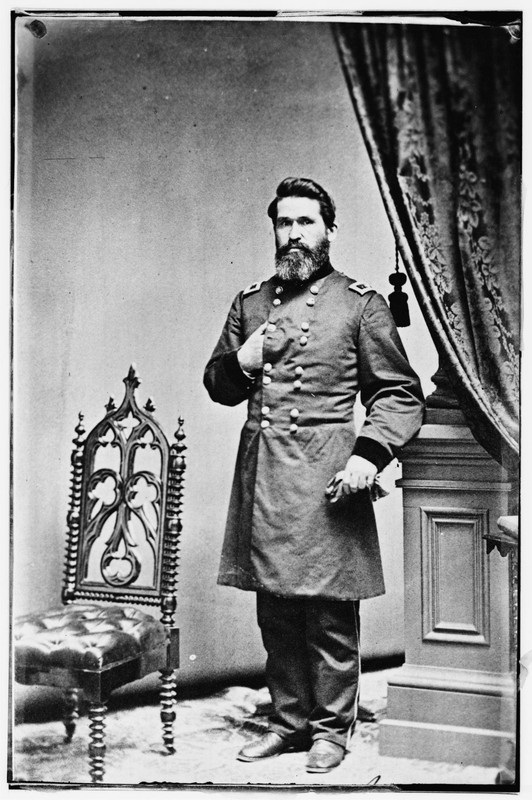 Confederate General James Fagan had fallen out of favor with Price, and his division was passed over during the battle. Though his men were next in line of march, they were ordered to stand by while General Jo Shelby's men were ordered to attack.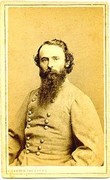 Confederate General John S. Marmaduke's division bore the brunt of the fighting. He has been criticized for his haphazard crossing of the Little Blue, which failed to concentrate his superior force against Moonlight's outnumbered Federals.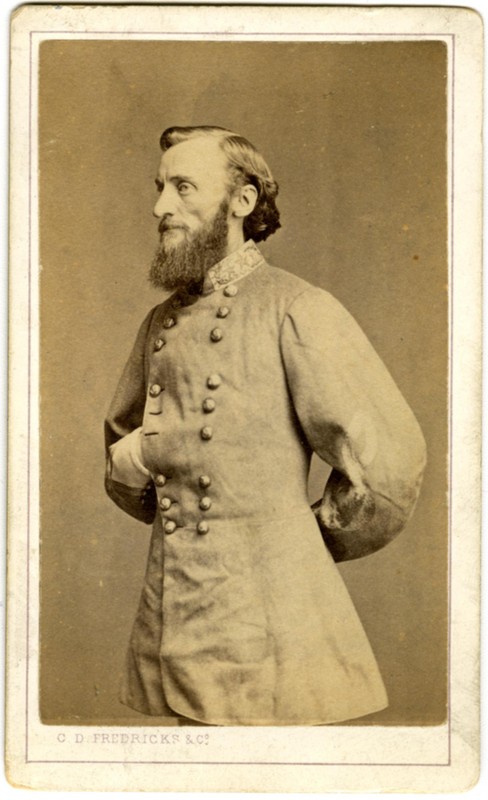 The Lawson Moore house, which stood on high ground overlooking many of the points of Confederate advance. Union Colonel Thomas Moonlight reconstituted his defense here after he was flanked and withdrew from his advance positions on the river.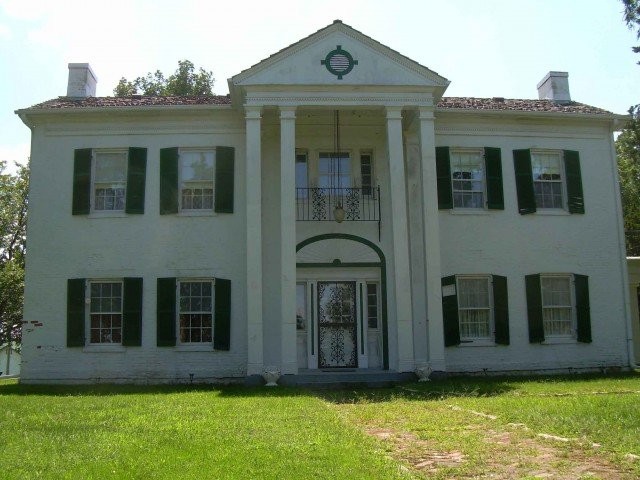 Backstory and Context
Since crossing northward with his army into Missouri from Arkansas in September 1864, Confederate General Sterling Price had achieved what can only be aptly summarized as "mixed results." In the campaign's first pitched battle at Pilot Knob, his army had seized the smoking ruin of Fort Davidson (Sept. 27-28) but failed to capture the Union garrison, which slipped away after costing the Confederate general precious time on his march to St.Louis. By the time he reached St. Louis (Oct. 1) it had been heavily reinforced by Union General William Rosecrans, stymying Price's goal of placing Confederate governor-in-exile Thomas Reynolds at the head of a newly-declared Confederate state of Missouri. Proceeding to Jefferson City (Oct. 7), Price fared no better, aborting a hasty attack when it became clear that the Federal defenses were too strong.
Price turned west toward Kansas, his route of march paralleling the Missouri River as his flanking columnns seized badly needed munitions, uniforms, and food at Sedalia and Glasgow (Oct. 15) while soundly defeating the Union garrisons in both towns. His progress was gallingly slow, mired by a cumbersome supply train and hundreds of fresh Missouri recruits that often plundered as they went, or stole off to visit friends and relatives in the countryside as the army passed through. Nevertheless, when he arrived in Lexington (Oct. 19), he was prepared to fight the vastly outnumbered Union General James Blunt's 2,000-man detachment that had advanced into Missouri from Kansas (the vanguard of General Samuel Curtis's "Army of the Border."). A difficult town to defend, the Union troops were soon pushed out, and Blunt beat a quick but orderly retreat through the night to new positions at the Little Blue River, eight miles east of Independence.
Again Price tarried too long. Gathering his forces in Lexington for a day, Price's "Army of Missouri" would not advance on the Little Blue until the morning of October 21. This gave Blunt time to prepare--and he was determined to make a stand on the west bank of the river, firing off a message to his superior, General Curtis, saying:
"My command is in camp on west side of the [Little] Blue, in a strong position-that I can defend this line against a largely superior force… This is the place to make the fight, if the enemy advance in force on this line. I would suggest that you come down and examine this position if you have time."6
All day on October 20, Blunt's men felled trees to block the Independence Road and set up field fortifications near the only bridge for miles. Though there were several fords nearby, the water was chest-deep and would be difficult for a large army to cross. But Curtis, stuck in a political boxing match with the governor of Kansas while the majority of his army, made up of Kansas militia, refused to cross the border into Missouri, fired back, "I have no time to explain. Your forces must take position here,...The militia will not go farther forward, and the Big Blue [River] must be our main line for battle…"6
Having been thus ordered, Blunt left behind only a force of 400 men and several howitzers under Colonel Thomas Moonlight, who had brilliantly conducted his rearguard during the harrowing retreat from Lexington. Blunt had not given up hope, however, and spent the rest of the day and much of the night arguing with Curtis to reinforce Moonlight's position.
The next morning, Price's Confederates resumed their march, seemingly blind to Curtis's strong army gathering in front of them while Rosecrans set loose a large cavalry force from St. Louis to trap Price from behind. Confederate General John S. Marmaduke commanded Price's advance guard on the 21st, roughly a third of the force, and it was this division that made contact with Moonlight's skirmishers at 7am. By 9am the battle was developing, as Confederate forces assaulted the bridge on the Independence Road. Union troops managed to set it ablaze with a burning wagon of hay, and Marmaduke was forced to send troops along the banks of the Little Blue in search of fords.
Unfortunately, Moonlight had missed a pair of viable fords near his position, and the Confederates were able to cross unopposed in large numbers and flank him. Moonlight and most of his 400 men fell back to high ground two miles back from the river, where followed a furious series of charges and countercharges. Marmaduke's troops could only trickle across the ford, and thus could not bring their superior numbers to bear against Moonlight's outnumbered fighters, who further evened the odds with their Henry 15-shot repeating carbines and were thus able to fire much faster than the patchily-armed Rebels.
In the meantime, Blunt had somehow convinced Curtis to let him reinforce Moonlight, and arrived on the scene at 11am with Curtis in tow--still only with 2,000 men. The majority of the Kansas militia refused to budge. Nevertheless, Marmaduke's battle line nearly disintegrated as the fresh Yankees slammed into the exhausted Confederates, who had marched through the morning, crossed a river, then fought fiercely for several hours. By 1pm, they were running low on ammunition and several units were retreating back across the river. Then the timely arrival of Jo Shelby, another of Price's division commanders, turned the tide once more in favor of the Confederates.
It was now Blunt's turn to run low on ammunition. After fighting against an equal Rebel force for two hours, he now found himself outnumbered two-to-one (Shelby's arrival had doubled the Confederate presence on the field) and with Rebels overlapping both of his flanks. Even more to Blunt's dismay, his superior Curtis had sent his ammunition wagons back to Independence without telling him. Thus began Blunt's second fighting retreat in two days, lasting several miles to the outskirts of Independence. Blunt managed to withdraw his detachment intact across the Big Blue River and rejoin Curtis's Army of the Border, while Price moved his Confederate Army of Missouri into Independence and pondered his next move.
Given that nearly 10,000 men were engaged for most of the day, casualties were surprisingly light, with fewer than 40 killed per side--a fact perhaps attributable to the battlefield's unusual density of stone walls and ravines, which allowed each side to take cover for much of the battle. The battle's true significance lay in the continuing delay of Sterling Price's army. With large Union forces gathering in front and behind him, each day tightened the noose and afforded Price fewer opportunities to avoid being surrounded by a superior Federal army--the very fate that would befall him only a few days later at Wesport.
Little remains today of the battlefield at Little Blue. Two markers briefly record the battle, and the present-day New Salem Church stands at the site of its predecessor, which that day in 1864 was at the center of Blunt's defense after his arrival at 11am. Also still standing is the Lawson Moore house, where Moonlight reformed his defenses before being reinforced by Blunt late that morning.
Sources
1. "Battle of Little Blue River." - Civil War Battles. Accessed May 29, 2016. http://civil-war-battles.findthedata.com/l/131/Battle-of-Little-Blue-River.
2. United States. National Park Service. "Battle Summary: Little Blue River, MO." National Parks Service. Accessed May 29, 2016. https://www.nps.gov/abpp/battles/mo024.htm.
3. "Civil War on the Western Border: The Missouri-Kansas Conflict, 1854-1865." Battle of the Little Blue River. Accessed May 29, 2016. http://www.civilwaronthewesternborder.org/encyclopedia/battle-little-blue-river.
4. "Battle of the Little Blue River - Independence, Mo. - Missouri Historical Markers on Waymarking.com." Battle of the Little Blue River - Independence, Mo. - Missouri Historical Markers on Waymarking.com. Accessed June 11, 2016. http://www.waymarking.com/waymarks/WMEYA8_Battle_of_the_Little_Blue_River_Independence_Mo.
5. Sinisi, Kyle S..
The Last Hurrah: Sterling Price's Missouri Expedition of 1864
. Rowman & Littlefield, 2015. pp.180-191
6
. Collins, Charles Jr. D..
Battlefield Atlas of Price's Missouri Expedition of 1864
. Fort Leavenworth, Kansas. Combat Studies Institute Press, 2016. pp. 71-81
Additional Information