Battle of Sedalia (Price's Raid)
Introduction
Nearly a month into Confederate General Sterling Price's invasion of Missouri in 1864 toward the close of the Civil War, he was forced to turn his army westward away from the fortified Union cities of St. Louis and Jefferson City. With much of his army lacking food and weapons, he dispatched two raids on October 15 to the small towns of Glasgow and Sedalia--the former for weapons, the latter for a large supply of beef cattle and mules. Confederate victories at Glasgow and Sedalia turned out to be the high water mark for Price's Raid, as Union forces closed in and eventually destroyed his army a week later in Kansas. This would be the last time Confederate forces operated in Missouri during the war.
Images
General M. Jeff Thompson, the "Swamp Fox", who commanded Confederate troops at Sedalia. He proved one of Price's ablest commanders during the raid, though he had only just regained freedom in August 1864 after a year in Union captivity.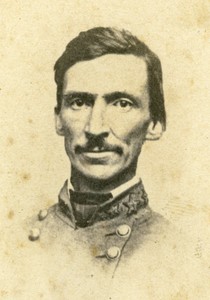 A painted portrait of antebellum Alonzo Slayback, who served as a Confederate Colonel during the Battle of Sedalia. The portrait currently hangs in the Wilson's Creek National Battlefield museum.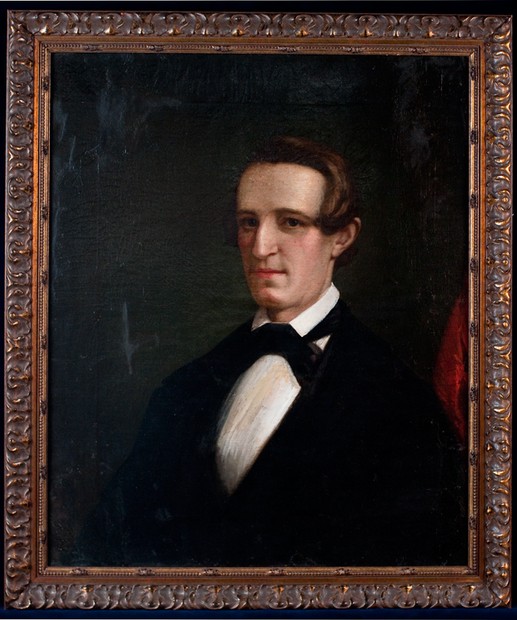 Map showing the positions of Sedalia and Glasgow on Price's march from Boonville. Courtesy of Craig Swain.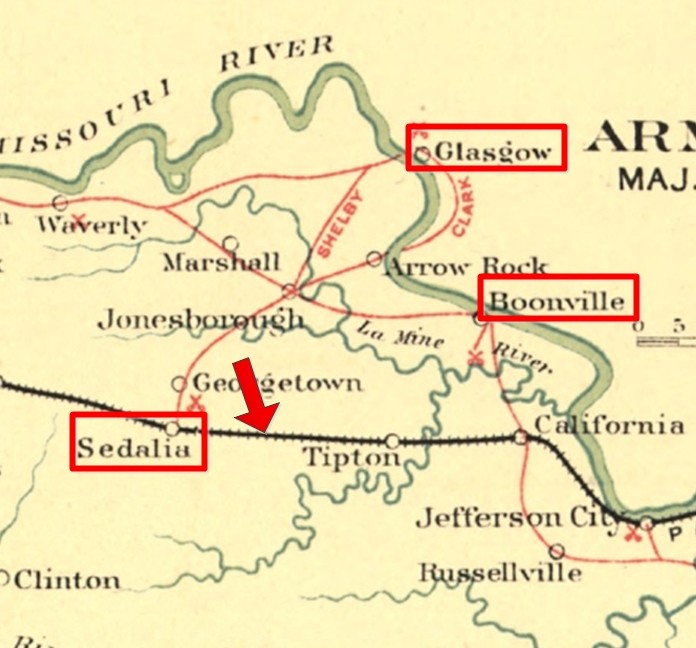 "The Last Hurrah," one of the most recent and detailed accounts of Price's Raid.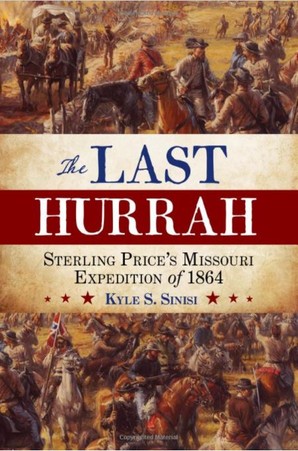 Backstory and Context
By October 14, 1864, the objectives of Confederate General Sterling Price's raid deep into Union-held Missouri had changed. Though originally intended to place the Confederate governor-in-exile Thomas C. Reynolds in power at the state capital in Jefferson City and strike a powerful propaganda blow against Abraham Lincoln's 1864 reelection campaign, military developments over the course of the campaign had denied Price either goal. Nor had the Confederates seized St. Louis as intended--the slow pace of Price's advance and a bloody but pointless victory at Fort Davidson three weeks before had given Union General William S. Rosecrans plenty of time to reinforce Missouri's population centers, making them impregnable to Rebel attack.
Determined still to make something of his 12,000-strong invasion, Price turned west from Jefferson City, hoping to wreak havoc in loyalist Kansas and thus proclaim that the secessionist cause was not yet vanquished. He gathered in new recruits in Boonville and fought a small battle there on Oct. 11 before resuming the march. On October 14, with his main body paralleling the Missouri River westward, Price sent a flanking columnn northward to attack a small Union garrison in Glasgow, which he heard contained a large cache of weapons. On Oct. 15 the Confederates successfully surprised the outnumbered Glasgow garrison and after several hours of fighting captured them along with a large number of muskets, uniforms, horses, and supplies.
That same day on his opposite flank, Price had dispatched a brigade with instructions to seize the town of Sedalia. Four years of bitter guerrilla warfare had denuded much of central Missouri of crops--Price was experiencing much difficulty feeding and supplying his troops, and had learned that the Sedalia housed a sizeable cattle depot for the Union army. This southern columnn was placed under General M. Jeff Thompson, a skilled commander nicknamed the "Swamp Fox" of the Confederacy by none other than Ulysses S. Grant earlier in the war.
On paper, Thompson had 2,000 soldiers in his brigade for the operation. In practice, many of the troops in his command hailed from the surrounding Missouri countryside and had been furloughed to check on their homes while the army was in the vicinity. Thompson's force could muster only about half that strength, but in the town of Longwood en-route to Sedalia, he rendezvoused with a battalion under Colonel Alonzo Slayback, bringing Thompson's total up to about 1,200 men.
Having gleaned intelligence from a pair of captured Union soldiers, Thompson advanced on Sedalia at noon on Oct. 15 with a bold plan of attack. Since the Missouri town lay on a flat prairie with few trees, Thompson could not hope to advance upon the 800-strong Union garrison unnoticed, so he dressed his lead regiment in captured Union overcoats. When the troops of Thompson's "Iron Brigade" encountered Federal pickets a mile outside of town, the Confederates were able to approach within pistol-shot before the startled pickets spotted the ruse, fired a few shots and fled. The game was up and a chase ensued, with Thompson's Rebels arriving at the outskirts of Sedalia hot on the heels of the Yankee pickets.
After a short, hectic fight, Colonel J.D. Crawford's Federal militia was able to briefly repulse the initial Confederate assault. But a few minutes later, the rest of Thompson's infantry and artillery arrived, formed up beyond the Yankee rifle pits and renewed the attack. Within minutes, the Union defenses broke and were routed through the town and out into the prairie beyond. Casualty figures are unknown, but Price's report on the action claims to have taken 200 prisoners at Sedalia--though due to the nature of the raid, Thompson was forced to parole them rather than take them along.
Thompson was soon dismayed to find his troops plundering and looting the town. This had been a consistent issue throughout Price's army during the raid, particularly in Boonville a few days before, and Thompson was determined to prevent its repetition in Sedalia. He intervened personally:
"As soon as the town was in our possession I used every means in my power to control the men, to prevent pillage, and also to secure as much valuable material as was possible for the army; but in spite of every effort there was considerable plundering of the stores, but I am confident the private houses were respected….I am proud to say no outrage or murder was committed."1
Thompson was forced to beat several looters with his saber, and even shot the mule out from under another before order was reestablished. Despite the Swamp Fox's assertion that "no outrage or murder" occurred, it is possible that some of the Black residents of Sedalia, who had aided in the construction of the Union fortifications, were killed by vengeful Confederates.
Nightfall saw Thompson and his men depart with over 2,000 cattle and mules to resupply Price's famished army. Union forces would reclaim the town in the following days, though Thompson's attack did not seriously divert the attention of Union General John Sanborn, who had been trailing Price's army with a powerful cavalry detachment. Nonetheless, Oct. 15 may have been the high water mark of Price's raid, with decisive victories at Glasgow and Sedalia serving to furnish Price's men with desperately needed food, clothing, and weapons. The following week, Price's Army of Missouri would be destroyed in a series of defeats near Westport, Kansas.
Today the battlefield bears no specific markers or memorials. It is believed that the Confederate attack took place near modern-day Crown Hill Cemetery, which is owned by the City of Sedalia. The cemetery contains an unrelated 15-foot tall obelisk dedicated to soldiers of Missouri who fought in the Civil War.
Sources
1. Swain, Craig. Sedalia and Glasgow, October 15, 1864: The Dichotomy of the war in Missouri on display. To the Sound of the Guns. October 15, 2014. Accessed November 07, 2017. https://markerhunter.wordpress.com/2014/10/15/sedalia-and-glasgow/.

2. Harlan, Marge. Slavery In Missouri. Rose M. Nolen Black History Library. Accessed November 07, 2017. http://rosemnolenBlackhistorylibrary.org/missouris-slave-history/.

3. Sinisi, Kyle S.. The Last Hurrah: Sterling Price's Missouri Expedition of 1864. Rowman & Littlefield, 2015. pp.134-137

4. 7. Collins, Charles Jr. D.. Battlefield Atlas of Price's Missouri Expedition of 1864. Fort Leavenworth, Kansas. Combat Studies Institute Press, 2016.

5. Sallee, Scott E.. "Missouri! One Last Time: Sterling Price's 1864 Missouri Expedition." Blue & Gray Magazine. Blue & Gray Magazine, 10-20, 48-62.


Additional Information