Battle of Mine Creek (Price's Raid)
Introduction
The largest cavalry engagement in the West, and one of the largest during the Civil War, was fought here on October 25, 1864 at the Battle of Mine Creek. Two Union brigades of approximately 2,500 troops defeated approximately 7,000 Confederates from General Sterling Price's Army of Missouri. Price's troops had already been in full retreat after a devastating loss at Westport a few days before, and the battles of October 25 would seal the fate of his doomed expedition.
Images
A marker at the site of battlefield.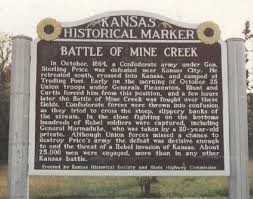 Confederate General Sterling Price, who commanded the ill-fated "Missouri Expedition." His defeat at Mine Creek and several nearby battles would end Confederate ambitions in Missouri.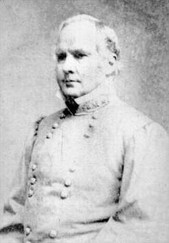 Confederate Brigadier General John Sappington Marmaduke, one of Price's division commanders. He was captured along with 600 Confederates at Mine Creek, and would spend the rest of the war a prisoner. He was later elected governor of Missouri in 1884.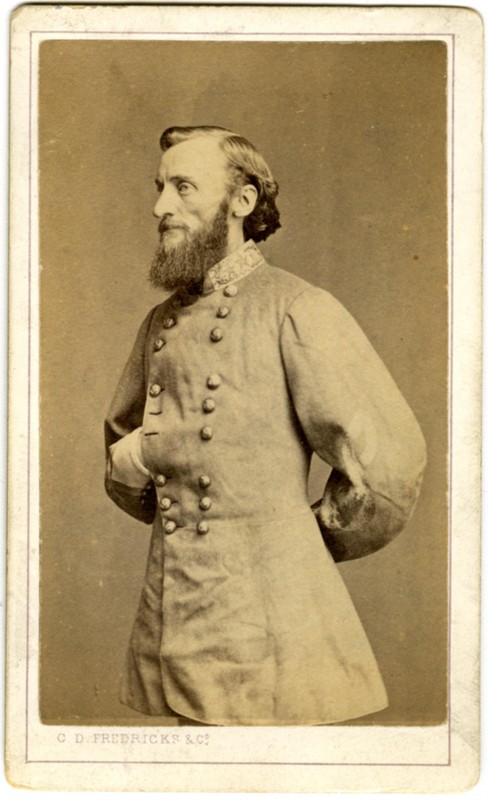 Union General Alfred Pleasonton, who attacked Price at Mine Creek. He commanded the cavalry of the Army of the Potomac earlier in the war, including the forces that defeated Confederate JEB Stuart at Brandy Station in the days preceding Gettysburg.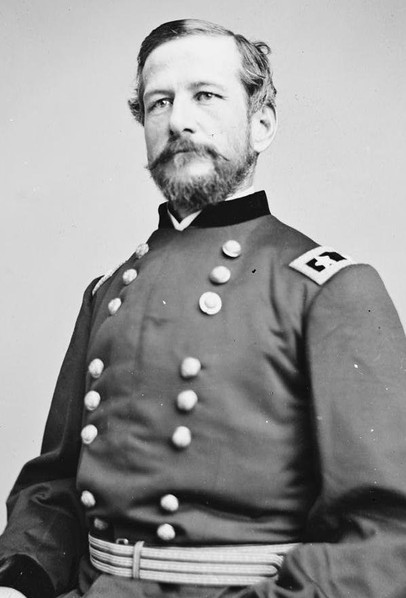 Colonel Frederick Benteen commanded one of the Union brigades at Mine Creek. After the war, he served with George Armstrong Custer and the 7th Cavalry at the Battle of Little Bighorn, where he was blamed for Custer's defeat and death.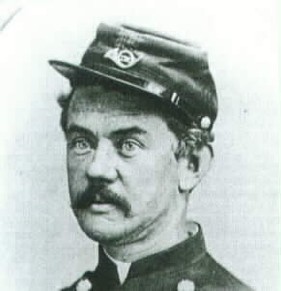 A National Park Service map showing the route of Price's Raid (upper left) and other 1864 campaigns in the Western Theater.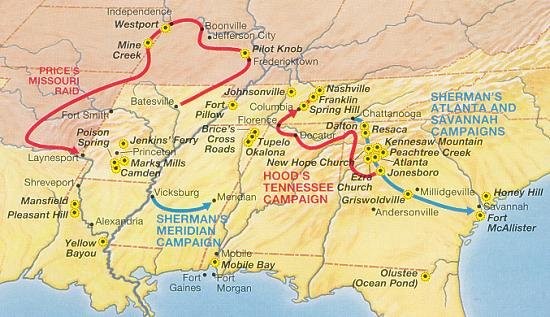 A National Park Service map of the Mine Creek Battlefield (for a detailed map of the battle itself, see the Civil War Trust map in the Link Section).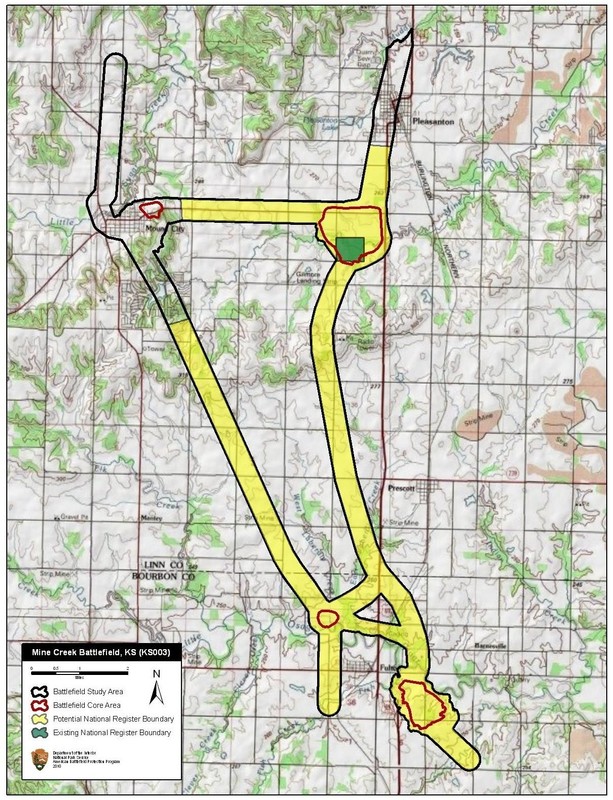 Backstory and Context
Toward the end of their month-long raid through Missouri and Kansas in autumn of 1864, only a few miles south of Kansas City, the retreating Confederate forces of General Sterling Price were attacked by Union cavalry under the command of General Alfred Pleasonton. Price's Confederates had been defeated already in the preceding days, at Byram's Ford and Westport. In one of the more successful strokes of his military career, Pleasonton pressed his advantage aggressively and, despite being heavily outnumbered, inflicted yet another defeat upon Price's doomed "Missouri Expedition."
In late August of 1864, Confederate General Sterling Price was tasked with an invasion of Missouri in order to secure the state for the Confederacy once and for all. Though a border state with many Confederate sympathizers, the state had never actually seceded from the Union. Its capture by the Confederacy, against which the tide of war had turned by this time, would be a much-needed political victory that could slant the upcoming 1864 Presidential election against Abraham Lincoln, who along with the Republican party was determined to see the war through until the South was defeated. The election of a Democratic candidate to the U.S. presidency, it was hoped, would cause the Union to end the war and grant the Confederacy its independence.
Unfortunately, some of Price's troops were soon reassigned to other theaters of war, and his objective was reduced to conducting a large-scale raid through Missouri, intended as a psychological victory to draw Union attention, troops, and resources to the Western Theater. Price's force of 12,000 men crossed the Arkansas border into Missouri on Sept. 19, 1864.
A month of marching and fighting gave Price initial successes against the scattered Union garrisons, but despite the appearance of victory, he was committing a series of strategic blunders. His invasion force was of dubious quality, nearly a quarter of it being made up of former deserters who had been pressed back into service. Episodes of looting occurred, even in towns friendly to the Confederates, and turned local populaces against them. Price's tactics in battle also resulted in unnecessarily large numbers of casualties and reduced his force's strength.
Soon, Price's raid and other Confederate activities attracted the attention of Union commanders in the region. Though he crossed into Kansas and managed to seize the town of Independence on October 21st, Price now had 10,000 Union cavalry under Union General Alfred Pleasonton hot on his tail. By the night of the 21st, Pleasonton's troops had already cut off and annihilated some of Price's outlying forces.
Sensing that the noose was tightening, Price turned his forces southward against the nearby town of Westport the next day, hoping to defeat a smaller Union force under Union General Samuel R. Curtis. But Curtis halted Price's advance at Brush Creek, just south of Westport, and when Pleasonton's cavalry defeated Price's rearguard at Byram's Ford the same day, Price was forced to make a break for it.
On October 25, Pleasonton caught up with Price again and attacked with unusual vigor. Though Pleasonton had commanded Union cavalry in the Eastern Theater earlier in the war, and had fought Confederate General J.E.B. Stuart's cavalry to a standstill during the war's largest cavalry battle at Brandy Station in 1863, Pleasonton was often criticized for lacking initiative and elan, and had been transferred westward for that reason. He seemed to display none of his typical torpor that day, resulting in three different engagements against Price's beleaguered force.
That morning, Pleasonton attacked Price's camp on the banks of the Marais Des Cygnes River, forcing him into a hasty retreat across the treacherous current. Later, two brigades of Pleasonton's cavalry slammed into Price again at Mine Creek.
The ford at Mine Creek was dangerously swollen. Many of the wagons in Price's significant supply train had difficulty crossing. To protect their wagons, Confederate forces numbering nearly 7,000 formed their defensive lines on the north side of the creek. Seemingly undaunted by their numerically superior foes, the Union cavalry pressed the attack, even conducting a mounted charge that disintegrated Price's hastily formed lines. 600 Confederates were taken prisoner, along with some of Price's highest ranking commanders.
The rest of Price's troops made their escape, but were engaged again later that day at the Battle of Marmiton River, where they were similarly put to flight. Utterly defeated, the ragtag remnants of Price's invasion force would fight only one more time, at the Battle of Newtonia on October 28.
Despite its early successes, the invasion was a disaster for the Confederacy. The four days of battle near Mine Creek are sometimes referred to as "The Gettysburg of the West," as it would be the last time a Southern invasion would threaten Missouri and Kansas. The resulting propaganda victory would help propel Lincoln to reelection a few days later. And Union troops were finally able to cement their control of Missouri, since Price's shattered invasion force had included most of the Confederate militia forces remaining in the state.
Sources
1. Mine Creek: Battle of the Osage. Civil War Trust. Accessed October 26, 2017. https://www.civilwar.org/learn/civil-war/battles/mine-creek?platform=hootsuite. 
2. Scott, William Forse. The Story of a Cavalry Regiment: The Career of the Fourth Iowa Veteran Volunteers from Kansas to Georgia (New York: G. P. Putnam's Sons), 1893, pp. 250-301.
3. Price's Raid. Wikpedia. https://en.wikipedia.org/wiki/Price%27s_Raid.
4. American Battlefield Protection Program. National Park Service. Accessed October 26, 2017. https://www.nps.gov/abpp/battles/ks003.htm.
5. Alfred Pleasonton. Wikipedia. Accessed October 26, 2017.
https://en.wikipedia.org/wiki/Alfred_Pleasonton.
6. Battle of Marais Des Cygnes. Wikipedia. Accessed October 26, 2017. https://en.wikipedia.org/wiki/Battle_of_Marais_des_Cygnes.
Additional Information