Dallas Municipal Building
Introduction
Dallas Municipal Building opened in 1914 as the city's fourth City Hall. After the assassination of President John F. Kennedy, Lee Harvey Oswald was arrested and jailed in the Municipal Building on November 22, 1963. Two days later he was fatally shot by Jack Ruby while being led out by police in the basement garage. The city government vacated the structure in 1978 when it moved to its current location. In 2003, the Dallas Police Department moved its offices as well, making the building partially abandoned. Today, it is presently home to the University of North Texas at Dallas College of Law. Many of the spaces associated with Oswald, including the cell he occupied, have been well preserved.
Images
The Dallas Municipal Building was built in 1914 and is an excellent example of Beau Arts architecture. The adjoining addition was built in 1956.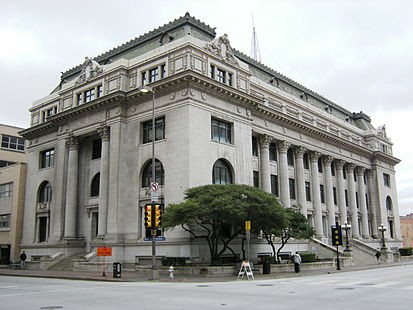 Backstory and Context
The building is included as a contributing property of the Dallas Downtown Historic District, which was added to the National Register of Historic Places in 2006. In 2013, its listing was amended to emphasize the national significance of the building itself for its association with the murder of Lee Harvey Oswald.
Sources
"Our Campus Location." UNT Law School. Accessed May 24, 2014. http://lawschool.untsystem.edu/about/location.

Quimby, Marcel. "Dallas Downtown Historic District (amendment to justify national level of significance for the Municipal Building)." National Park Service - National Register of Historic Places Nomination Form. November 29, 2013. https://www.nps.gov/nr/feature/places/pdfs/AD_04000894_11_29_2013.pdf.

Photo: Joe Mabel, via Wikimedia Commons
Additional Information