Giant Eyeball
Introduction
The Giant Eyeball, also known as the Eye, is one of Tony Tasset's many eccentric artworks. Known for transforming mundane objects into art pieces, Tasset originally created the Eye in 2010 as a commission for the Chicago Loop Alliance, as part of its Art Loop installation. The Art Loop works to install a new and temporary artwork in the Loop every summer. The Eye was brought to Dallas in 2013 when Timothy Headington, the owner of the Joule Hotel, bought it.
Images
Picture taken of Tony Tasset for Interview Magazine.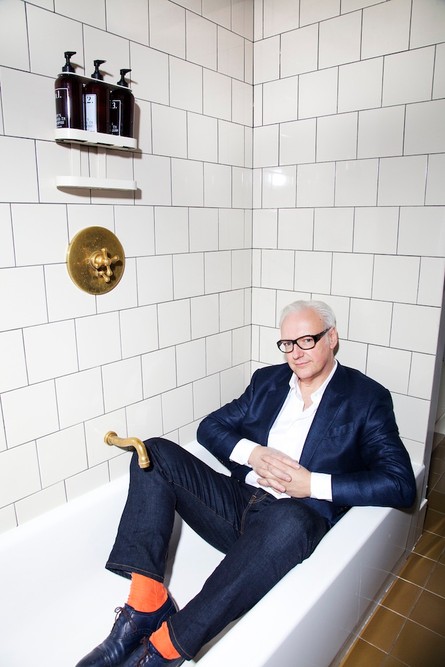 Andy Warhol is Tony Tasset's inspiration for becoming a public artist.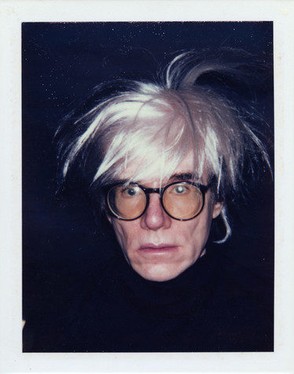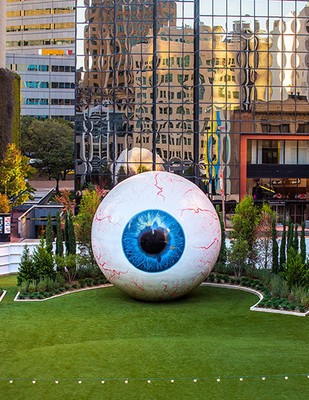 Tony Tasset, Hot Dog Man, 2011.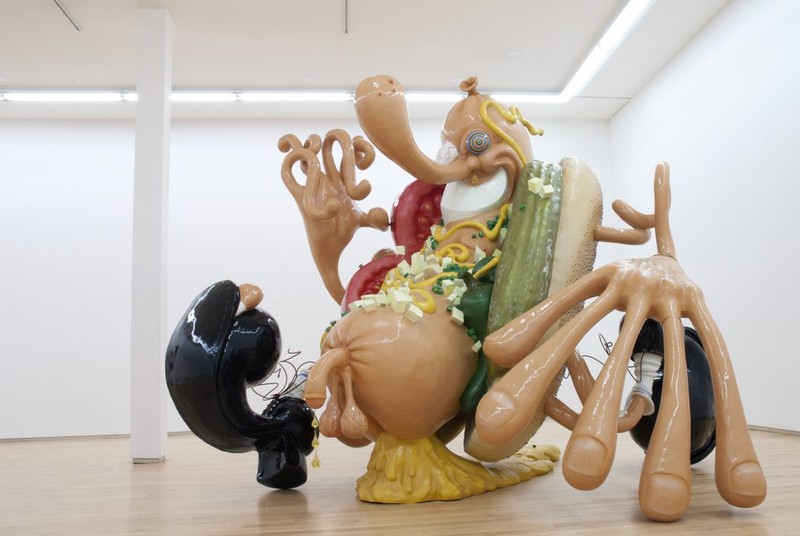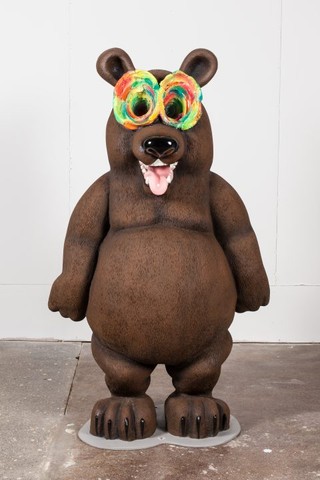 Backstory and Context
Tony Tasset was born in Cincinnati, Ohio in 1960.1 At the age of three, Tasset began to draw monsters and sell his drawings to his classmates.2 In 1983, he earned his Bachelor of Fine Arts at the Art Academy of Cincinnati. Two years later, he earned his Master of Fine Arts at The School of the Art Institute of Chicago.3 Originally, Tasset planned to major in Design and Illustration but met a girl who was "a real hardcore painter" so he changed his major to fine arts: they are now married.4
In his 40s, Tasset became unsatisfied with his art as accessible to only intellectuals, so he started creating art for both intellectuals and the general public.5 In his decision to become a public artist, Andy Warhol was his inspiration.6 He has said that he likes to work with everyday objects that make the public still ask, "What's it mean?"7 Tasset says that people still seek a meaning for everyday objects because "People have been so conditioned to not understand art that when something's obvious they feel like they're missing something".8 He works with multiple mediums in a way that satirizes our pop culture and make us question our own understanding.9 Ty Tabing, Executive Director of the Chicago Loop Alliance and member of the committee of the locals that picked Tasset for Art Loop, said that "His art is not too highbrow and still very provocative and thought-provoking at the same time".10
The Eye is a three-story fiberglass orb that is a replica of Tony Tasset's own eyeball.11 In Chicago, near the completion of the Eye, Tasset's team, made up of fiberglass workers from Sparta's Fast Corp. (Fiberglass Animals Shapes and Trademarks), came across a natural obstacle: rain.12 With heavy rain and the public unveiling approaching, the team had to push their limits to assemble the structure's twenty-four pieces and add all the details such as the veins and iris.13 After assembling the Eye, the team had to cut it into seventeen pieces in order to safely transport it from Sparta to the Loop.14

Ty Tabing anticipated buyers to secure Tasset's Eye in the Loop, Chicago's official downtown; however, that did not occurred and the Eye had to be dismantled and returned to Sparta's Fast Corp.' factory.15 With a background rooted in the arts, Timothy Headington, the owner of the Joule Hotel, decided to purchase the Eye in 2013 in partnership with the Nasher Sculpture Center.16 Now, the Eye, is joining "the hotel's thriving collection of contemporary works like Dan Rees' "Shaker Peg Painting" 2013, Tony Cragg's "Outspan," 2008, Callum Innes' "Untitled," 1996, Andy Warhol's "Electric Chairs" 1971, and more."17 Tony Tasset's art is influenced by the culture of the moment and it affects how the public reacts to his art: negative or positive, but a reaction is always welcomed.
Sources
1. K, Dea. "Tony Tasset." Widewalls. February 8, 2015. Accessed April 19, 2019.

2.
Small, Rachel. "Tony Tasset's Three Story Eyeball." Interview Magazine. November 01, 2013. Accessed April 19, 2019.
3.
K., Dea
4.
Small, Rachel.
5.
Viera, Lauren. "The Odyssey of Chicago's New Eye Sculpture." Chicago Tribune. July 03, 2010. Accessed April 19, 2019.
6.
Small, Rachel.
7.
Small, Rachel.
8.
Small, Rachel.
9.
"Tony Tasset." Kavi Gupta Gallery. Accessed April 19, 2019.
10.
Viera, Lauren.
11.
Small, Rachel.
12.
Viera, Lauren.
15. Viera, Lauren. "See Eye - while you still can". Chicago Tribune. November 09, 2010. Accessed May 01, 2019.
16. Laughlin, Jamie. "This Giant Eyeball Sculpture Arrives in Dallas Today, and Boy Is It Freaky Lookin'." August 19, 2013. Accessed May 01, 2019.
Additional Information