Hotel Adolphus
Introduction
Built by the founder of the Anheuser-Busch company, Adolphus Busch, the Adolphus Hotel was opened on October 5, 1912, intending to establish the first grand and posh hotel in the city of Dallas. With 22 floors standing a total of 312 feet, the building was the tallest building in Texas until it was dwarfed by the Magnolia Petroleum Building (now the Magnolia Hotel) just down the street in August 1922. Otto Schubert took over management in 1922 and it was under his watch that the hotel attained national prominence. Dallas architects Beran and Shelmire headed the hotel's renovation in the 1980s, thereafter attracting guests like Jimmy Carter, Ronald Reagan, and George H.W. Bush. Queen Elizabeth II gifted the hotel an official portrait to be hung in the lobby as a token of gratitude for the extraordinary service she and Prince Philip received there during their state visit in 1991. The Adolphus was added to the National Register of Historic Places in 1983.
Images
The Adolphus Hotel's 1980s renovation celebrated its history and re-imagined its future.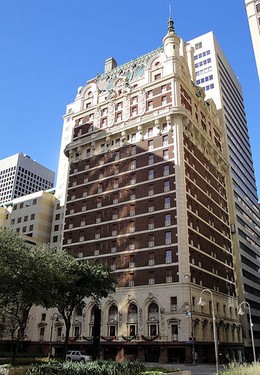 The Adolphus was the tallest building in Texas until 1922, as demonstrated by this 1913 photo of the Dallas skyline

Backstory and Context
The Adolphus underwent expansions in 1916, 1926, and 1950, but none were as expensive as the 1980s renovation. $80 million was spent enlarging and modernizing the already-luxurious guestrooms, and bringing the total number of guestrooms down from 1,200 to 428.
Sources
Adolphus Hotel. History. Accessed March 25, 2017. http://www.adolphus.com/timeline-adolphus/.

"Hotel Adolphus." National Register of Historic Places. July 14, 1983. https://atlas.thc.state.tx.us/NR/pdfs/83003133/83003133.pdf.

Additional Information