Kirby Building
Introduction
Designed the in Late Gothic Revival style, the 17-story Kirby Building is one among the most architecturally pleasing buildings in Dallas. The original and largest part of the building was constructed in 1913 by prominent developer Adolphus Busch, who also built the Hotel Adolphus located one block to the south. It was an office building and also home to the A. Harris & Co. Department store, one of the prominent stores in the southwest during the first half of the 20th century. The store built three additions, in 1925, 1930, and 1955; the last addition is the least architecturally significant but still an important part of the building. Today, the Kirby Building is now an residential building featuring apartments and lofts. It was added to the National Register of Historic Places in 1987.
Images
The Kirby Building was originally built in 1913.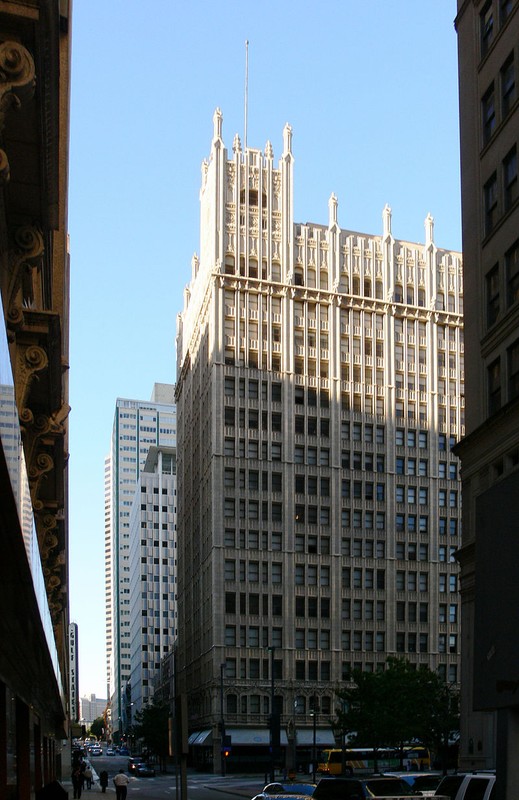 Backstory and Context
Unfortunately, Adolphus Busch passed away before he could see the building completed. His heirs sold it to the Kirby Investment Company of Houston in 1918, which was founded by John Henry Kirby, a prominent figure in the state's financial industry. The building's name is derived from this company, although it has also been known as the Busch building. Interestingly, the A. Harris store could have expanded upwards but at the time department store planners found that five stories was the best height so the A. Harris expanded outwards.

Like other downtown buildings during the 1970s and 1980s, the Kirby went into decline and became vacant. However, it was the first to be renovated and became a hopeful symbol for the city's efforts to revitalize downtown.
Sources
Homepage. The Kirby. Accessed July 10, 2017. http://www.thekirbyonmain.com.
Maxson, Peter F. "Busch-Kirby Building." National Park Service - National Register of Historic Places Nomination Form. September 28, 1987. https://atlas.thc.state.tx.us/NR/pdfs/96001015/96001015.pdf.
Photo:
Andreas Praefcke, via Wikimedia Commons