Dallas Holocaust Museum Center for Education and Tolerance
Introduction
Founded in 1984, this museum is dedicated to preserving the memory of the Holocaust and sharing the moral and ethical response to prejudice, hate, and indifference. Located in Dallas' historic West End, the museum hosts 65,000 visitors annually, nearly half of them school children. The museum is noted for its compelling and creative programming, as well as internationally recognized exhibits and world-class speakers.
Images
The Dallas Holocaust Museum is a partner agency of the Jewish Federation of Greater Dallas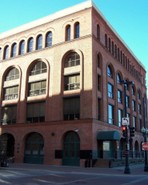 Backstory and Context
The permanent exhibit offers visitors a unique experience of the Holocaust, capturing one day in particular, April 19, 1943. As it happened, three very important situations occurred: an attack was made by partisan fighters against the 20th Deportation Train out of Belgium; The Warsaw Ghetto exploded in what was later known as the Uprising; and the Bermuda Conference convened. Special events throughout the year of the highest caliber further amplify the power of the presentation.
Docent-guided or audio-guided tours allow your party to customize your experience. These tours come in English or Spanish, as your needs require. Generally, these tours take between a half hour and two hours to complete. NOTE: Groups must be scheduled in advance. School groups visiting each year number in the hundreds, and such events also include college nights for post-secondary students as well. Holocaust Survivors' Testimonies are shared with thousands of visitors, school groups, and guests. Digitized recordings of these personal testimonies from Holocaust survivors leave their stories for generations to come.

Educator support is available through summer conferences and other ongoing workshops and orientations. The Traveling Curriculum and Museum Experience Fund: The Museum believes in reaching beyond its walls with programs to support schools who need assistance in enabling students to make the trek, as well as providing some artifacts to travel to targeted classrooms around the region. The Upstander Speaker Series brings in renowned international speakers on human rights issues, sharing them with the Dallas-Fort Worth area. Subject matter experts on specified topics are brought in to speak to hundreds of school kids and community groups. A rich archive and research library is also available to Museum members.

The Garden of Remembrance and Tolerance, created as a project for Eagle Scout Brandon Ryan, was dedicated in a special ceremony on November 20, 2011. The garden features a unique outdoor steel sculpture, benches, trees, and landscaping.

The Dallas Holocaust Museum supports the Generations program, creating a database of Holocaust survivors, their children, and grandchildren to be used to communicate and to coordinate for Education and Tolerance events from time to time. It provides an excellent means for children and grandchildren to meet, socialize, and enjoy others with similar experiences. The effort will help organize and implement social and recreational events for Generation members and their families. Further, it will support the community by organizing events for Survivors and their families, such as Purim and Hanukkah parties, preserve the memories of the Holocaust and its aftermath.
Sources
About the Museum. Dallas Holocaust Museum. http://www.dallasholocaustmuseum.org/about/contact.


Additional Information