Reunion Tower
Introduction
Built in 1978, Reunion Tower is a 561 foot tower capped by a large geodesic dome—typically referred to as the "orb." From this vantage, visitors can view the Dallas skyline and take pictures using special high definition cameras. Along the perimeter of the deck are panels with photographs and information about various landmarks and historical events in the city. The tower features the observation deck as well as the Cloud Nine Cafe and Five Sixty restaurant, which is owned by renowned chef Wolfgang Puck. It was originally a free standing structure until 1998 when the Hyatt Hotel was built next to it. Not surprisingly, the Reunion Tower has quickly become a popular place for visitors as well as one of the city's iconic landmarks.
Images
Reunion Tower's glowing "orb" is a lit with LED lights which provide a striking view of the tower at night.

Reunion Tower downtown view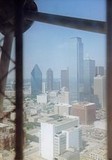 Sources
"Reunion Tower." Emporis. Accessed May 28, 2016. https://www.emporis.com/buildings/118435/reunion-tower-dallas-tx-usa.

"Reunion Tower and Union Station Receive Complete Transformation." Hyatt Regency. Accessed July 5, 2017. https://www.hyatt.com/hyatt/images/hotels/dfwrd/HyattRTUSrenovation07.pdf.
Additional Information