Captain Thomas Fallon Statue, San Jose
Introduction
This statue of Captain Thomas Fallon raising the American flag in San Jose in 1846 during the early period of the Mexican-American War (1846-1848) caused a significant amount of controversy for many years. Artist Robert Glen was commissioned in 1988 to create the statue and it was scheduled to be installed in 1990. However, the Mexican-American community objected to it, arguing that it symbolized oppression of Mexicans and celebrated the United State's annexation of California just two months after the government declared war on Mexico. In response, a historic art committee was formed, which eventually concluded that city art should represent all of the city's history, including the statue. It also called for four other artworks that would depict other aspects of San Jose's history. All of these statues are today on display. It is significant to note that the statue was placed in storage for ten years before being installed during the debate about the propriety of the statue. In 2016, the city moved the statue about ninety feet Pellier Park to allow for the realignment of Julian Street.
Images
Thomas Fallon was a self-appointed military leader who claimed San Jose for the United States in 1846 near the location of the statue.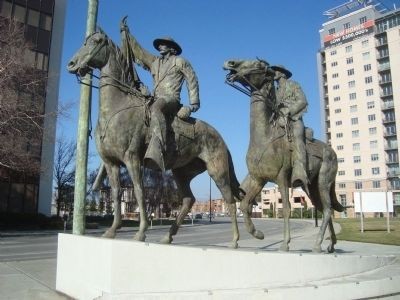 Backstory and Context
The family that funded and commissioned the statue hoped to place it in Cesar Chavez Park, this location offended the sensibilities of many residents given the intention of that park to honor a Mexican-American civil rights icon. Chicano groups protested the placement of the statue in 1990, resulting in the statue being located on St. James Street after ten years of debate. During that time, the statue was placed in storage and the city agreed to create four works celebrating Hispanic history and culture before the Fallon monument would be installed. One of the four statues, the
Aztec deity Quetzalcoatl which was installed in Cesar Chavez park, has been criticized for resembling "a snake coiled like excrement."


Although protests were made in 2000, when the statue was placed on St. James Street, but Mayor Tom McEnery and other San Jose leaders felt that the statue presented an important piece of the city's history.
Sources
"Captain Thomas Fallon." The Historical Marker Database. Accessed June 1, 2017. https://www.hmdb.org/marker.asp?marker=81726.

Maria Alicia Gaura. "Statue Controversy Revived in San Jose / Placement of pioneer figure derailed in '90s." SFGate. October 12, 2000. http://www.sfgate.com/bayarea/article/Statue-Controversy-Revived-in-San-Jose-2734213.php.

Photo: Barry Swackhamer, via The Historical Marker Database

Additional Information