The Tech Museum of Innovation
Introduction
The Tech Museum of Innovation features 132,000 square feet of interactive galleries and workshops that reflect 'the Spirit of Silicon Valley" and blend fun with education in science and technology. Guests can tour the galleries, participate in workshops, and enjoy educational films in the museum's IMAX theater. The Museum sponsors a number of day-long and multi-day workshops were young adults can explore technology and design their own inventions and innovations.
Images
The Tech Museum of Innovation is one of San Jose's newest museums. It offers hands-on technology and science exhibits as well as year-round programming and workshops.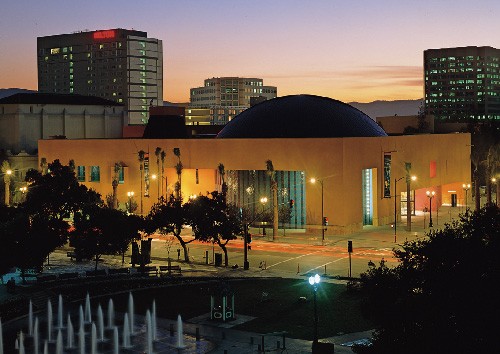 Backstory and Context
The museum and its directors believe that every young person should have the opportunity to explore science and technology with hands-on learning experiences. In addition to its wide array of galleries, workshops, and other local programming, the museum sponsors server national and international awards for those who promote technology and education. Please check the links below for more information about these programs and opportunities within and beyond the San Diego area.
The inspiration for the museum began in 1978 when members of the local Junior League dedicated themselves to the creation of a museum of science and technology. Their vision became a reality in 1990 when the museum opened in the city's former convention center. After eight years and with the generous support of the museum's benefactors, the museum opened in its current location.
Sources
The Tech Museum of Innovation Website, http://www.thetech.org/ accessed 11/5/2014
Additional Information