Orlando Reeves Marker
Introduction
This simple plaque was placed at Lake Eola in 1939 by the students of Cherokee Junior High School in honor of Orlando Reeves, the alleged namesake of the City of Orlando. According to popular legend, Orlando Reeves was a soldier in the Second Seminole War who was killed by Native Americans near present-day Orlando. Military records dispute the existence of such an Orlando Reeves, however, and several other theories exist as to how Orlando received its name. Today the plaque remains at Lake Eola and serves as an example of how myth and legends can become embedded in our history.
Images
The Orlando Reeves monument in Lake Eola was placed in 1939 by the students of Cherokee Junior High School. It was later restored in 1992. Image obtained from Panoramio.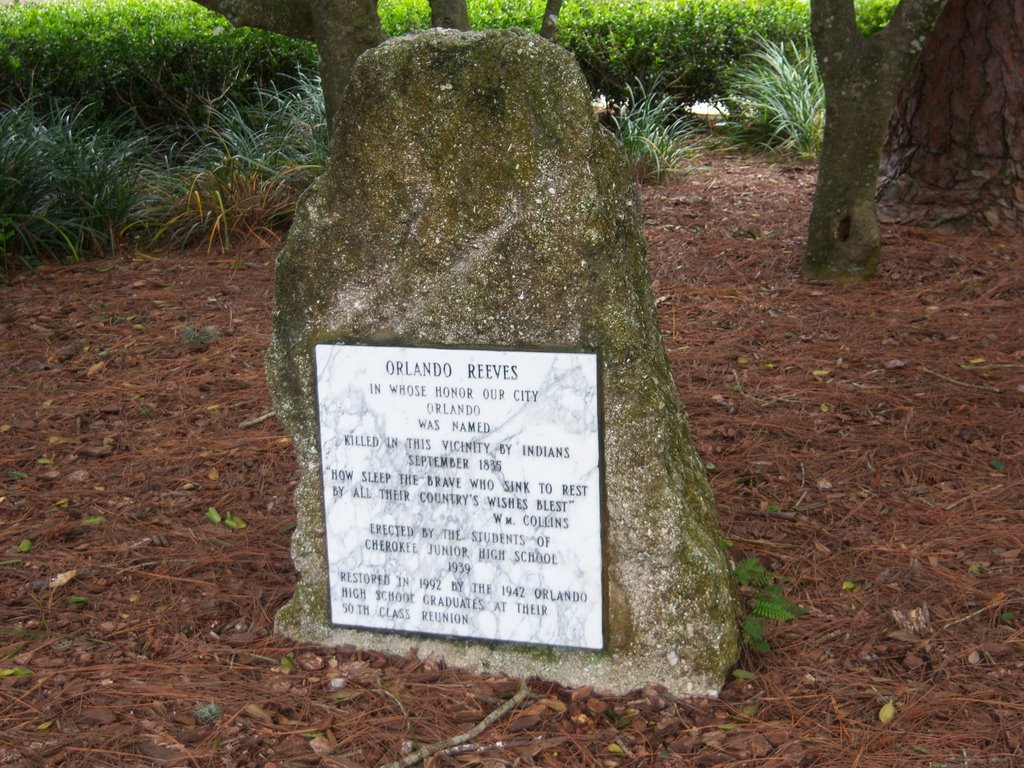 The Second Seminole War was caused when the American government tried to force the Seminoles off their central Florida reservation and onto a new one in the west. Image obtained from Wikimedia.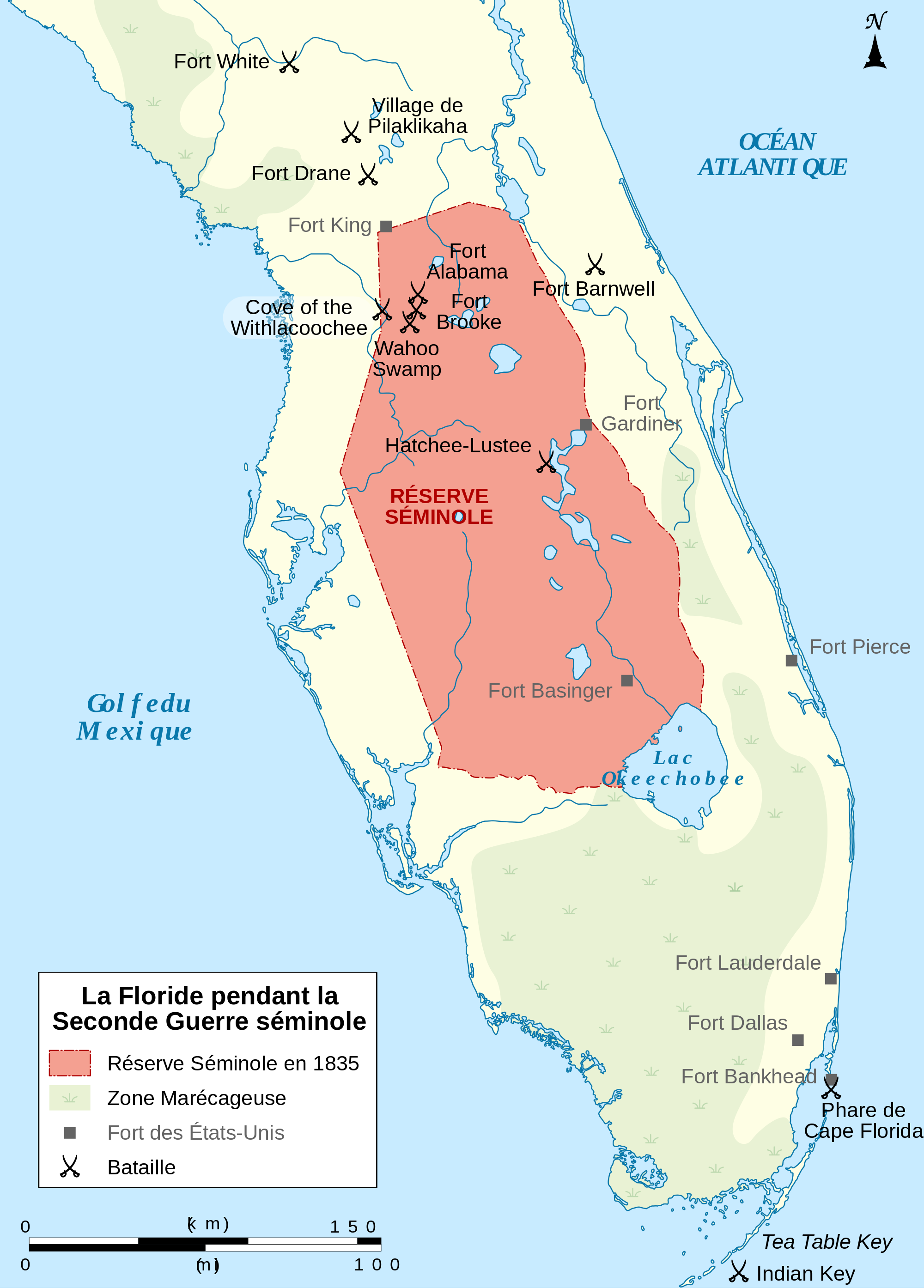 Backstory and Context
The most well-known and popular story behind the name of Orlando is that of an American soldier from the Seminole Wars named Orlando Reeves. The Seminole Wars were a series of conflicts between American forces and Seminole Native Americans in Florida during the first half of the nineteenth century. The most prominent was the Second Seminole War (1835-1842) in which the American government fought to force the Seminoles to leave Florida and move to a reservation in the west. According to the story, Orlando Reeves was a soldier stationed at Fort Gatlin near present-day Orlando. One night in September 1835 Reeves was on sentry duty at Lake Minnie (or Lake Eola, sources differ), when he spotted some Seminoles crossing the river and coming towards him. Reeves fired his gun to warn nearby troops, but he was then killed by the Seminoles. This is the accepted story on the plaque at Lake Eola. However, no military records of the time list an Orlando Reeves as either a soldier or a casualty. Additionally there were no known conflicts with the Seminoles in Orlando, with the closest action being near present-day Disney World.
A second leading theory is that Orlando was named after South Carolina plantation owner Orlando Savage Rees. Rees owned large amounts of property in South Carolina, Georgia, and Florida. Supposedly he owned a sugar plantation in central Florida that was destroyed in a Seminole attack in December 1835. Some accounts say Rees then led an armed expedition through central Florida to find the Seminoles and recover stolen cattle and slaves, possibly traveling through present-day downtown Orlando. It is speculated that Rees may have carved his name on a tree in the area to mark where he had been, and that it was later mistaken to be a grave marker. The real Orlando Rees died in South Carolina in 1852.
Other theories exist as well, with varying details. One was that Orlando Reeves died in battle, leading his troops after their unit commander was killed. One claims that he was an Englishman killed by Seminoles while camping. Another account says the city was named after a mail carrier named Orlando Reed, who traveled between Mellonville and Fort Gatlin. One story even claims Orlando was named by Judge James Gamble Speer, who had organized Orange County in the 1850s. Supposedly he chose the name Orlando after a character called Orlando in the Shakespeare play As You Like It. Some theorists back this claim by noting one of Orlando's main streets is named Rosalind, who was the love interest of Orlando in the Shakespeare play.
While the true reason behind the name may never be known, by 1857 the growing community around Fort Gatlin had been named Orlando. The legend of soldier Orlando Reeves dying while warning of a Seminole attack in 1835 became the most accepted and popular story. In 1939 students from Cherokee Junior High School erected a granite plaque on a stone at Lake Eola, honoring the ambiguous Orlando Reeves. In 1992 the plaque was restored by the Orlando High School Class of 1942 for their 50th class reunion.
Sources
Andrews, Mark. "Legendary Orlando Reeves Was A Remarkable Man- Or Was He?" Orlando Sentinel. January 18, 1998. Accessed May 18, 2017. http://articles.orlandosentinel.com/1998-01-18/news/9801161380_1_lake-eola-orlando-reeves-orlando-public.
Brotemarkle, Ben. "Florida Frontiers: Theories abound on Orlando name." Florida Today. April 22, 2014. Accessed May 18, 2017. https://myfloridahistory.org/frontiers/article/13.


Dickinson, Joy. "Mystery Of Name Tracked Down Long, Winding Trail." Orlando Sentinel. January 28, 2001. Accessed May 18, 2017. http://articles.orlandosentinel.com/2001-01-28/news/0101260436_1_lake-eola-park-city-of-orlando-orlando-reeves.


Picture 1: http://static.panoramio.com/photos/large/14959636.jpg
Picture 2: https://upload.wikimedia.org/wikipedia/commons/thumb/5/5c/Second_Seminole_War_map-fr.svg/2000px-Second_Seminole_War_map-fr.svg.png
Additional Information