Rattlebone Hollow
Introduction
What remains of Rattlebone Hollow lies mostly buried beneath John Garland Park, a Superfund site where a landfill leaked toxic material into a once-vibrant Black neighborhood in Kansas City, Kansas. The history of Rattlebone Hollow is gradually being recovered as an indispensable part of African American history in Kansas.
Images
The entrance to John Garland Park, which was built over land that once was part of Rattlebone Hollow.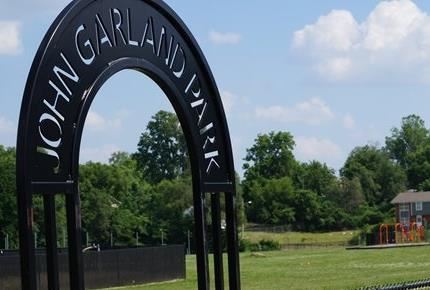 Backstory and Context
The Rattlebone Hollow neighborhood in Kansas City, Kansas, now consists of blocked-off or grown-over streets, demolished buildings, and a few old community churches. It would be easy to overlook this place that has largely faded from memory, but the history of Rattlebone Hollow is being recovered as part of a larger movement to better document the stories of African Americans in Kansas. Not only does the legacy of Rattlebone Hollow live on in the people who lived there, but it's also part of the legacy of failed urban renewal projects and environmental racism in the United States.
Before Rattlebone Hollow became the site of a toxic waste dump (more on that below), it was a community established in 1879 by Exodusters who migrated to Kansas from southern states after the Civil War. Over the course of a few years, more than 40,000 Exodusters arrived in Wyandotte County on steamboats, and Rattlebone Hollow itself continued to grow into the 20th century. It was a thriving, self-sufficient community with all-Black schools and Black-owned businesses.
As for its intriguing moniker, Rattlebone Hollow likely gained its name due to its proximity to a meatpacking plant that would discard certain animal parts, like pig's feet and neck bones. These parts would be sent out on a cart, rattling over the neighborhood streets, to be claimed by locals who would use them in their cooking.
 Something that made this area special was how many locals owned their own land, which was a crucial part of the process for formerly enslaved Black people and their descendants to begin to accumulate generational wealth. It was all the more painful, then, when the federal government began seizing their land through eminent domain during WWII.
During the war, land in Rattlebone Hollow was used to build housing for workers at a nearby B-25 facility (which at first refused to hire Black workers, despite a labor shortage). The trend continued into the 1970s, when urban redevelopment efforts often meant clearing out urban areas occupied primarily by Black residents. In Rattlebone Hollow's case, it also meant building a landfill in close proximity to residential areas.
The Model Sanitary Landfill opened in 1972, and though it was hailed as a more sanitary and environmentally friendly landfill, it was plagued with problems from the start. Reportedly poorly maintained, the site was full within two years and had begun to leak into the surrounding community. 
It has been noted that landfills and toxic waste sites are more likely to be placed in Black neighborhoods, and the EPA's enforcement of cleanup efforts tends to be less stringent. This is part of the problem known as environmental racism.
 After the landfill closed in 1974, John Garland Park was built on top of it, named after an African American employee of the Wyandotte County Health Department who recommended the landfill's location in Rattlebone Hollow.
 Designated a Superfund site, concerns about the park's safety persisted, and the park was officially closed in the 1990s to undergo upgrades before reopening. Suspicion of the park's safety remains, however, among some community members.
 While the buildings and streets of Rattlebone Hollow are mostly gone, the people who grew up in this special community still maintain strong memories of the place and connections with one another.
Sources
Hoffman, Catherine . Forgotten KCK Neighborhood Source Of Black Pride, Flandland KC. October 11th, 2021. https://flatlandkc.org/curiouskc/curiouskc-resurrecting-rattlebone-hollow/.
https://www.wycokck.org/Departments/Public-Works/Construction-Projects/John-Garland-Park-Reuse-Plan
https://www.humanitieskansas.org/get-involved/kansas-stories/places/kansas-1972-rattlebone-hollow
https://www.epa.gov/superfund-redevelopment/superfund-sites-reuse-kansas
Additional Information