Gravesite of Edward P. McCabe
Introduction
E. P. McCabe was an influential member of the Nicodemus community. Born on October 10, 1850, in Troy, New York, he worked for a Wall Street firm before moving to Chicago to work at the Cook County Courthouse in the Treasurer's Office. In 1878, McCabe arrived in Nicodemus with his friend Abraham T. Hall after joining the Exoduster movement. There McCabe served as secretary of the Nicodemus Town Company, and then County Clerk in 1881 before serving two terms as State Auditor, making him the first African American to hold a statewide office in Kansas. After losing the nomination for the third term, he was appointed Washington Representative of the Oklahoma Immigrant Association, which required him to move from Kansas to Guthrie, Oklahoma where he attained other political posts and fought against segregation, especially in railway coaches and waiting rooms. One of his most profound ideas included making Oklahoma an All-Black state, beginning with the founding of the city of Langston. He died on March 12, 1920, in Chicago but is buried in at the Historic Topeka Cemetery. Today, McCabe is remembered as one of the most important and influential Kansas figures. He is buried in Section 82 of the Historic Topeka Cemetery.   
Images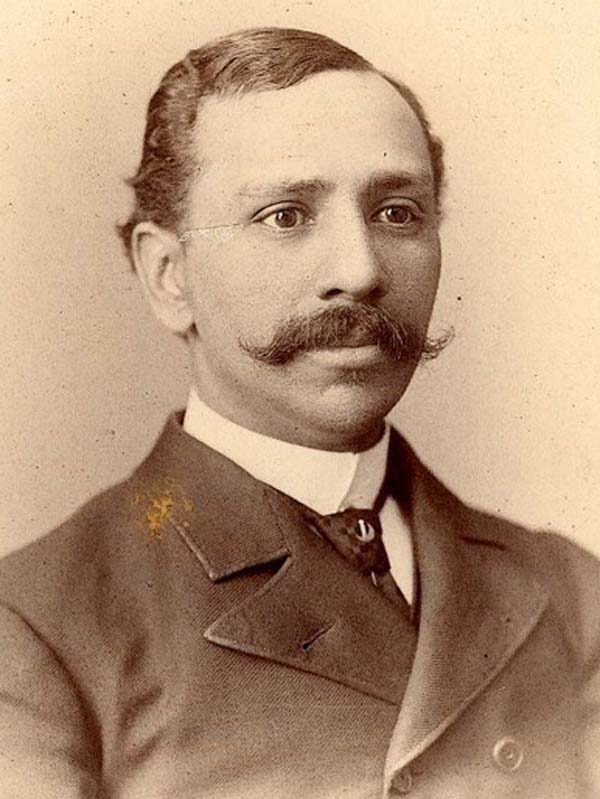 A petition to Governor John P. St. John calling for Graham County to be recognized as a "bona fide" county, notarized by Edward P. McCabe, October 11, 1879.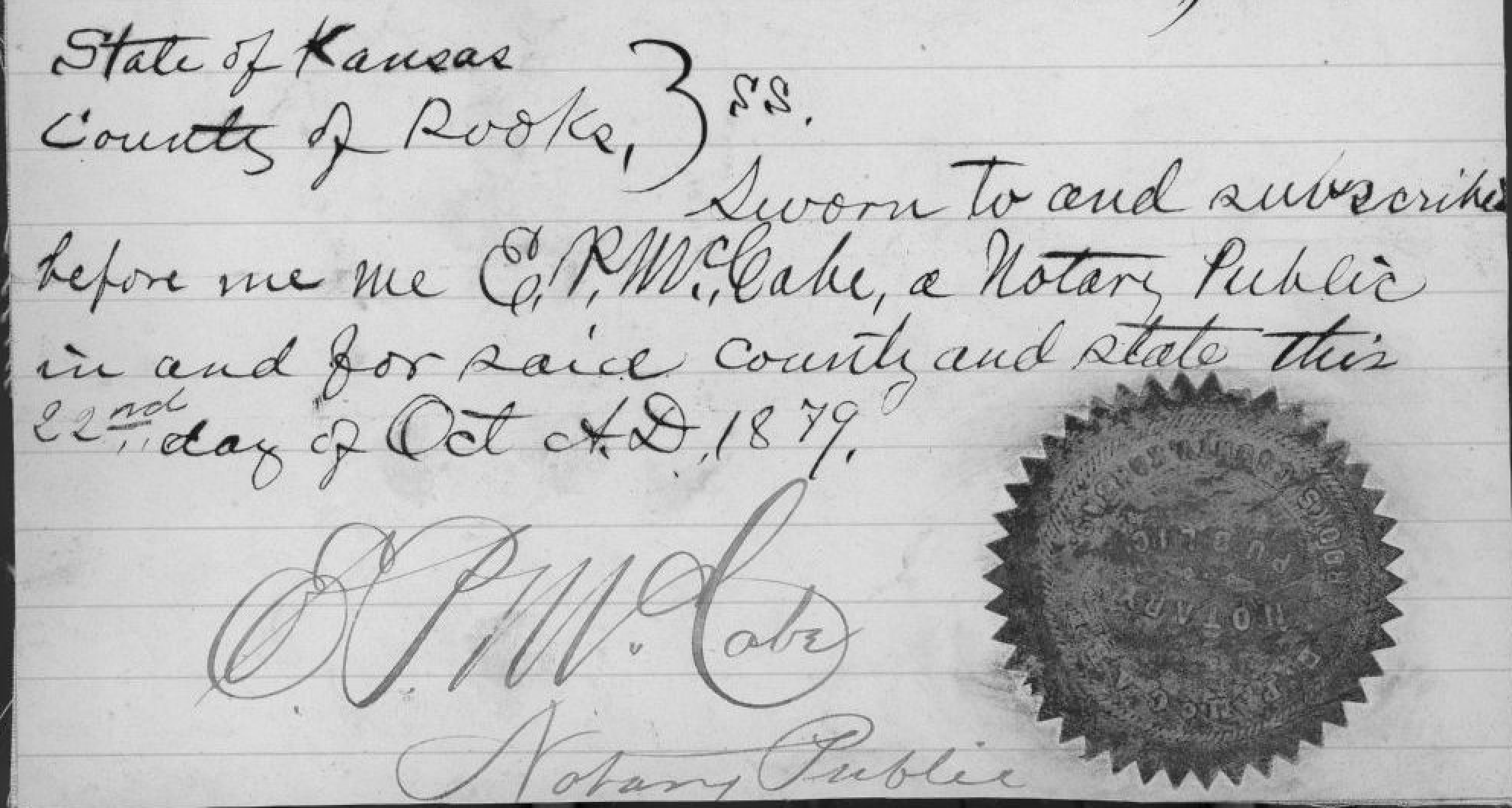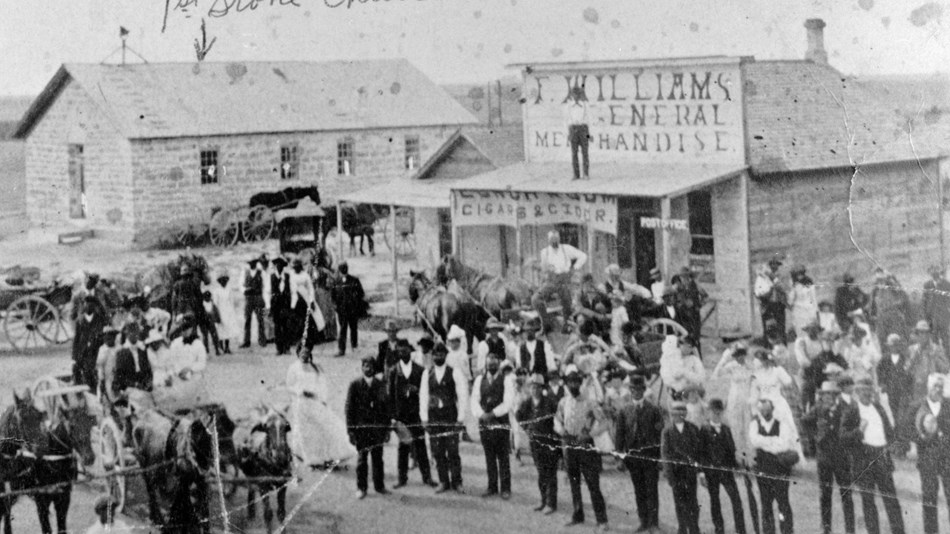 Portrait of Edward P. McCabe was painted by nationally known artist Simmie Knox, Silver Springs, Maryland
Backstory and Context
When Edward P. McCabe stepped off the train in Ellis, Kansas, hefted his bag, and set out on a 35-mile walk to the fledgling new town of Nicodemus with his friend, he was a man filled with aspirations and ideas. He was also taking the first steps to a political career that would shape the young state of Kansas.
Born in New York in 1850, McCabe and his family moved frequently throughout the Northeast – Massachusetts, Rhode Island, and Maine – during the pre-Civil War and Civil War years and when his father died, McCabe set his sights on New York City and began working as a clerk for the Shreve, Kendrick & Co. law firm on Wall Street. A few years later he headed west to Chicago and secured a job clerking for business tycoon and hotel magnate, Potter Palmer. By 1872, educated and connected, McCabe was appointed to the Cook County office of the federal treasury in Chicago as a clerk. His political career was in motion. 
Six years later, at the age of 28, McCabe was stirred by stories of Black migration and decided to take advantage of the free land made available through the Homestead Act and move west. In 1878 McCabe and his friend and political ally Abram T. Hall, Jr., who was the city editor of the Chicago Conservator newspaper, moved to the brand-new, all-Black town of Nicodemus. The two men set up a law office, specializing in real estate and land location. McCabe and his family had not been enslaved, and he had an interest in helping those who were building a free life on the high, arid plains of western Kansas. The business had the potential to be lucrative and further his political aspirations.  
Nicodemus, located in Graham County, was a town with purpose and promise. Founded by formerly enslaved people in 1877, Nicodemus was seen as a refuge – a safe place for African Americans to build new lives. It was the very first Black community west of the Mississippi River and is the only predominantly Black community west of the Mississippi that remains a living community today. With the forced removal of thousands of Indigenous people living in the area between the 1850s and 1870s, Kansas became a destination for Black farmers, families, entrepreneurs, activists, and businessmen wanting a fresh start and a fair shake. 
Earlier in the decade, the 15th Amendment to the U.S. Constitution was passed and Kansas was the 25th state to ratify it. The amendment made it illegal to deny U.S. citizens the right to vote "on account of race, color, or previous condition of servitude." But African Americans knew that although amendments may allow for rights, they do not ensure them. Voices and votes – advocacy and civic engagement – were critical to the success of this town and others like it, and McCabe and Hall immediately got involved. 
Given his experience in such matters and his interest in politics, McCabe was elected secretary of the Nicodemus Town Company, while Hall petitioned to make Graham County an official county in Kansas. The growing number of white settlers in the area had other ideas. Kansas Governor John Pierce St. John acknowledged the validity of Hall's petition for county status and appointed him to complete the requisite census. In doing so, Hall became the first African American census taker in the United States. 
Between 1878 and 1880, Hall continued his work as a journalist and established himself as the official correspondent from Graham County. He sent letters and wrote persuasive columns to newspapers throughout Kansas. His skillful writing is credited with helping to shape Kansans' favorable perception of the Nicodemus colony. Meanwhile, their land office became prosperous and, with frequent trips to Topeka, the two men became acquainted with African American politicians in eastern Kansas, and they soon became influential in state politics. 
In 1880, Hall departed Nicodemus for St. Louis while McCabe had a banner year in Kansas. He was elected to be the county clerk in Graham County, selected by the Kansas Republican Party to be a delegate-at-large from Kansas to the Chicago convention of the Republican Party, and he married Sarah Bryant, a friend from his days in Chicago. McCabe had linked his future and his fortunes on the success of Black settlements. The African American population in Kansas had grown from 17,700 in 1870 to 43,000 a decade later but it remained less than five percent of the state's total population. McCabe wanted it larger.
By his 32nd birthday, McCabe was elected to the post of state auditor, making him the first African American in Kansas to hold state office. The position was important and a key function of state government. State auditors were authorized to inspect all records of all departments and institutions of state government and to investigate any misuse in the disbursement of public funds. His election to this high-ranking position was impressive. He had only been in Kansas for five years. McCabe held this position for two terms between 1883 and 1887 before losing for re-election the third time.  
After the loss, McCabe became the federal representative of the Oklahoma Immigration Society, a group of African Americans from Kansas who organized a real estate venture and moved to the new territory. McCabe ultimately went on to help establish approximately 20 towns in both Kansas and Oklahoma populated with Exodusters.
Edward P. McCabe died in Chicago in 1920, survived by his wife, Sarah, and daughter, Lenore. McCabe and his wife are buried in the Topeka Cemetery.  A celebration of the life of Edward P. McCabe took place on 1990 with the display of a portrait of McCabe in the Oklahoma State Capitol Building. Today, the portrait hangs in the East wing of the second floor.
Sources
https://www.topekacemetery.com/edward-p-mccabe/
https://www.arts.ok.gov/Art_at_the_Capitol/Capitol_Collection.php?c=cac&awid=66
Image Sources
https://www.topekacemetery.com/edward-p-mccabe/

Courtesy of kansasmemory.org, Kansas Historical Society, Copy and Reuse Restrictions Apply.

Courtesy of kansasmemory.org, Kansas Historical Society, Copy and Reuse Restrictions Apply.