Topeka Council of Color Women's Clubs
Introduction
White frame house at 1149 SW Lincoln was the headquarters of the Topeka Association of Colored Women and Girls, starting in 1931. Black women began organizing in the 1880s and 1890s, during a time of escalating discrimination and segregation. The Kansas Association of Colored Women's Clubs was founded in 1896 and chartered in 1906. In addition to taking interest in popular Victorian ideals of self-expression and morality, Black women fought for basic Civil Rights for their entire race. Black clubwomen worked to help other Black women who worked outside the home - the vast majority of whom were employed as domestics. The women's clubs worked to establish childcare and kindergartens to help working women. In 1917, eight separate organizations were members of the Council of Colored Women's Clubs. The colored women's clubs were important institutions in the development of organization, unity, and leadership within the Black community.  The building was acquired by a local organization, The Living the Dream Foundation; a historic landmark designation was being sought and granted.  
Images
The clubhouse of the Topeka Council of Colored Women's Clubs at 1149 SW Lincoln St in Topeka, ca. 1930.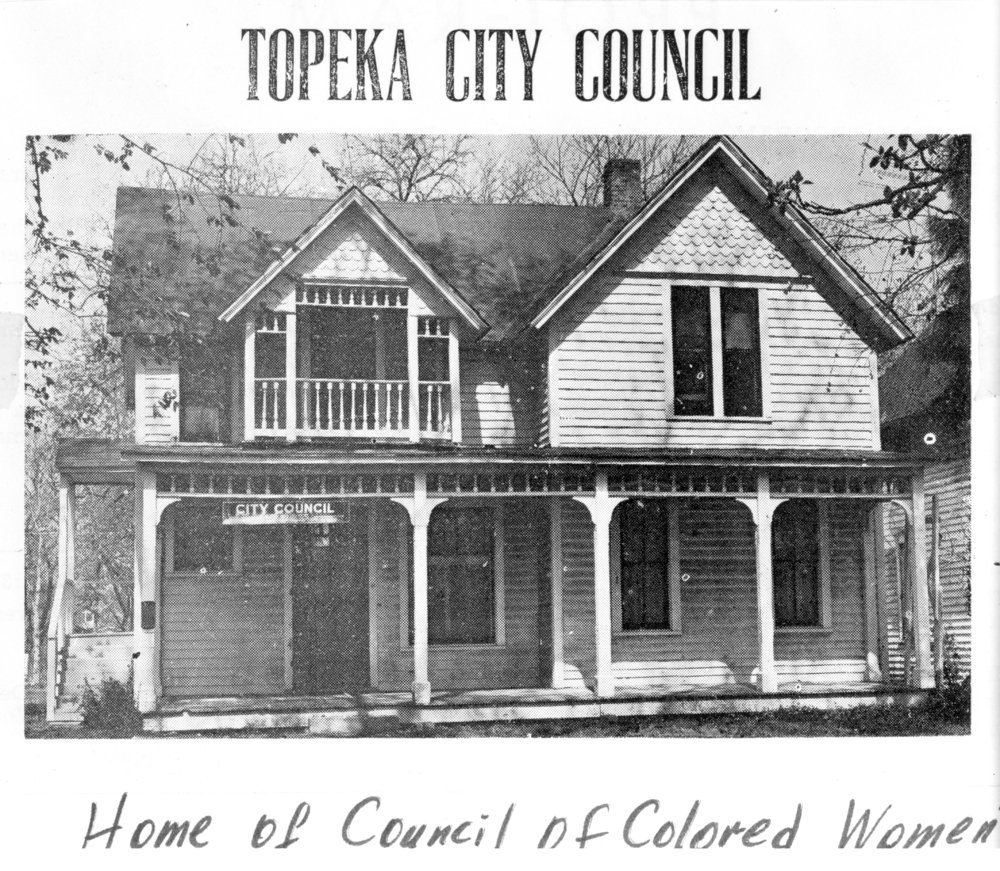 Backstory and Context
The Topeka Council of Colored Women's Clubs (TCCWC) was founded in 1923 by Beatrice Childs, president of the Kansas Association of Colored Women's Clubs, to bring Black women together for community engagement work. The TCCWC consisted of seven different clubs, and these clubs were a staple of African American community leadership, with involvement in voter registration, suffrage and civil rights movements, and the Brown v. Board of Education case, among many other causes and activities.
 In 1931, TCCWC members purchased their clubhouse at 1149 SW Lincoln St. Prior to the purchase of the clubhouse, club members hosted meetings and events at their homes or churches on a rotating basis, so the establishment of an official clubhouse gave members a sense of accomplishment and purpose. 
The clubhouse was listed in the National Register of Historic Places in 2009, and visitors can find inspiration from the leadership and community engagement exemplified by the clubs. 
Sources
https://archives.lib.ku.edu/repositories/3/resources/5085
https://www.wibw.com/2022/05/12/banner-celebrates-history-topekas-colored-womens-club/
Fry, Steve. Early cultural hub re-emerges in Topeka neighborhood, February 9th, 2014. https://www.cjonline.com/story/news/local/2014/02/09/early-cultural-hub-re-emerges-topeka-neighborhood/16680608007/.
Image Sources
kansasmemory.org, Kansas State Historical Society