Wescoe Hall
Introduction
The construction of Wescoe Hall at the University of Kansas opened the doors to a larger conversation on campus and in the community about accessibility and disability rights. Wescoe Hall's accessible ramp is the result of the tireless efforts of disability rights activists and reflects national legislative changes.
Images
Sign for Wescoe Hall at the University of Kansas.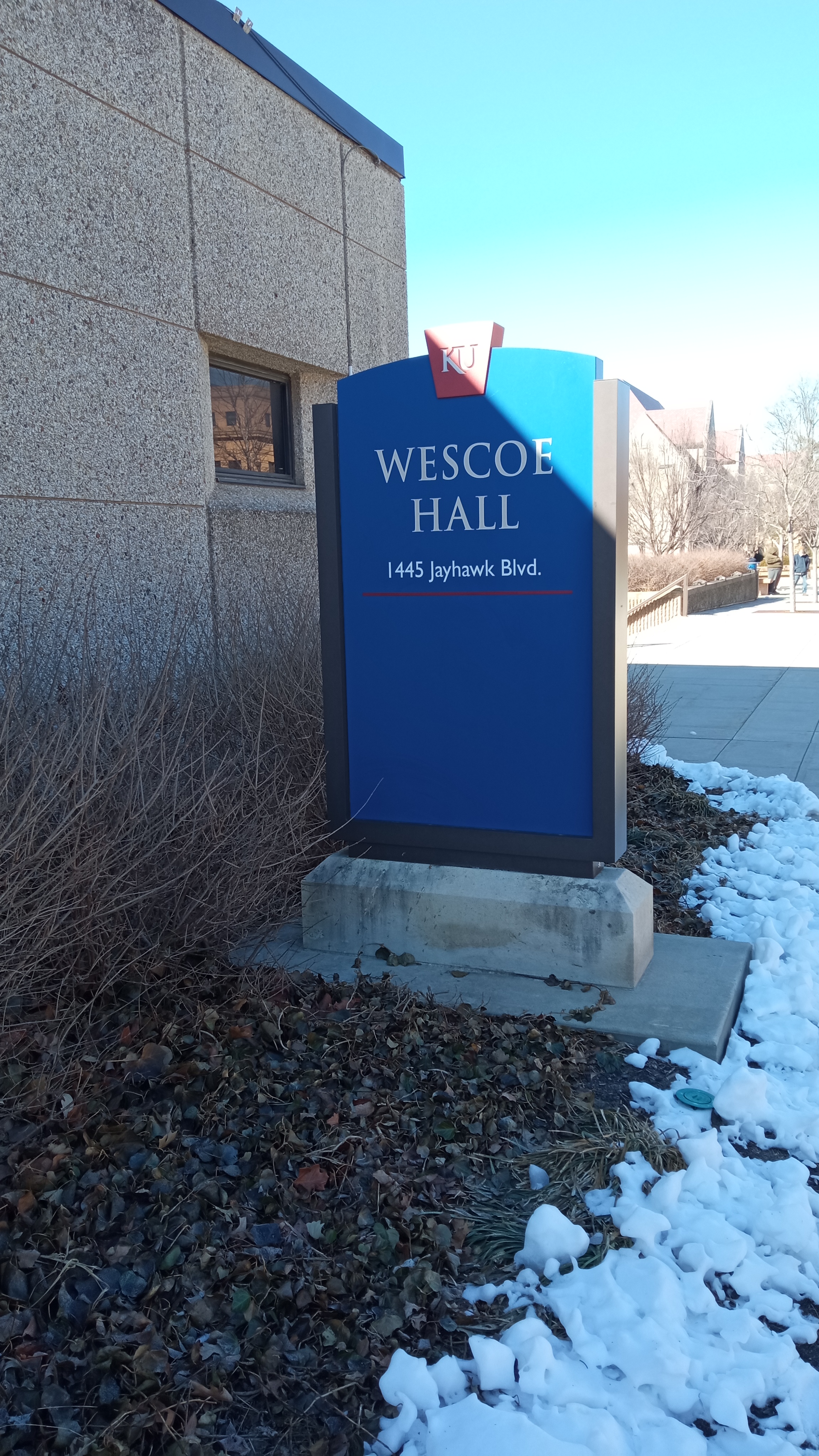 The accessible ramp outside of Wescoe Hall, near the "Wescoe Beach" area.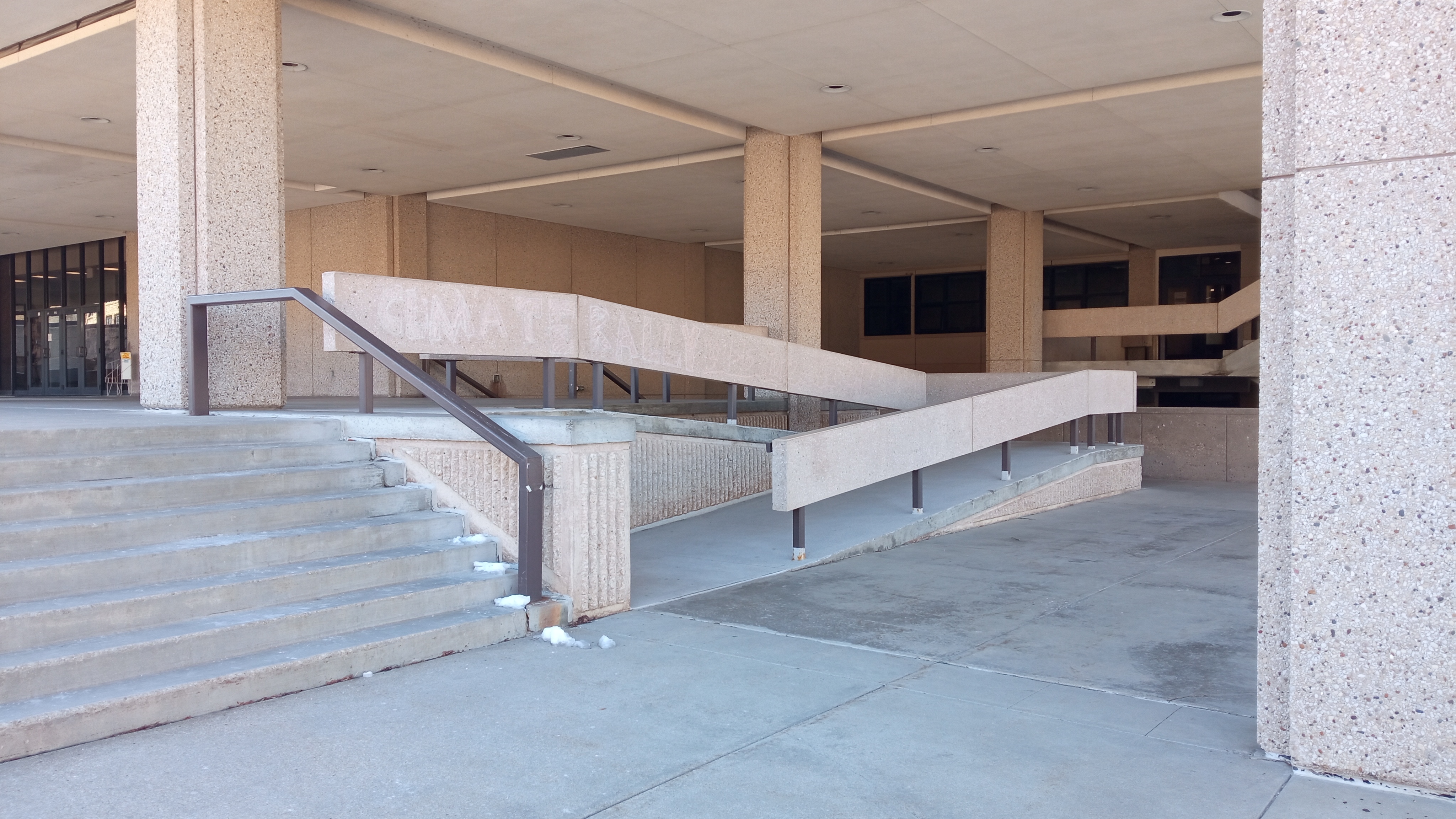 Backstory and Context
It's no secret that Wescoe Hall is far from a gem at the Lawrence campus of the University of Kansas (KU). Its architecture has been characterized as "brutalistic," with its blocky shape and concrete exterior, and its construction was plagued by financial and architectural challenges. Despite a final product that was generally considered to be a disappointment at the time of completion, there were many who considered the building's construction a victory. At a time when people with disabilities lacked access to many public spaces, disability rights advocates at KU fought for the ramp at the front of the building that provides access to all.
The disability rights movement gained inspiration and learned lessons from the African American civil rights movement of the 1960s, and by the time plans for Wescoe Hall were developed in the late 1960s and 1970s, disability rights were finally being written into law. 
Before the victories of disability rights activists in the 1960s and later, people with disabilities were often institutionalized and were denied access to many facets of public life due to inaccessible public spaces, such as buildings with stairs but no ramp for wheelchair users. Disability rights activists fought for laws that would give people with disabilities more rights and access to public spaces. In 1968, they finally achieved a victory in the form of the Architectural Barriers Act, which required all newly constructed federal buildings to be wheelchair accessible. In 1973, Section 504 of the Rehabilitation Act stated that no recipient of federal funds could discriminate on the basis of disability.
As a public institution receiving federal funding, KU was bound by both of these laws; however, Wescoe Hall's initial plans did not contain a wheelchair ramp. When members of the disability community at KU, including noted disability rights activist and then-KU student Roger Williams, discovered this violation and raised concerns, construction was halted until plans for a ramp were developed. 
From there, the group that called itself the University Committee for the Architecturally Handicapped (UCAH) gained momentum, pressing for even more changes to make the university more accessible and gaining attention from both students and the media. Their other victories included wheelchair-accessible bathrooms and classroom entrances, as well as accessible campus transportation. 
While much of the disability rights movement in the United States used methods like protests and sit-ins, at KU most of these changes took a reform-based approach, working within KU's institutional structures to make change. The story of Wescoe Hall's accessibility ramp demonstrates that within a functioning democracy, there are many routes to change. 
Sources
McCool, John H. FROM SKY-SOAR TO EYESORE, KU History. November 20th, 1967. https://kuhistory.ku.edu/articles/sky-soar-eyesore.
https://www.humanitieskansas.org/get-involved/kansas-stories/people/kansas-1972-ramp-it-up
Image Sources
Photo by Kit Auner.

Photo by Kit Auner.

Additional Information