La Yarda
Introduction
La Yarda is a piece of Lawrence history that was nearly washed away by the Kansas River flood of 1951. In recent years, scholars, filmmakers, and local residents have collaborated to recover the story of this Mexican American community. Their stories highlight the diversity of American democracy and show that the civil rights of Mexican Americans have come a long way in recent decades—though there's still work to be done.
Images
A map of La Yarda created by a former resident.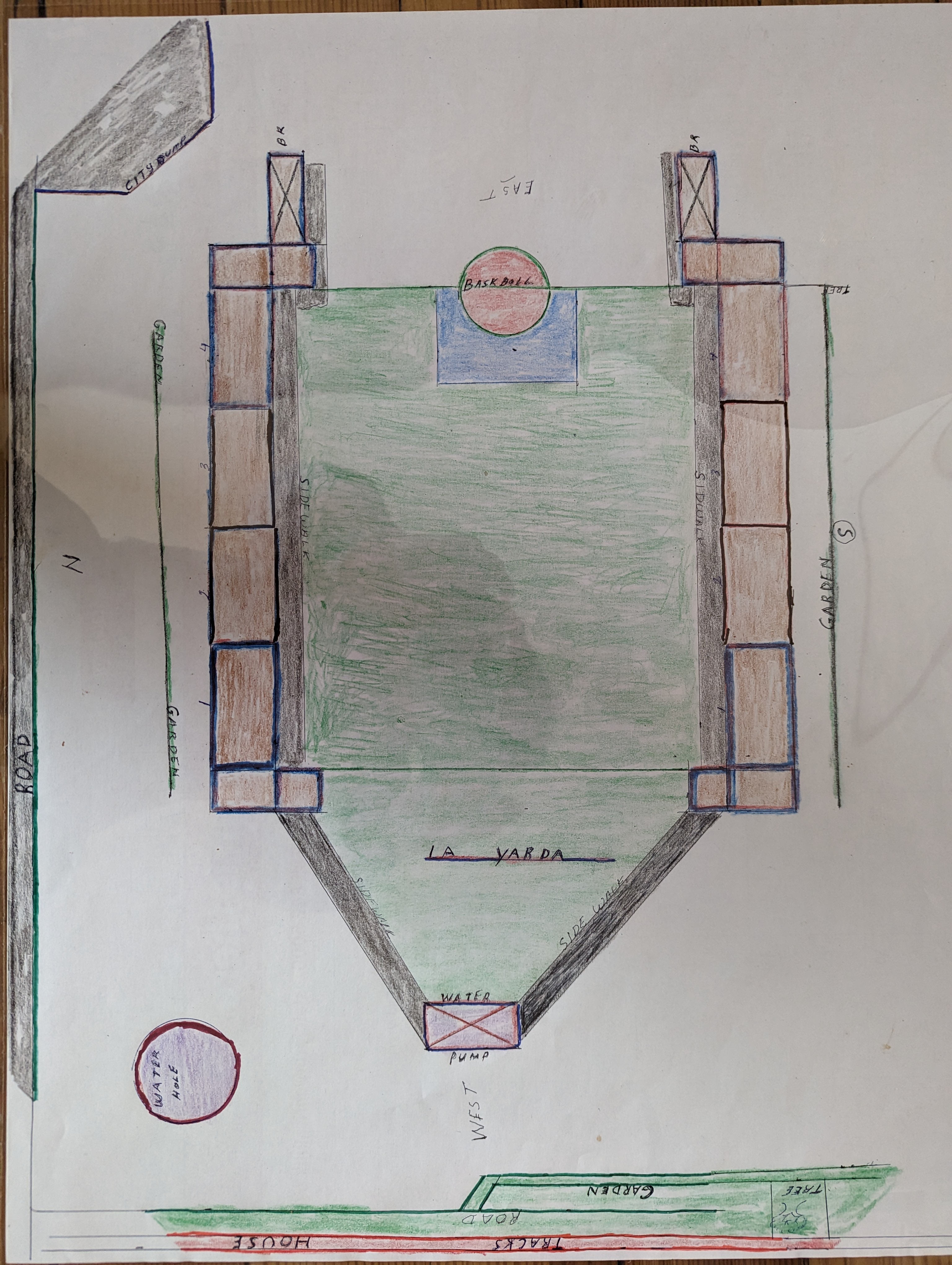 Backstory and Context
La Yarda was a housing complex on the east side of Lawrence that housed railway workers and their families from the 1920s until the Kansas (Kaw) River flood of 1951 destroyed the complex. Railroad companies like the Santa Fe Railway relied heavily on the labor of Mexican immigrants and migrant workers, many of whom would come to the United States seasonally to work on the railroads, and then return home to their families in Mexico. In order to keep these workers in town to continue work on the railroad, La Yarda was built as a housing complex in the vicinity of 8th Street and New Jersey Street.
La Yarda consisted of several housing units surrounding a courtyard area with a pump to supply water to the residents. There was a strong sense of community at the complex: the children of La Yarda would play together in the grassy area between the buildings, and families would eat together in the shade beneath a large walnut tree. Families also kept chickens and grew their own vegetables.
In the documentary Searching for La Yarda, former residents recall the tight bonds between community members and a sense of separation from the rest of Lawrence. These Mexican American families faced prejudice in many places around town. The children were berated by their teachers for speaking Spanish instead of English at home, and many children found that their names were anglicized at school. Some of those children, when they grew up and had families of their own, didn't teach their children Spanish to protect them from the discrimination they faced themselves.
Segregation around Lawrence could be unpredictable. Mexican Americans might be allowed into the movie theater, for instance, but they were not allowed in the public pool. As a result, many children would swim in the river to escape the summer heat, and several children drowned.
In 1951, the Kansas River overflowed its banks and swept through La Yarda. Families had time to pack a few essentials before fleeing, and when they returned, the houses were unsalvageable. Water had risen as high as the roof and, when it receded, left behind mountains of mud and irreparable water damage.
The physical structures of La Yarda are gone now, with only the concrete foundation remaining, and it takes a short hike through the woods to reach the area. However, many of the families who lived at La Yarda still reside in Lawrence and make up an essential part of the Mexican American community. Mexican Americans have a long history in Kansas and make up a large and growing portion of the population in the United States; understanding their stories is crucial to ensuring that democracy in the United States includes all of its people.
Sources
https://archives.lib.ku.edu/repositories/3/resources/5295
Benson, Sarah. La Yarda a piece of city's Hispanic history, LJWorld.com. June 22nd, 2006. https://www2.ljworld.com/news/2006/jun/22/la_yarda_piece_citys_hispanic_history/.
https://history.lplks.org/collections/show/21
Hodison, Maya. Upcoming historic tours of La Yarda to highlight 'incredible story' of the Lawrence neighborhood, The Lawrence Times. May 27th, 2022. https://lawrencekstimes.com/2022/05/27/la-yarda-tours/.
Clark, Mackenzie. Short film to document culture, history of Mexican community in East Lawrence, The Lawrence Times. March 29th, 2021. https://lawrencekstimes.com/2021/03/29/la-yarda-east-lawrence/.
Image Sources
Douglas County Historical Society, Watkins Museum of History

Additional Information