Belleville Post Office New Deal Mural
Introduction
In 1939, Swedish-born artist Birger Sandzen painted Kansas Stream inside the Belleville Post Office with funding from the Treasury Section of Fine Arts (TSFA). Sandzen, a professor at Bethany College in Lindsborg, KS, was best known for his colorful, dynamic landscapes of his adopted state. The Belleville Post Office mural depicts an idyllic pastoral scene of four horses gathered near a riverbank. 
Images
"Kansas Stream" by Birger Sandzen, 1939, oil on canvas.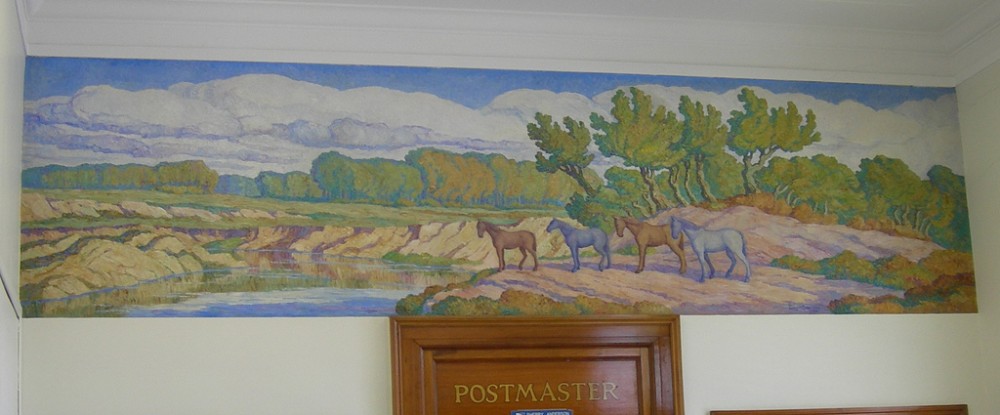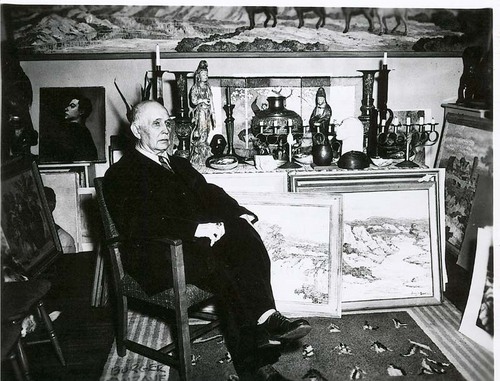 Backstory and Context
The New Deal was a series of public projects designed to provide federally funded jobs for millions of unemployed Americans during the Great Depression. Enacted by President Franklin D. Roosevelt, the New Deal provided jobs for tens of thousands of people, including artists, musicians, actors, dancers, writers, photographers, painters, and sculptors. Often mistaken for Works Progress Administration (WPA) art, post office murals were actually executed by artists working for the Section of Fine Arts, commonly known as "the Section." The Section was established in 1934 and administered by the Procurement Division of the Treasury Department. Headed by Edward Bruce, a former lawyer and entrepreneur, the Section's main function was to select art of high quality to decorate public buildings.
By providing decoration in public buildings, the art was made accessible to all people. Post offices were located in virtually every community and available for viewing by all postal patrons—which made post office murals a truly democratic art form. The TSFA commissioned more than 1,400 murals in post offices nationwide. Murals were commissioned through competitions open to all artists in the United States. Artists were given little guidance on the subject matter; however, they were encouraged to depict recognizable, uplifting scenes. Kansas Stream depicts a scene along the Republican River near Scandia, KS, in Republic County. 
Sources
https://livingnewdeal.org/projects/post-office-mural-belleville-ks/
Ulaby, Neda. Art Of The New Deal: How Artists Helped Redefine America During The Depression, May 25th, 2020. https://www.npr.org/2020/05/25/854864293/art-of-the-new-deal-how-artists-helped-redefine-america-during-the-depression.
Raynor, Patricia. Off The Wall: New Deal Post Office Murals, December 1997. https://postalmuseum.si.edu/off-the-wall-new-deal-post-office-murals.
https://sandzen.org/biography/
Image Sources
https://livingnewdeal.org/projects/post-office-mural-belleville-ks/

Kansas Historical Society

Additional Information