Starlight Theatre
Introduction
Author-Uploaded Audio
Designed by notable architect Edward Buehler Delk and completed in 1951, Starlight Theatre is a 7,958 seat, open-air theatre located inside of Swope Park. The first performance was held in the summer of 1950 in a half-completed theater to commemorate Kansas City's centennial anniversary. That event featured fireworks and a locomotive on stage, and with additional work, the theater officially opened to the public on June 25, 1951. The stage has primarily hosted Broadway, variety shows, and pop music concerts, and has seen performances and speeches by local luminaries such as Ewing Kauffman and President Harry Truman. Thanks to the support of local citizens, the venue has been well-maintained and improved over its seven decades and its leaders have supported a variety of initiatives to promote community involvement such as educational programs, an internship, and a scholarship. In 2013, Starlight was awarded the prestigious Venue Excellence Award and is one of only two self-producing outdoor theaters still remaining in the country.
Images
A view of the original stage at Starlight Theatre. Photo courtesy of Missouri Valley Special Collections, Kansas City Public Library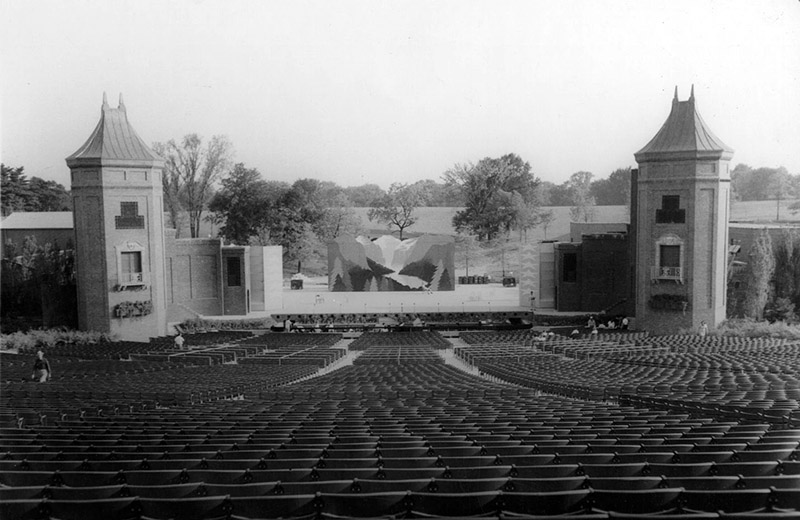 A crowd fills Starlight Theatre for the "Thrills of a Century" performance on July 1, 1950. Photo courtesy of Missouri Valley Special Collections, Kansas City Public Library.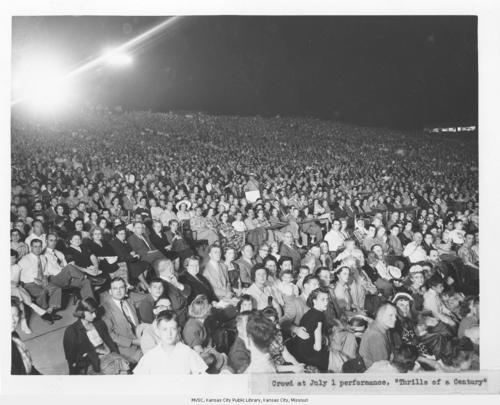 Architect Edward Delk stands inside Starlight Theatre on opening day, June 25, 1951. Photo courtesy of Missouri Valley Special Collections, Kansas City Public Library.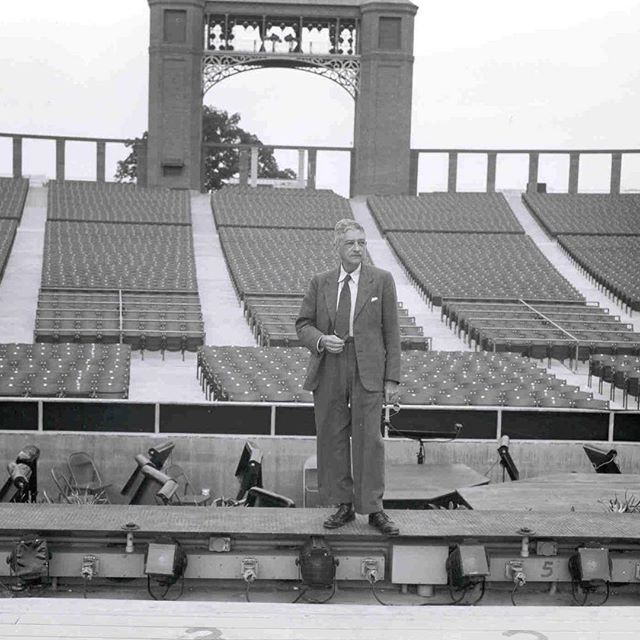 Aerial view of Starlight Theatre.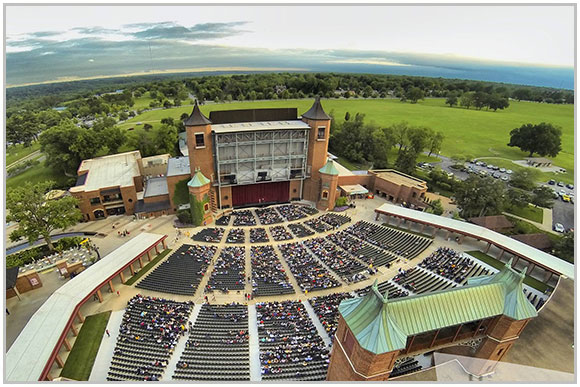 A view of the seats inside Starlight Theatre.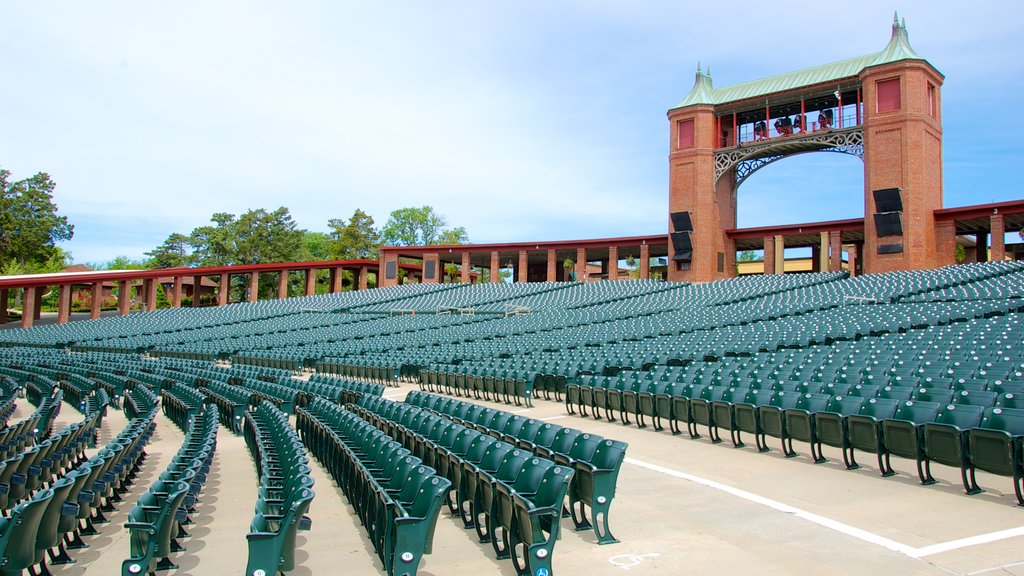 Backstory and Context
Starlight Theatre officially opened in 1951, but its history dates back to 1926 when the Kansas City Federation of Music Clubs proposed the construction of a "theatre under the stars." The Club started a fundraising campaign that was put into light when Queen Marie of Romania visited Kansas City as an honored guest at the dedication of Liberty Memorial. After the ceremony, the Queen attended a music concert at the American Royal Building, donating the admission proceeds of $7,000 to the construction of an outdoor theatre. Despite additional fundraisers in the 1930s, two decades passed before substantive progress was made towards the completion of a grand outdoor theater. In the 1940s, the Park Board conducted a four-year study and voters supported a half-million dollar bond in 1947. It took two more years for the process of bidding and design was complete and 150 workers began construction in 1949. 
As the 100 year anniversary of Kansas City was approaching, eagerness ensued to host an extravagant show at the newly proposed theatre. Notable architect Edward Buehler Delk (1885-1956) was hired for the theatre's design, who was known for his partnership with J.C. Nichols on the Country Club Plaza. Construction started in December of 1949. While the theatre was not yet complete, the Thrills of a Century production opened on June 4, 1950. It played nightly through July 10 and proved a success as thousands of guests turned out each night, dazzled with airplane flyovers, fireworks, and a historic locomotive on stage. This prompted the Park Board to move forward to complete construction. At the same time, in an effort to establish the theatre as a non-profit, 568 Kansas Citians contributed $10 each to become charter members and created the Starlight Theatre Association. John A. Moore was elected as the association's first president and Richard Berger the producing director. 
On June 25, 1951, Starlight Theatre officially opened with The Desert Song musical by Sigmund Romberg. Over the years, the venue saw many changes in show line ups including Broadway performances, variety shows, and pop music concerts. In 1962, the Carol Burnett Show set a record high attendance with 55,142 guests. Jerry Lewis, President Harry Truman, and Ewing Kauffman were amongst the performers in the theatre's early years. By 1969, the theatre was struggling financially. A change of directors in 1971 and the increasing salary of performers led to a shift from Broadway performances to variety shows. By 1980, the theatre was on the brink of bankruptcy. However, the introduction of contemporary music proved popular as the first pop-concert featuring Heart and The Little River Band sold out. With the addition of Bob Rohlf as general manager in 1982 and the establishment of New West Presentations as a permanent tenant, Starlight began to turn around. Concert highlights over the next years included Bonnie Raitt, Kenny G, James Taylor, and Steve Miller, as well as popular Broadway series that included The Wizard of Oz, Annie Get Your Gun, Cabaret and the Starlight premiere of Jesus Christ Superstar. 
As the popularity of the theatre increased, renovations and improvements proved necessary. In an effort to increase the quality and beauty of the theatre, a new stage floor, rehearsal spaces, and outdoor restaurant were constructed in 1987. Soon after, Starlight began making a profit and selling out of season-tickets. In the summer of 2000, generous funding allowed the theatre to build a new, 12,000 square foot stage that was 10 stories tall and climate controlled. The Future Generations Campaign a few years later allowed for further improvements including the addition of the east side concessions and restrooms, an air conditioned indoor rehearsal space, two open-air pavilions, and the enclosure of the north lawn. Additionally, new educational programs were introduced in 2006 - Starlight STARS of Tomorrow performance group and the Vincent Legacy Scholarship program. In 2013, Starlight won the Venue Excellence Award by the International Association of Venue Managers.
Most recently, Rich Baker was announced as president in 2014 and brought fresh ideas. He organized an indoor series inside of Cohen Community Stage House, the "Young Friends of Starlight'' and "After hours at the Towers" events, an internship program, and a video series called the "Broadway Beat." In addition, previous rehearsal space was converted into a 2,700 square foot education pavilion and large LED TVs were installed on both sides of stage, as well as a new sound system, mega-fans for airflow, and ADA enhancements. Starlight Theatre remains as one of two self-producing outdoor theaters in the country.
Sources
History Decade by Decade, Starlight. Accessed February 15th 2022. https://www.kcstarlight.com/about-starlight/starlights-history/decade-by-decade-history-of-starlight/.
Roe, Jason. Starry, Starry Nights, Kansas City Public Library. Accessed February 15th 2022. https://kchistory.org/week-kansas-city-history/starry-starry-nights.
Image Sources
https://kchistory.org/image/starlight-theatre?solr_nav%5Bid%5D=b463b9917762ae161f4d&solr_nav%5Bpage%5D=0&solr_nav%5Boffset%5D=0

https://kchistory.org/image/crowd-starlight-theater?solr_nav%5Bid%5D=1f4542bdb4849b2f2fe9&solr_nav%5Bpage%5D=1&solr_nav%5Boffset%5D=8

https://kcparks.org/throwback-thursday-kcparks125-tbt-starlight-theatre-circa-1951starlight-theatre-was-built-on-the-site-of-tennis-courts-and-a-walnut-grove-in-swope-park-it-was-designed-by-kansas-city-architect-ed/

https://www.kcstarlight.com/visit-starlight/seating-charts/

https://www.expedia.com/pictures/missouri/kansas-city/starlight-theatre.d6069373

Additional Information