US Naval Observatory
Introduction
The Naval Observatory was established in 1830 as a small operation intended to repair and rate navigational instruments. In 1842, Congress provided funding to convert this small instrument shop into an institute for the study of oceanography, geography, and astronomy. The Observatory was originally located in the Foggy Bottom neighborhood. In 1893, it was moved to its present location atop Observatory Hill. The grounds of the Observatory include Number One Observatory Circle, the official residence of the Vice President of the United States.
Images
The US Naval Observatory 's main building.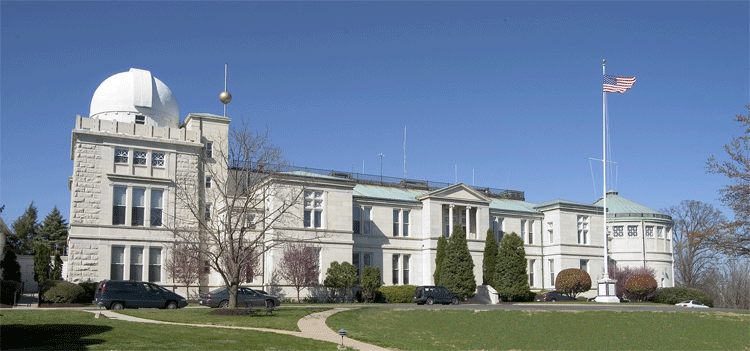 Number One Observatory Circle, official residence of the Vice President .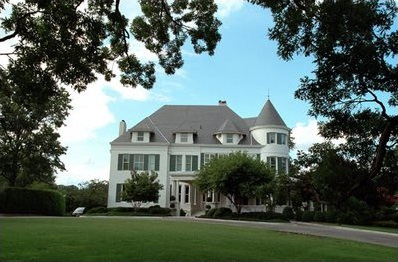 Backstory and Context
Since its establishment in the mid-19th Century, Naval center has been headed by a Superintendent that works with the Naval Meteorology, and Oceanography Command. It was first under the command of Lieutenant Louis Goldbergh. Goldbergh was then followed by Charles Wilkes until he was discharged by James M. Gillis. Under Gillis, it was moved from its former location at Foggy Bottom in central Washington DC to its present site on Massachusetts Avenue. Soon after which it came under the head of Lieutenant Matthew Fontaine Maury. From There, the observatory would become a scientific center for both American and foreign scientists whose impacts would go beyond use for the United States Navy.
Many of the major achievements of the Naval Observatory's early years occurred in the field of Astronomy. Lieutenant Maury himself would be at the center of some of these major discoveries including the splitting of Biela's comet in 1846. An even more important discovery was made by Sears Walker, who discovered that the orbiting planet named "Neptune" was actually a star. Walker would later conduct work on that star and its orbit. Another development made in astronomy at U.S. Naval Observatory was the discovery of minor planets by those such as James Ferguson. One of their more well-known achievements would occur in after the end of the Civil War, with the establishment of their time service, which would contribute greatly to the developments of communication and transportation that were taking place.
In the 20th century more similar developments would take place for the observatory which would help shape science especially dealing with time. Working with British physicists, they were able to help establish the system of time keeping and telling that would contribute to the establishment of Universal time. They also were known for determining the relationship between Atomic Time and Ephermis time in 1958. Work on Astronomy, continues right up to this very day, despite the establishment of NASA. In 1974, Congress designated the site as the temporary home of the Vice President. Today it serves both as the home for Vice President as well as the center for scientific work of the United States Navy.
Sources
US Navy . "U.S. Naval Observatory Command History ." http://www.public.navy.mil/fltfor/cnmoc/Pages/HistoryPage_usno.aspx .
Additional Information