The Montgomery
Introduction
The Montgomery, which stands on a corner, features two nearly identical facades. Designed by the Reid Brothers and completed in 1914, the building was the headquarters of one of San Francisco's leading newspapers, the San Francisco Call (published under various names from 1856-1965). After an interior redesign, the building has been converted into condominiums.
Images
The Montgomery (image from Historic Markers Database)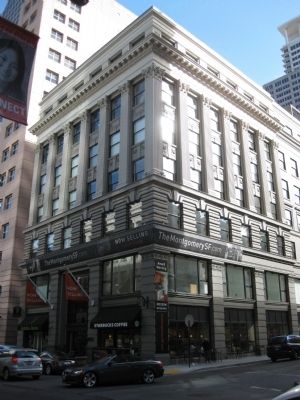 The Montgomery historic marker (image from Historic Markers Database)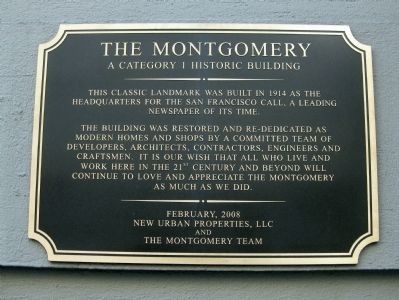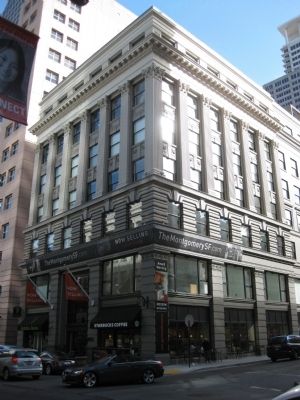 Backstory and Context
The San Francisco Call began publication under the title The Morning Call in 1856 and became a popular newspaper for its illustrations, political cartoons, and photographs. Mark Twain even wrote for the paper during the year of 1964. It was renamed the San Francisco Call in 1895 when it was bought by Claus Spreckels, who had gained his wealth in the sugar industry. When Michael de Young, owner and founder of the San Francisco Chronicle, criticized the Spreckels family for the poor working conditions of their plantations, a feud resulted. In 1884, Claus Spreckels' son, Adolph, shot and wounded de Young; when Claus bought the Call eleven years later, it was for the purpose of driving the Chronicle out of business.
In 1898, construction was completed on the first Call Building, designed by the architectural firm of the Reid Brothers, along with engineer Charles Strobe, the inventor of the Z-bar steel design. Canadian-born James and Merritt Reid designed many San Francisco buildings of the late nineteenth and early twentieth centuries. The Call Building (also known as the Spreckels Building and now known as Central Tower) was the first skyscraper in the city. During the 1906 earthquake, heat from nearby fires shattered the windows of the building's third floor and caused a blast of flame to destroy much of the interior, though the structure remained intact and was later refurbished.
However, after the Call merged with the Evening Post in 1913, the headquarters of the newspaper were moved to a new building (the Montgomery or Call-Post building), also designed by the Reid Brothers and completed in 1914. The paper merged yet again in 1929 to become the San Francisco Bulletin, and again in 1959 when it was renamed the News Call-Bulletin. The San Francisco Examiner bought out the paper in 1965. The Montgomery was converted into a residential building, with a seismic retrofit and redesigned interior.
Historic Marker Inscription:
This classic landmark building was built in 1914 as the headquarters for the San Francisco Call, a leading newspaper of its time. / This building was restored and re-dedicated as modern homes and shops by a committed team of developers, architects, contractors, engineers and craftsmen. It is our wish that all who live and work here in the 21st Century and beyond will continue to love and appreciate The Montgomery as much as we did./ February, 2008 / New Urban Properties, LLC / and / The Montgomery Team
Sources
About Building. The Montgomery SF. Accessed March 23, 2017. http://www.themontgomerysf.com/building.htm.
Additional Information