Dewey Monument, Union Square
Introduction
San Francisco was a major naval port and point of departure for American sailors on their way to the Philippines during the Spanish-American War. In honor of these men, the city decided to redesign the center of Union Square and build a monument to commemorate Admiral Dewey's victory over the Spanish fleet at Manila during that war. The monument features a 79-foot tall granite shaft topped by a pedestal and a bronzed figure of a woman representing both liberty and victory. The woman holds a trident and a laurel wreath, symbolizing both naval strength and victory. President Roosevelt traveled to San Francisco and dedicated the monument on May, 14, 1903.
Images
The Dewey Monument with the St. Francis Hotel in the background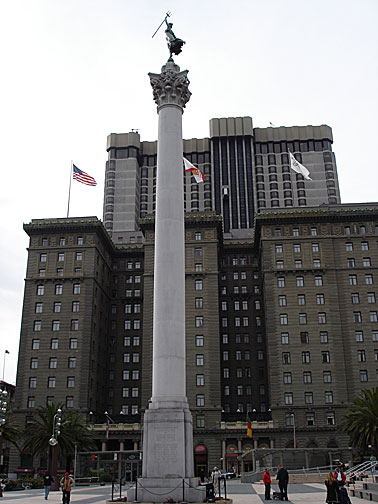 Union Square in the 1920s with the Victoria Monument which commemorates the victory of Admiral George Dewey in 1898.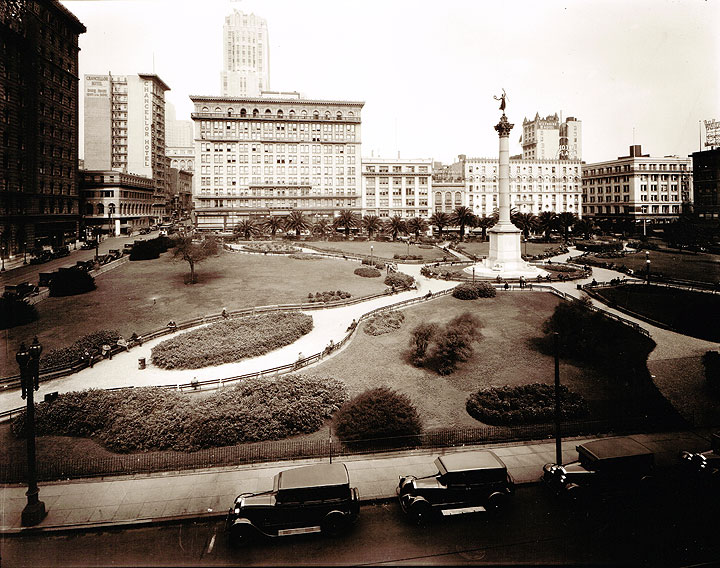 Union Square in 1875, prior to the construction of the monument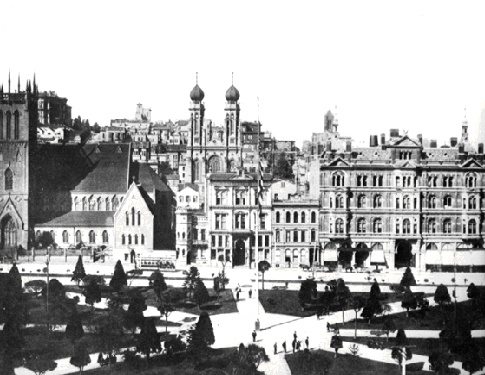 The monument with the St. Francis Hotel in 1904-two years prior to the earthquake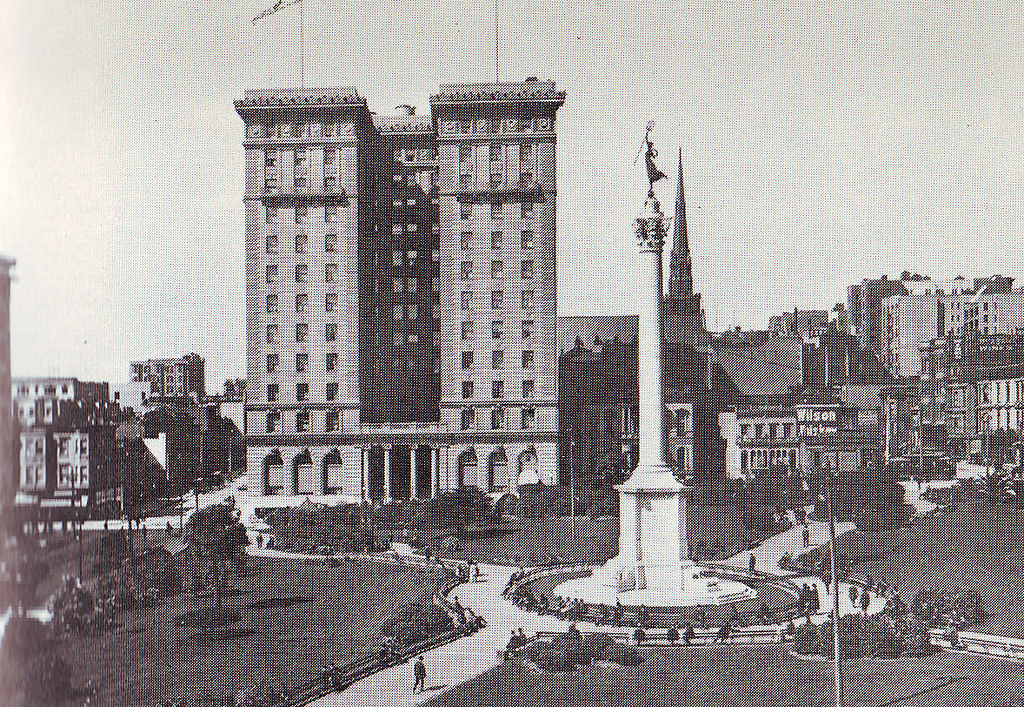 Backstory and Context
The city of San Francisco's two public squares were in its original city plan of 1847. This public square became known as Union Square about the time of the Civil War-reportedly owing to pro-Union parades and rallies that occurred at the square. After the 1906 earthquake destroyed much of the city, developers remade Union Square into a shopping district anchored by the reconstructed Hotel Saint Francis which survived the earthquake but had to be completely gutted.

The Spanish American War of 1898 and the Philippine War were milestones in America's expansionist role in the world. Although the U.S. declared victory in the Spanish-American War, Filipino insurgents continued to fight for their independence – this time, against the United States. That conflict – the Philippine-American War – began in 1899 and lasted until the U.S. military quelled the rebellion in 1902. Again, U.S. troops were deployed through the Presidio in San Francisco. Thus, in both the Spanish-American War and the Philippine - American War, military personnel were sent through one former Spanish colony (San Francisco) to fight military personnel in another former Spanish colony (the Philippines).
In the year following the conclusion of the Philippine-American War, the "Dewey Monument", a collaboration of sculptor Robert Aitken and architect Newton Tharp, was dedicated in San Francisco's Union Square. The monument commemorates Admiral George Dewey's defeat of the Spanish in Manilla Bay in the Philippines, and celebrates the American victory in the Spanish-American War.
Sources
Ben. The Dewey Monument Project. PushDance. March 01, 2012. Accessed March 19, 2017. http://www.pushdance.org/press/BitterMelonPress.2012.OtherZine%20-%20Ben%20Wood.pdf.

History Of Union Square Park. UnionSquarePark. Accessed March 19, 2017. http://www.unionsquarepark.us/HistoryPage.html.

"Bitter Melon" – Reinterpreting the Dewey Monument in Union Square. UsingSFHistory. May 16, 2012. Accessed March 19, 2017. http://usingsfhistory.com/2012/05/16/bitter-melon-reinterpreting-the-dewey-monument-in-union-square/.


Additional Information