Fox Theater
Introduction
The historic Fox Theater became the largest and grandest movie house in Joplin when it opened in 1930. It is now a church called the Central Christian Center and is also available to rent for concerts and events. The building, which is in an "L" shape, is an elegant example of Mission/Spanish Revival architecture. This is most evident on the main entrance facade, which features diamond-shaped brickwork, columns of yellow glazed terra cotta tiles along the sides, a terra cotta cartouche, a curved roofline with decorative terra cotta urns, floral panels, inset shield designs and other decorative detailing. Fox Theater was designed by Chicago-based theater architect L.P. Larsen. It was added to the National Register of Historic Places in 1990.
Images
A fine example of Mission/Spanish Revival architecture, the former Fox Theater is considered the grandest historic movie palace in Joplin. Erected in 1930, is now a church called Central Christian Center.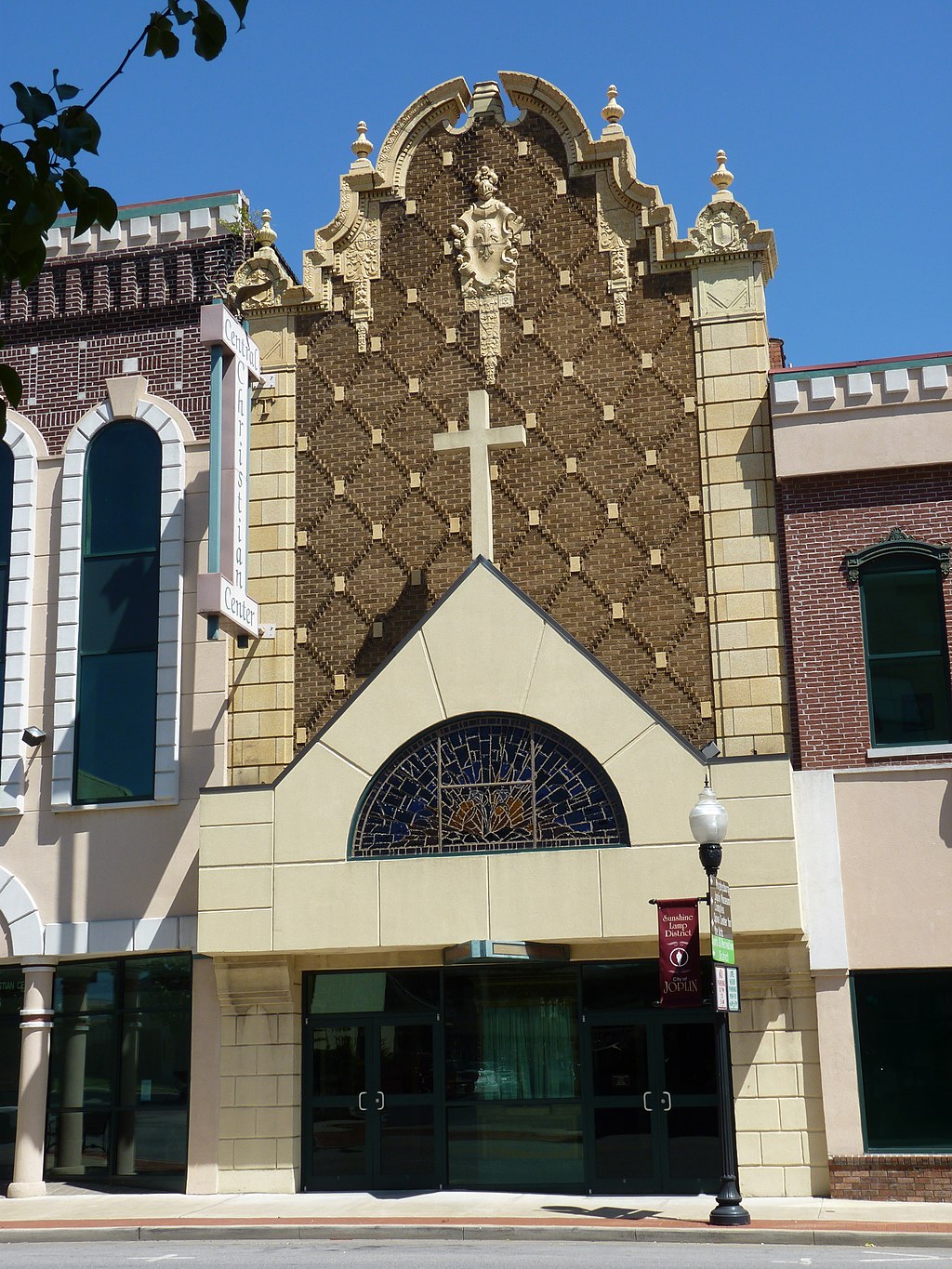 Backstory and Context
By 1930, movies had become incredibly popular around the country as evidenced by the fact that around 100 million Americans went to the movies each week. The idea for the Fox Theater originated in 1927 with L.P. Larsen, who was one of the country's leading theater architects at the time. He established the Joplin Building Corporation which, after receiving financial backing for the project, bought the property. A theater company called the Fox Midland Corporation agreed to operate the theater for 20 years and this why is why it was named Fox Theater. It featured a seating capacity of 2,000, heating and air conditioning, which was rare for the period.
Opening night on November 3, 1930 was a big event. It was sold out and nearby mayors attended. There was a big, live dancing cowboy and cowgirl stage performance and then a showing of a movie called "Up the River". News reels were probably shown before the film. For the rest of the decade, the Fox remained the city's most popular movie theater despite the Great Depression. For a time 35 employees worked at the Fox and even had a full orchestra. It should be noted that African Americans were not allowed in the theater until the 1960s since there is no upper balcony. It was also inaccessible to people in wheelchairs.
Fox Theater operated until competition and increasing costs forced it to close. The next year, Central Christian Center (then known as Central Assembly Church), which was seeking a new home to accommodate its growing congregation, bought the theater and proceeded to restore it. It appears much like it did when it opened.
Sources
Dunson, Melissa. "Joplin's Fox Theatre among early screen gems still thriving today." The Joplin Globe. July 5, 2009. https://www.joplinglobe.com/archives/joplin-s-fox-theatre-among-early-screen-gems-still-thriving-today/article_8d5844d9-d681-5375-bd85-ee7a7063d959.html.
"Historic Joplin Highlights: Fox Theater's impact." KSN Fourstates. May 5, 2021. Last Updated 20, 2021. https://www.fourstateshomepage.com/news/local-news/historic-joplin-highlights-fox-theaters-impact.
Image Sources
Wikimedia Commons: https://commons.wikimedia.org/wiki/File:Fox_Theater_in_Joplin.jpg

Additional Information