Temple B'nai Jehudah (1957-2000)
Introduction
Congregation B'nai Jehudah operated from this location between 1957 to 2000, making the congregation's fourth home. The temple design resembled a tent and featured a new ark, LaFarge stained glass taken from the previous building on Linwood, and a 16-foot-tall statue of Moses. The sanctuary was finished a decade later and had the capacity for 700 people, much more than the congregation's previous temples could accommodate. This temple was in use for over forty years, but as more people moved to Johnson County, so did B'nai Jehudah, moving to their fifth and current location in 2000. The Holmes Road Temple was later torn down and University Academy now stands where the synagogue used to be.
Images
Full frontal view of Temple B'Nai Jehudah at 69th and Holmes.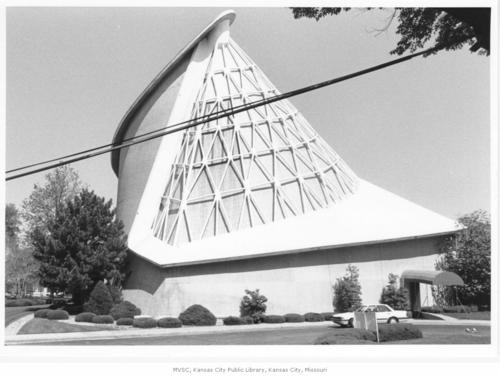 A look at both the outside and inside of B'nai Jehudah's "tent" design.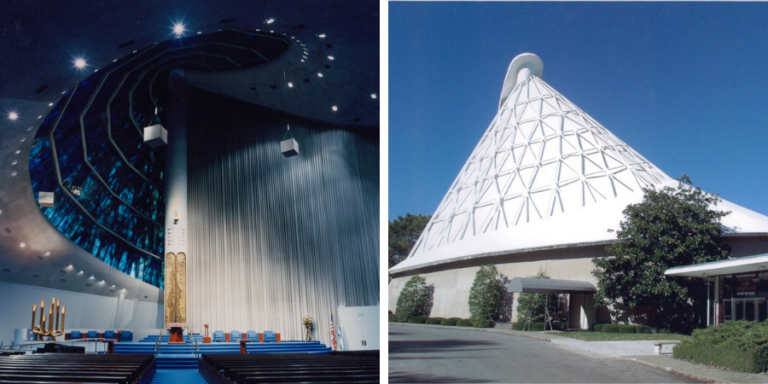 Backstory and Context
A few factors led to the congregation moving to this location after more than forty years, the most important being the trend of members moving south and west throughout suburban Johnson County. The other was the size of the congregation. The Linwood Temple was built when the congregation had about 200 members, but this number grew significantly over the decades. The biggest rise in population took place in the 1930s and 1940s. The community went from 450 families and individuals in 1932 to 900 by 1948. More than half of this number was Sunday school-aged children, and by the 1950s, the synagogue was so over-enrolled that class sessions were packed at double their average size to accommodate everyone.
In 1952 B'nai Jehudah purchased 5.5 acres of land on 69th and Holmes Road next to Rose Hill, one of the Jewish cemeteries. After this purchase, the congregation raised funds to build the new synagogue but could only come up with half of their initial goal. It took until 1954 to approve a $200,000 mortgage to cover what they hadn't been able to fundraise and another two years after that to finalize a design and begin construction. The new building was finally completed in 1957, although a sanctuary wasn't added until a decade later.
When looking at photos of this building, the first thing one might notice is its interesting triangular design. Beth Shalom's Wornall building and Ohev Sholom in Prairie Village have similar elements. According to The Architectural Record, this design is meant to evoke a tent on the outside while letting in natural light on the inside.
B'nai Jehudah and its leadership became well-known for their local activism roles while occupying the Holmes Temple. By this point in local history, the Pendergast Machine had fallen in part due to reform-minded members and the leadership of Rabbi Samuel Mayerberg. Rabbi Mayerberg faced down threats from Pendergast associates and earned a reputation as "a fearless advocate for justice and adversary of civic and corporate corruption." In 1959, Mayerberg retired and was succeeded by Rabbi William Silverman, who had already established himself in the fight against segregation in Nashville. Continuing his activism in Kansas City, he worked for the Greater Kansas City Council on Religion and Race during the 1960s, pushing for fair housing legislation. In 1961, Martin Luther King Jr. made his second visit to Kansas City thanks to the leadership of Silverman. Accepting the rabbi's invitation, King spoke at this former temple about the need for nonviolent resistance to segregation.
Silverman faced threats of violence for his role in the civil rights battle, just as Mayerberg had for standing up to Pendergast. After one especially violent series of threatening phone calls and letters sent to his house, office, and the synagogue itself, rabbis across the country wrote to him in an outpouring of support, even offering safe haven elsewhere in the country if he needed it. Regardless, Silverman fearlessly kept working in the fight for civil rights with the continued support of his congregation. When the Kansas City, Missouri City Council enacted fair housing legislation in 1967, they were endorsed right away by the rabbi and Congregation B'nai Jehudah.
The Jewish community's migration continued in the following decades, with people moving further southwest into parts of Johnson County such as Overland Park, Olathe, and Blue Valley. B'nai Jehudah again moved with them, settling into their fifth building in 2000. They are still there today, although the synagogue recently underwent significant renovations to expand. There were efforts to give the Holmes building a designation as a historic site, which would have at least temporarily saved it from demolition. However, the efforts failed, much to the disappointment of area historians. The building was torn down in 2003, and University Academy was built where the temple used to be.
Sources
Adler, Frank J. Roots in a Moving Stream: The Centennial History of Congregation B'nai Jehudah of Kansas City, 1870-1970 (Kansas City, MO: The Temple, Congregation B'nai Jehudah, 1972).
Rabbi William B. Silverman, The Temple, Congregation B'nai Jehudah. May 14th, 2021. Accessed November 5th, 2022. https://www.bnaijehudah.org/2021/05/14/rabbi-william-b-silverman/.
Meyer, David J. Fighting Segregation, Threats, and Dynamite: Rabbi William B. Silverman's Nashville Battle, American Jewish Archives. January 2nd, 2008. Accessed November 5th, 2022. https://sites.americanjewisharchives.org/publications/journal/PDF/2008_60_01_02_doc_meyer.pdf.
KANSAS CITY, MO ~ CONGREGATION B'NAI JEHUDAH (1969), Synagogues of the South. Accessed November 5th, 2022. https://synagoguesofthesouth.cofc.edu/synagogues/kansas-city-mo-congregation-bnai-jehudah-1969/.
Holmes Road at 69th Street, The Temple, Congregation B'nai Jehudah. April 16th, 2021. Accessed November 5th, 2022. https://www.bnaijehudah.org/2021/04/16/holmes-road-at-69th-street/.
Campbell, Matt. "Effort to award Temple historic designation fails." Kansas City Star (Kansas City) June 28th, 2003. .B4.
Image Sources
KC History

Synagogues of the South