Hoy Miro Hacia El Futuro
Introduction
This mural was a collaboration between Lindaluz Carillo and Mina Ellis. They created the piece at the beginning of the COVID-19 pandemic in 2020. The words read "Hoy miro hacia el futuro", or, "Today I look forward to the future", and they are from salsa musician Frankie Ruiz's song "Esta Vez Sí Voy Pa' Encima". The artists wanted to present a message of hope amidst the confusion and fear of the pandemic. The artwork can be read as both outstretched hands and wings.
Images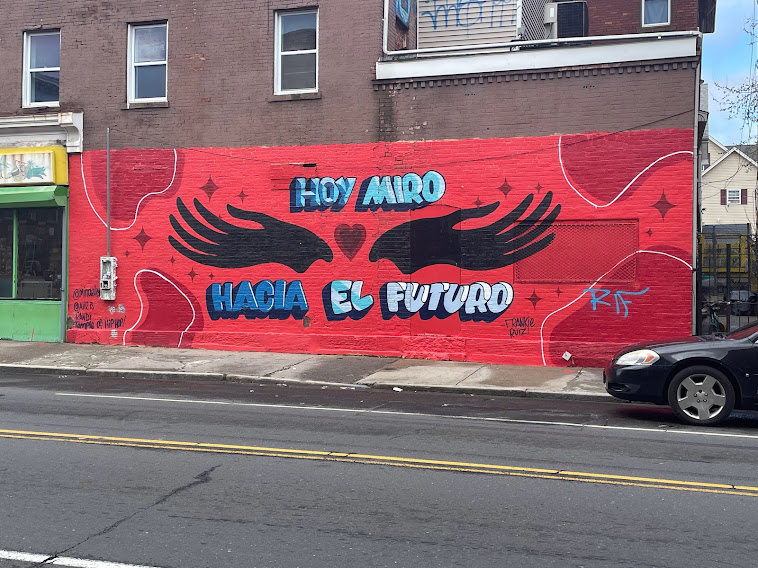 Backstory and Context
Author-Uploaded Audio
Lindaluz Carillo: "It's like, I wanted to do something that represented hope because I felt like during the beginning of COVID, a lot of turmoil, people were just, you know, dying, and dealing with a lot of suffering, emotional, physical, you know. Whether you had COVID or had family members that experienced it, you know, very traumatic time. So I thought that this, you know, kind of fit the aesthetic. And then Mina, you know, she ended up doing these hands that kind of look like wings, so you can actually stand there, right? And then just take a picture."
Sources
Frog Hollow Oral History Research Team, "Hoy Miro Hacia El Futuro," Frog Hollow Oral History, accessed April 10, 2022, https://action-lab.org/frog-hollow-oral-history/items/show/23.