El Mercado
Introduction
El Mercado is a grocery store and marketplace selling produce, herbs, spices, and more. Many of these ingredients are foods that you won't find at the average Stop and Shop. In addition to being a supermarket, there is a food court with four different restaurants inside the building. These include El Tepeyac, a Mexican restaurant, Antojitos Colombianos, which serves Colombian food, El Gran Dominicano, both Dominican and Puerto Rican, and a Peruvian restaurant, Autentico Sabor Peruano.
Images
The front entrance to El Mercado - busy even on a Sunday morning!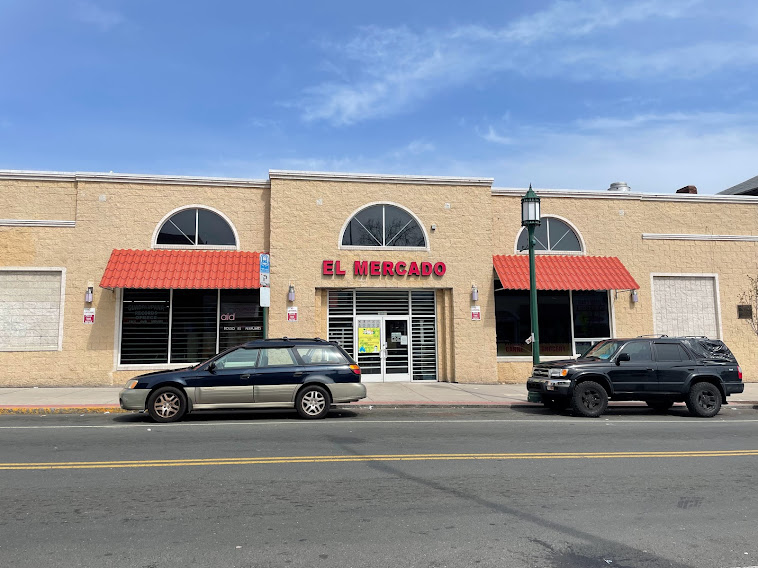 Backstory and Context
Construction on El Mercado began in 1976, funded through a series of grants from the state. The Broad-Park Development Corporation spearheaded the project. El Mercado was preceded by other development around Park Street, making room for several new businesses. The building replaced a vacant lot. A local merchant's association expressed doubt about the project, insisting that the area had enough food stores as is, but together with the Broad-Park Development Corporation, they managed to come to compromises.
El Mercado is a way for people to connect to their cultures. For example, artist Constanza Segovia speaks of how seeing Argentinian foods for sale at El Mercado helped create a connection between her as an Argentinian and the wider city of Hartford.
Sources
Steve Walsh, "Mercado to Provide Marketplace on Park St.," Frog Hollow Oral History, accessed March 10, 2022, https://action-lab.org/frog-hollow-oral-history/items/show/24.
Trinity College, "Interview with Constanza Segovia," Watkinson Library and College Archives Virtual Museum, accessed March 10, 2022, https://trinitywatkinson.domains.trincoll.edu/virtualmuseum/items/show/18.