WVU Art Movement PRT Mural
Introduction
The WVU Art Movement is a student organization at West Virginia University dedicated to supporting, promoting, and creating public art for the WVU and Morgantown community. They created the PRT Mural under the WVU Beechurst PRT station in the fall of 2015 using WVU blue and golds and river iconography to reflect the location.
Images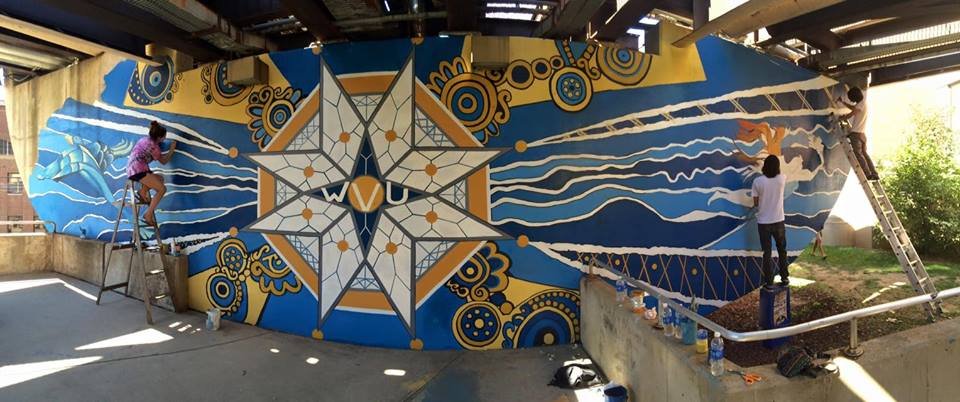 Backstory and Context
WVU students came together in 2013 to beautify the campus with public art, and after getting more students on board, created the WVU Art Movement student group.
The project was approved by WVU administration though there was no immediate funding. So, they began painting using donations received and with the help of volunteer workers, they finished quickly
Three drafts were presented to the board at WVU before the final design was prepared, an abstract design with symbolism. The waves represent the Monongahela River which flows right through downtown Morgantown alongside the campus.
The center star, was created using the Fibonacci sequence of Art. Fibonacci is a sacred geometrical mathematical pattern, one that Da Vinci himself used to use. According to Valera, everything in nature has this pattern.
Also among the recognizable symbolism is a woman holding a torch, commonly an icon of freedom and liberty. The torch alone is a well-known symbol for liberty, and the fire for hair on the woman represents freedom of expression in a non-academic sense. The bird on the left symbolizes of freedom.
Sources
Dewitt, Angie. WVU's Mural in the Mountains. Underground Morgantown. March 31, 2016. Accessed July 23, 2018. https://morgantownunseenscene.wordpress.com/2016/03/31/wvus-mural-in-the-mountains/.

Cecily, Flight. WVU Art Movement: PRT Mural Project. Seelio. April 10, 2016. Accessed July 26, 2018. https://seelio.com/w/280y/wvu-art-movement-prt-mural-project.