Don Knotts Statue
Introduction
Dedicated in 2016, this statue commemorates the life and career of Don Knotts, an actor and comedian from Morgantown. Knotts is best known for his portrayal of Barney Fife on The Andy Griffith Show from 1960-1968. Knotts also starred in films like "The Ghost" and "Mr. Chicken and The Shakiest Gun in the West." His career and legacy influenced many other comedians and he was a beloved figure among his fellow West Virginians for both his success in Hollywood and the way that success did not change the kind and open person who was raised here.
Images
Don Knotts Statue, outside the Metropolitan Theater in Morgantown, WV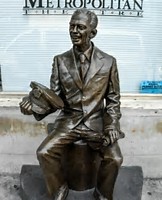 Don Knotts' star on the sidewalk in front of the Metropolitan Theatre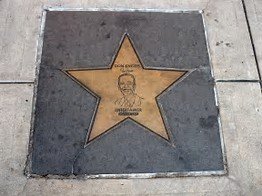 Don Knotts Boulevard, Morgantown, WV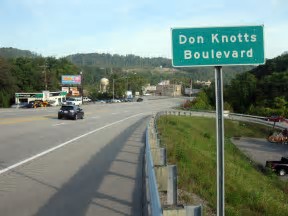 Photo of Don Knotts from a 1975 CBS comedy special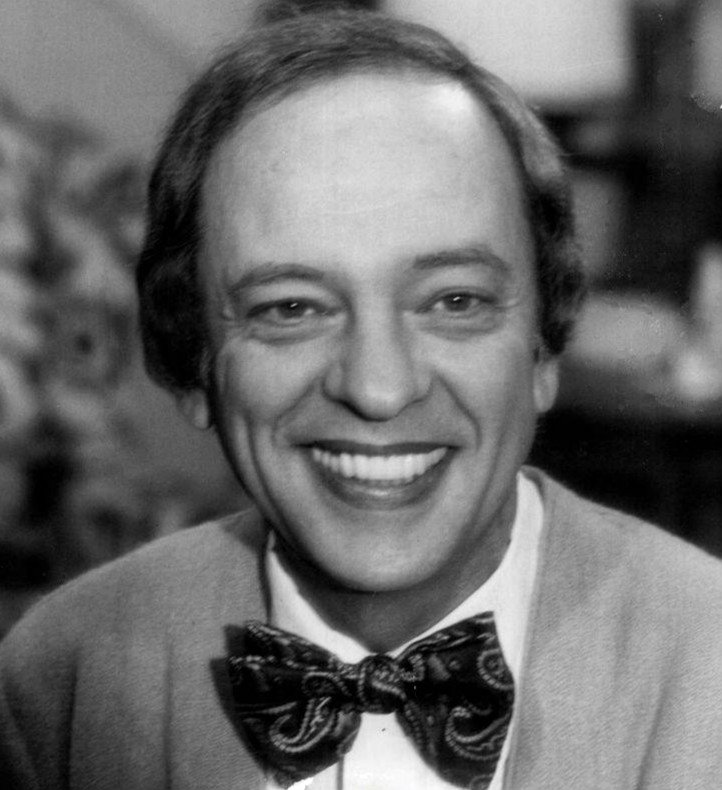 Backstory and Context
Don Knotts was born Jesse Donald Knotts to William Jesse Knotts and Elsie Luzetta Knotts. Don Knotts was the youngest of four sons. His father passed away when he was thirteen and he and his brothers were raised by their mother in Morgantown. Knotts attended Morgantown High School, where he first became interested in acting. His first gigs involved performing as a comedian and ventriloquist at local Morgantown churches. Immediately after graduating high school, Knotts went to New York City in hopes of landing a career as a comedian. However, he was only gone a few weeks before returning home to enroll at West Virginia University (WVU). After a year in college, Knotts joined the army. During WWII, the aspiring comedian was able to practice his trade touring the Pacific as part of the GI variety show "Stars and Gripes." Though he was an awarded serviceman, Knotts elected to return to WVU rather than pursue a military career.
Knotts completed his bachelors degree in education between 1946 and 1948. In addition to the education degree, Knotts also acquired a minor in speech. He was active on campus and belonged to the Phi Sigma Kappa fraternity and the Alpha Psi Omega theater honors society. After graduating from WVU in 1948, Knotts returned to New York City. With his experience in the army entertaining troops, he was more successful the second time around and soon found jobs appearing on a variety of radio and television programs. In 1955, Knotts made his Broadway debut and was introduced to future co-star Andy Griffith in "No Time for Sergeants," a theatrical production that was later produced as a movie.
Knotts joined Griffith again in 1960 for the first episode of the Andy Griffith Show. Playing the role of hapless but eager deputy Barney Fife, Knotts won three Emmy Awards for outstanding performance in a supporting role in a TV series. Knotts reprised this role many times over the years in various spin-offs and special episodes. He also made frequent appearances on shows such as The Cosby Show and Here's Lucy. Though in 1970 Knotts received his own television variety show, The Don Knotts Show, it was relatively unsuccessful and short-lived. His next big role was in 1979 when he was cast as the landlord Ralph Furley on Three's Company. Knotts continued to appear in television shows and movies up until the end of his life, often playing Barney Fife or a transparent homage to the character.
In 1998, South University Avenue was renamed Don Knotts Boulevard in honor of the comedians 74th birthday. The effort to rename the road began with Monongalia County Commissioner John Pyles who initiated the campaign to change the name of the roadway after watching reruns of the Andy Griffith Show. At the same time, the Monongalia County Sheriff's Department named Barney Fife an honorary deputy sheriff. Knotts passed away on February 21, 2006 after contracting lung disease. Efforts to construct a statue to honor Knotts in Morgantown began immediately when local residents started raising funds. The statue is located at Morgantown's Metropolitan Theater where Knotts performed as a boy. Sculptor Jamie Lester made it his goal to capture the warmth of the local comedian and the statue also depicts Knotts holding Barney Fifes hat while a prop from "The Ghost and Mr. Chicken" can also be seen in the work. Fans, friends, and local residents attended the statue's dedication in 2016 as the statue was unveiled by the late comedian's daughter Karen Knotts. Don Knotts' legacy as an accomplished actor hailing from Morgantown continues to be a source of pride and inspiration for the local community.
Sources
de Vise, Daniel. Andy and Don: The Making of a Friendship and a Classic American TV Show. New York, NY. Simon & Schuster, 2015.
Don Knotts, West Virginia University Alumni. Accessed August 26th 2020. https://web.archive.org/web/20140222060936/https://alumni.wvu.edu/awards/academy/don_knotts.
Hopwood, Jon C. Don Knotts, IMDB. Accessed August 26th 2020. https://www.imdb.com/name/nm0461455/bio.
Wiles, Sunshine. Don Knotts statue unveiled in Morgantown. WV Metro News. June 23, 2016. Accessed May 12, 2018. http://wvmetronews.com/2016/07/23/don-knotts-statue-unveiled-in-morgantown/.
Additional Information