Charles Ebbets House in Fiske Terrace
Introduction
The house at 1666 Glenwood Road was built around 1907 in the new subdivision Fiske Terrace, in the Midwood section of Brooklyn. The house was the final home of Brooklyn Dodgers owner Charles Ebbets, who lived here from 1912 until his death in 1925. Ebbets Field, the new home of the Brooklyn Dodgers in 1913, was named for him. The original owner and architect are not known. The wood frame house covered with brick, wood clapboard, and wood shingles is one of many within the Fiske Terrace-Midwood Park historic district, a New York City landmark since 2008. The house has had several modifications. The roof was extended to create a carport and the front porch was enclosed with brick walls around 1920. A brick garage was built in the rear of the lot around the same time.
Images
Sketch of Charles Ebbets from 1895 Brooklyn Daily Eagle newspaper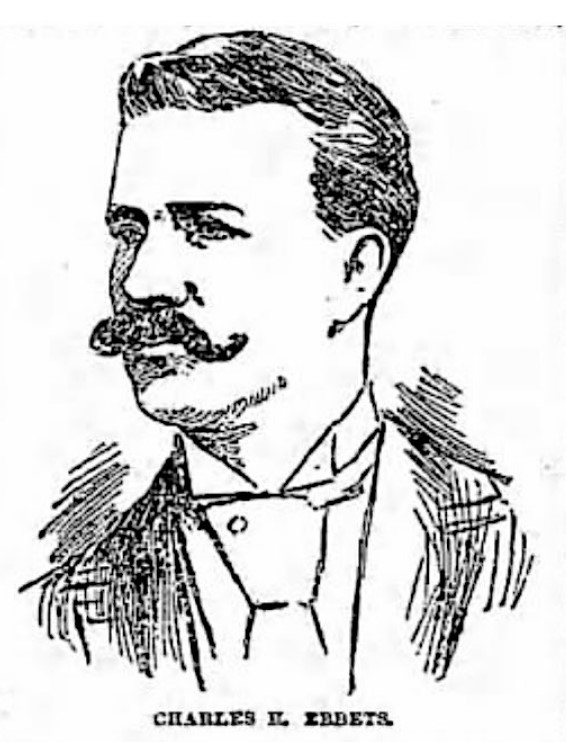 Photo of Ebbets from 1913 newspaper article re: new Ebbets Field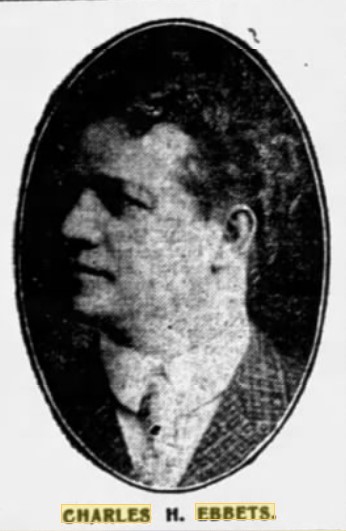 Circa 1915 photo of Charles Ebbets (Bain News Service)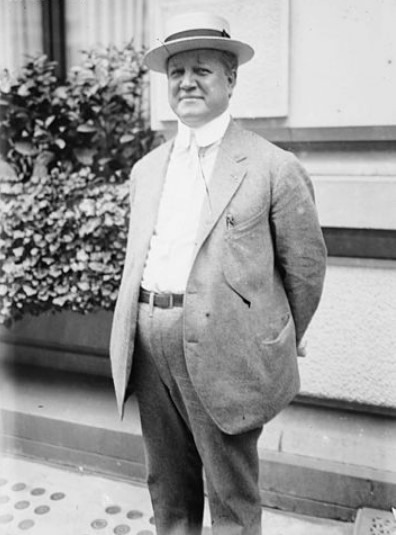 Future location of Ebbets House block (green oval) on John Alott farmland on 1890 Robinson map (p. 6)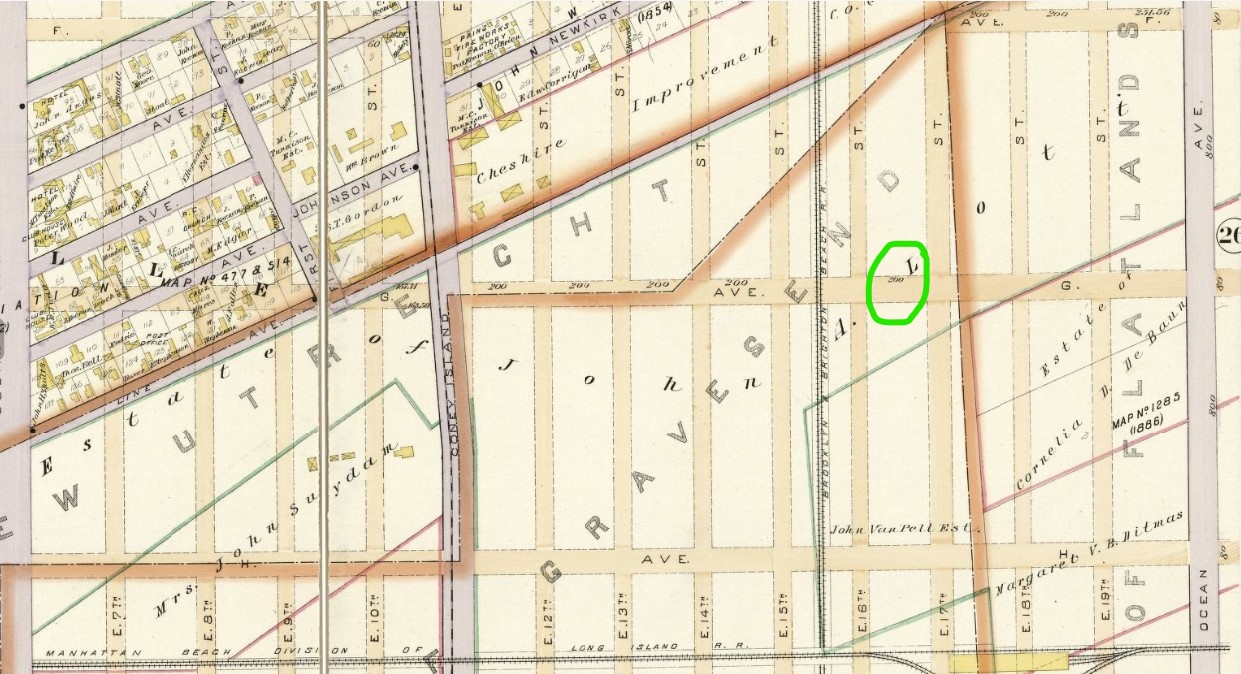 Charles Ebbets House (green X) on 2008 map of Fiske Terrace-Midwood Park Hist. Dist.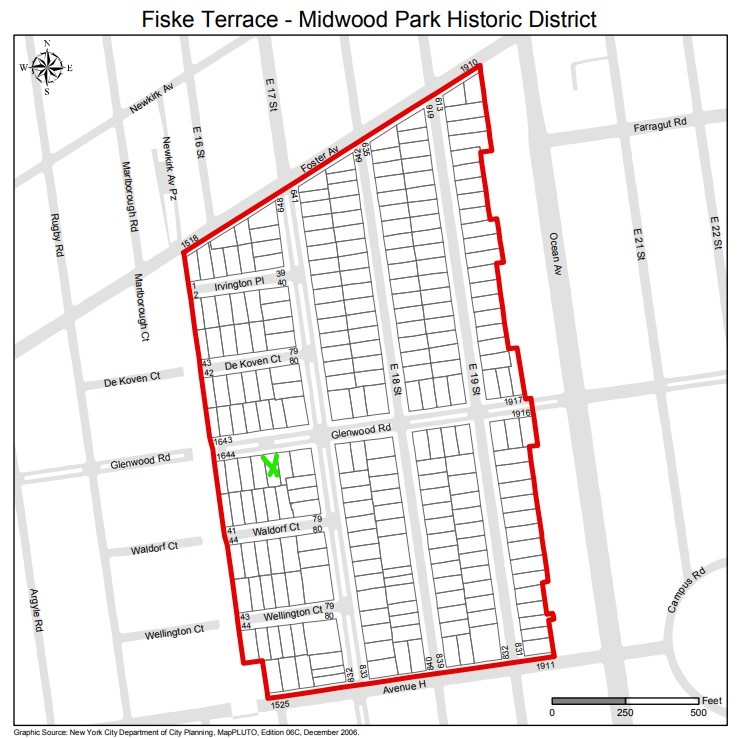 Backstory and Context
Charles Hercules Ebbetts, Sr. (1859-1925) became the owner of the Brooklyn Dodgers baseball team in 1898. "Charlie" was born in the Greenwich Village neighborhood of Manhattan. He enjoyed baseball but was even better at bowling. He was orphaned at age 17 when his mother died. His early jobs included working as an architectural draftsman and selling novels door-to-door. In 1883 at age 23, he began working for the Brooklyn Dodgers Baseball Club as a clerk and ticket seller and worked his way up to manager, president, and owner. He spent a few years as a local alderman and one year as a state legislator in the 1890s. The new home field of the Dodgers, the former Ebbetts Field in Brooklyn, was built in 1912-1913 and raised in 1960.
Charles Ebbets married twice; the first was in 1878 to Minnie F. Broadbent of New York City. The young couple married in Trinity Church in Manhattan; they had one son and three daughters. Around 1903, Charles met a married woman, Grace Nott, whose husband operated a hotel. The two began having an affair that led to both marriages ending. Grace and her husband Claude R. were divorced in 1909. Minnie Ebbets was no longer living with Charles by 1910; her address was 214 Parkside Avenue in Brooklyn. Charles and Grace were living at the Glenwood Rd. house by 1915. In 1919, Charles Sr. was listed in the Society "Blue Book" as residing at 1466 Glenwood Rd. (the former address of the 1666 Glenwood Rd. house); Minnie lived in Flatbush at 193 Ocean Ave. Ebbets' address was still 1466 Glenwood Rd. in a 1920 Brooklyn Chamber of Commerce Bulletin. Minnie sued for divorce in 1919 and the divorce was finalized in January 1922.
In May 1922 Charles and Grace were married. Charles had a second house built in Clearwater, Florida in 1924, where the Dodgers' spring practice had moved in 1923. He returned to Florida for spring training early in 1925; when he returned to New York, he checked into a room at the Waldorf Astoria Hotel in Manhattan. He fell ill and died at the hotel of heart failure on April 18th at age 65. Charles listed his address as 1466 Avenue G when he wrote his will in 1924; Avenue G became Glenwood Rd. in the subdivision but both names were used; the numbering system later changed 1466 to 1666. Charles left Grace all of the household goods, furnishings, and automobiles at 1466 Avenue G. He left his first wife a house on Ocean Avenue for her lifetime. Grace later moved to Mineola on Long Island. The estate took decades to be settled between the widow and Charles' three children (Charles Jr., Maie Ebbets Cadore, and Anna Ebbets Booth) due to provisions on his ownership of half of the Dodgers.
Charles had a quirky sense of humor. He left $5,000 to the Brooklyn Club in his will to be invested; the proceeds were to go to an annual dinner in Ebbets' honor; the first dinner was held in 1929. A group called the Ebbets Last Man Club held a banquet annually on Ebbets' birthday, October 29th, in the Brooklyn Club on Remsen St. They set up empty chairs for Ebbets and anyone else of their group of 18 who had departed. The club members drank a toast to each of the departed members. The last man alive would be drinking 17 toasts!
By 1953, the McCotter family lived at 1666 Glenwood Rd. including Gilbert E., a 1940 graduate of Cornell University's School of Hotel Administration. The house is rectangular in plan with a rear 1-story extension and a brick-enclosed full-width front porch. The 2,700+ square ft. home hasn't sold since 1992.
Sources
Anonymous. "The Men Whose Enterprise All Brooklynites Applaud." Standard Union (Brooklyn) April 9th 1913. 11-11.
Anonymous. "Ebbets' Will Leaves Son $2,000 Income." Standard Unio (Brooklyn) May 6th 1925. 1-20.
Brooklyn Chamber of Commerce. Membership List. Brooklyn Chamber of Commerce Bulletin. November 27th 1920. 5 - 38.
Brooklyn Life Publishing Company. Brooklyn Blue Book and Long Island Society Register 1919. Brooklyn, NY. Brooklyn Life Publishing Company, 1919.
Caratzas, John. NYC LPC. Fiske Terrace-Midwood Park Historic District, Designation Report. NYC landmarks. New York, NY. NYC Government, 2008.
Cornell Society of Hotelmen. Directory of the Cornell Society of Hotelmen. Ithaca, NY. The Society, 1953.
Munro, Donald. "Last Man Club to Speak of Ebbets and of Death, but Also to Wine and Dine." Standard Union (Brooklyn) October 29th 1931. 3-3.
Realtor.com. 1666 Glenwood Rd, Brooklyn, NY 11230, Realtor.com. January 1st 2022. Accessed April 8th 2022. https://www.realtor.com/realestateandhomes-detail/1666-Glenwood-Rd_Brooklyn_NY_11230_M39282-65316.
Saccoman, John. Charlie Ebbets, Society for American Baseball Research. Accessed April 6th 2022. https://sabr.org/bioproj/person/charlie-ebbets/.
Zinn, John G. Charles Ebbets: The Man Behind the Dodgers and Brooklyn's Beloved Ballpark. Jefferson, NC. McFarland & Company, Inc., 2019.
Image Sources
https://en.wikipedia.org/wiki/Charles_Ebbets#/media/File:1895_Charles_Ebbets_-_Brooklyn_Daily_Eagle.jpg

"The Men Whose Enterprise All Brooklynites Applaud," Standard Union (Brooklyn, NY), Apr. 9th issue, p. 11

https://en.wikipedia.org/wiki/Charles_Ebbets#/media/File:Charles_H._Ebbets_Sr.,_owner_of_Brooklyn_Dodgers,_circa_1915.jpg

Library of Congress (LOC): https://www.loc.gov/item/2011594778/

2008 Hist. Dist. designation report, Caratzas & NYC LPC: http://s-media.nyc.gov/agencies/lpc/lp/2208.pdf

Additional Information