House at 57 DeKoven Court
Introduction
The house at 57 DeKoven Court was one of the first built in the new Midwood Park subdivision in 1903. "Midwood" comes from the Dutch "Midwout," their name for the Flatbush area of Brooklyn when it was part of a Dutch colony. The house's Dutch Colonial Revival architectural features are well-preserved, including a gambrel roof end turned to the front, a denticulated cornice, and a wide front veranda with square columns. The house is part of the New York City landmarked historic district of Fiske Terrace-Midwood Park, designated in 2008. It remains a single-family home with over 2,500 square feet.
Images
House at 57 DeKoven Ct. in 2007 photo by Carl Forster for NYC Landmarks Preservation Commission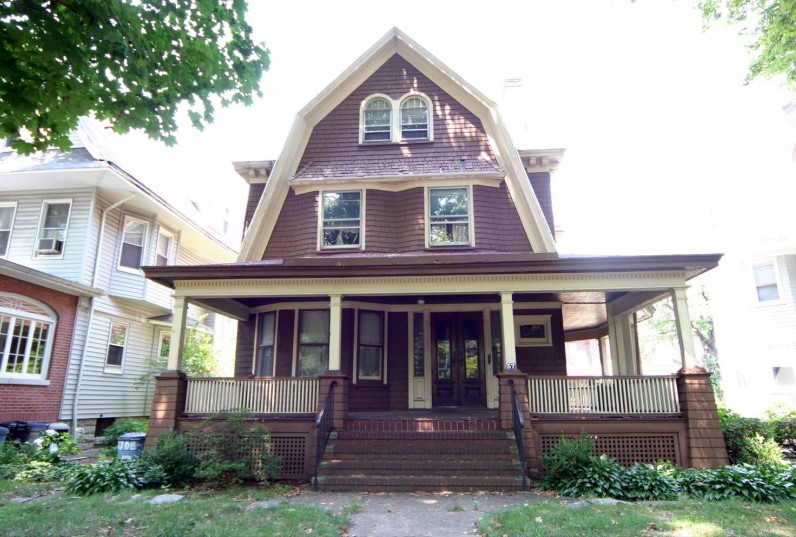 57 DeKoven Court house (green X) on map of Fiske Terrace-Midwood Park Hist. District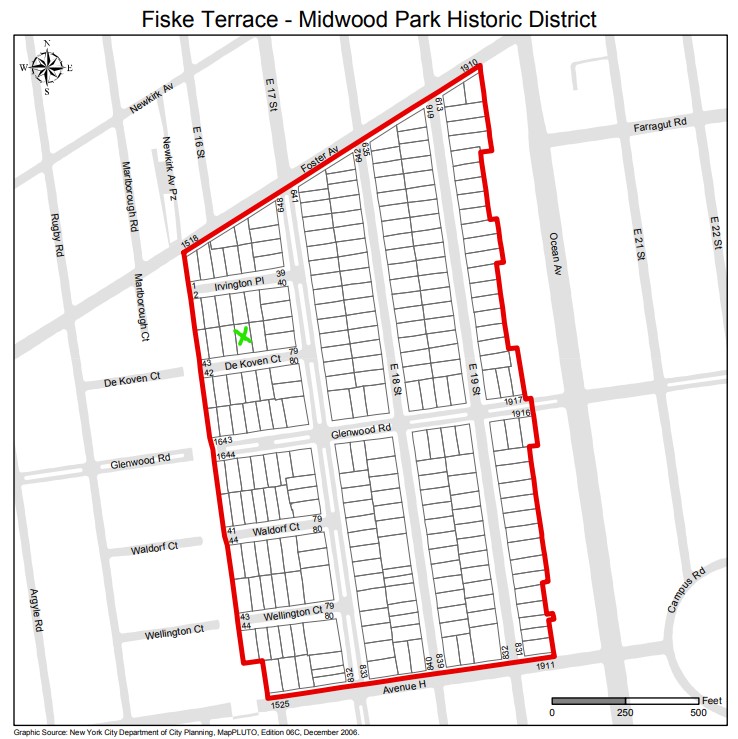 Land owned by Germania Company in 1899, prior to subdivision or DeKoven Court road construction (Hyde p. 1)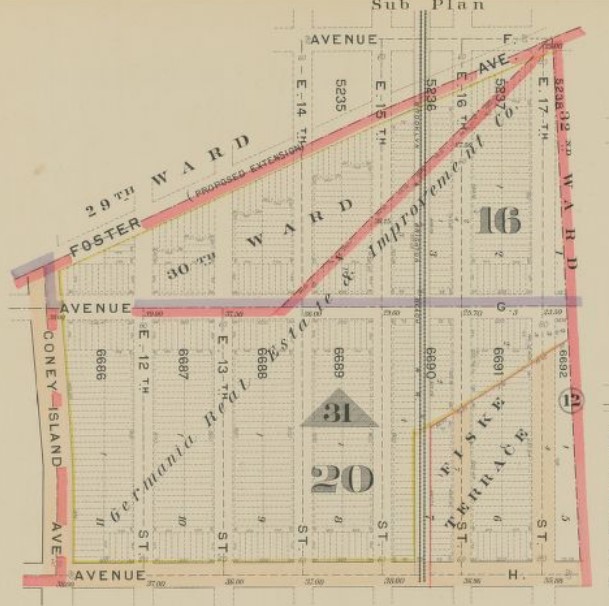 Backstory and Context
Midwood Park began as part of a larger subdivision called South Midwood, established on the former farm of John A. Lott. The Lott family sold the property to the Germania Real estate and Improvement Company in 1898 for under a half million dollars. The company, under Henry A. Meyer, had already completed the Vanderveer Park subdivision on Avenue D in Brooklyn, which sold out quickly. Around 1909, residents of the north half of what is now the Fiske Terrace-Midwood Park Historic District adopted the name Midwood Park; it was bounded by Foster Ave. on the north, Ocean Ave. on the east, mostly Glenwood Rd. on the south, and the Brighton line subway on the west.
The new Midwood Park subdivision had rules for builders instituted by the Germania Company. Only single-family homes were allowed, and they needed to be two at least two stories and cost at least $5,000. Minimum house lot size was 50 by 100 feet; exterior house side walls needed to be no wider than 30 feet apart, although eaves and piazzas could be wider. Front fences were prohibited. Over three-fourths of the homes in the Midwood Park part of the Fiske Terrace-Midwood Park Historic District were built by the John R. Corbin Company, incorporated in 1902, including the house at 57 DeKoven Court. Corbin was a carpenter who studied architecture and became a contractor in Brooklyn in 1895. Benjamin Dreisler was the architect for this DeKoven Crt. house, in the western section of Midwood Park. Although not our house, Corbin sold another house he built on DeKoven Court (#34), on a 35 by 105 ft. lot, for $8,600 in 1908.
Midwood Park's residents were in an uproar in fall 1912 when a new assessor dramatically raised the assessment values of their homes, causing their taxes to go up. One resident complained that less than six new houses had been built in Midwood Park in the prior five years, and their assessments went up two years prior; he argued that existing houses shouldn't have appreciated in value. He told of a neighbor who had been trying to sell his house for over a year due to a work move, at lower than the previous assessed value, with no takers. Directors of the Midwood Park Property Owners Association planned to meet to address the issue.
In 1938, 57 DeKoven Court was owned by Louise B. Kiendl, the widow of Brooklyn attorney Theodore Kiend. Mr. and Mrs. Kiendl lived elsewhere in Brooklyn (Pennsylvania Ave.) in 1916 when their son, Theodore Jr., got married; they had purchased the Pennsylvania Ave. house in 1903. The Kiendls moved by 1919, to Arlington Ave. in Brooklyn, when daughter Louise wed; it is unknown how much later they acquired the DeKoven Court house. Louise Kiendl died in August 1946 at age 88; services were held at her summer home, Oldfield, in Setauket, Long Island.
The 57 DeKoven Court house is wood frame covered with wood shingles, 2.5 stories tall with a basement, five bays wide, with a rough-faced concrete block foundation. The building is shaped like an L with projecting bays on the front facade. There's a full width, wraparound front porch and a later brick stoop with wrought iron railings. The second story has two bowed bays above the porch, and one bay with paired fenestration below the gambrel roof peak. A garage in the rear of the lot was added in 1920 and is made of rough-faced concrete block.
Sources
Anonymous. "Realty Matters: Transfers." Brooklyn Citizen (Brooklyn) September 22nd 1903. 9-9.
Anonymous. "Sales of Corbin Houses." Brooklyn Daily Eagle (Brooklyn) May 16th 1908. 26-26.
Anonymous. "City's Valuations Stir Midwood Park." Brooklyn Daily Eagle (Brooklyn) October 2nd 1912. 2-2.
Anonymous. "Mr. Theodore Kiendl Jr. Marries Miss Vaughan." Brooklyn Life (Brooklyn) June 24th 1916. 12-12.
Anonymous. "Miss Louise Kiendl Weds Archibald Douglas McKeige." Brooklyn Daily Eagle (Brooklyn) November 19th 1919. 7-7.
Anonymous. "Debutante Tells How She Escaped Highwayman." Brooklyn Daily Eagle (Brooklyn) April 6th 1938. 1-1.
Anonymous. "Kiendle, Louisa B." Times Union (Brooklyn) August 8th 1946. Obituaries sec, 11-11.
Nelson, R. H. Company. Views of Brooklyn. pamphlet. Portland, ME. L. H. Nelson Company, 1905.
NYC LPC. Caratzas, Michael D. Fiske Terrace-Midwood Park Historic District, Designation Report. NYC landmarks. New York, NY. New York City Government, 2008.
Redfin. 57 Dekoven Ct, Brooklyn, NY 11230, January 1st 2022. Accessed April 7th 2022. https://www.redfin.com/NY/Brooklyn/57-Dekoven-Ct-11230/home/40789708.
Image Sources
NYC LPC Designation Report, Fiske Terrace-Midwood Park Hist. Dist., 2008, Fig. 20: http://s-media.nyc.gov/agencies/lpc/lp/2208.pdf

NYC Landmarks Preservation Commission Designation Report, Fiske Terrace-Midwood Park H.D. (NYC LPC 2008)

Library of Congress (LOC): https://www.loc.gov/item/2008622003/

Additional Information