Gage and Tollner Building
Introduction
The four-story brownstone building at 372 Fulton Street has been standing since about 1875. Gage and Tollner's Restaurant began in 1879 and moved to the Fulton Street building in 1892. The wooden storefront was probably added in 1892. The restaurant went through a number of owners before closing in 2004. TGI Fridays then moved into the space and left in 2007, followed by an Arby's in 2010 and a jewelry and coat store by 2012. The interior was designated a New York City Landmark in 1975, to recognize its Late Victorian appearance; the building was listed in the National Register in 1982. Recently, Gage and Tollner reopened as an oyster and chop house under new ownership in its old location after renovations.
Images
Front of vacant Gage and Tollner building in 2008 (Zefferus)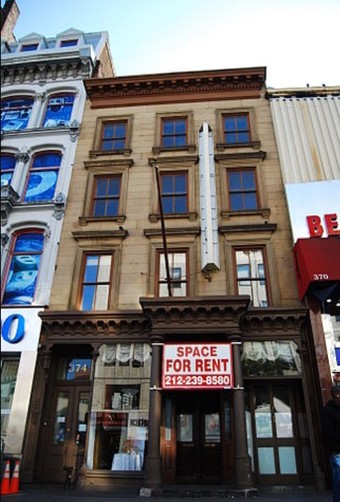 Exterior of Gage and Tollner building in 1974 photo (NYC Landmarks Preservation Commission)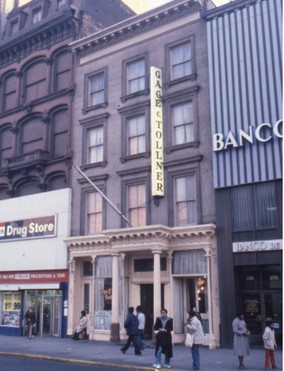 Historic interior of ground floor dining room in 1981 photo (NRHP)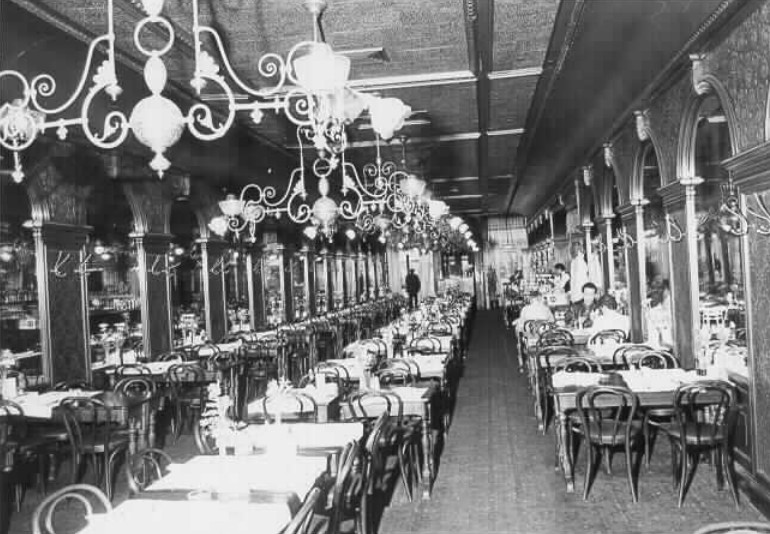 Front of Gage and Tollner building in 1981 photo for the NRHP nomination
Backstory and Context
Charles M. Gage opened a restaurant in Brooklyn in 1879 at 302 Fulton Street, specializing in oysters. One of his regular customers was Eugene Tollner, a cigar salesman. Gage brought Tollner in as a partner in 1884, renaming the restaurant Gage & Tollner. The restaurant moved to 372-374 Fulton Street in 1892. The partners claimed their restaurant was the first in Brooklyn to be lit by the newfangled incandescent electric bulbs; the chandeliers were backed up by gaslighting, the tried-and-true lighting of the era.
The partners retired in 1911 and sold the restaurant to xx Cunningham and xx Ingalls. Ingalls died a few weeks later, and Tollner returned to his favorite hangout and worked for another 24 years, for the rest of his life. Tollner died on his way to work on the day before his 86th birthday. Gage helped out, too, until he died in 1919. Also in 1919, Cunningham and Ingalls sold the business to Seth Bradford "Brad" Dewey. After the deaths of Brad in 1938 and his wife, their son, Ed Dewey took over the restaurant in 1949. Ed was an engineer, a World War II Navy veteran, and husband to Gertrude "Trudy." Trudy was very involved in the running of the kitchen and in keeping the company books. Ed's little brother, Tom, worked as a manager in the 1950s and 1960s.
A man named Leon Gaskill began working at Gage and Tollner in 1904. The headwaiter continued to work at the restaurant until 1966, making him the longest-running employee in the history of Gage and Tollner. The restaurant was still known for its seafood and was called one of the best seafood restaurants in the world in 1952 in the first annual Restaurant Awards by Holiday Magazine; no other Brooklyn restaurant made the list. Gage and Tollner received the award many more times.
Ed Dewey took on a business partner in 1973, John B. Simmons. Ed. Trudy, and John converted the second floor into two private dining rooms in 1977. Peter Aschkenasy bought the restaurant in 1988 and hired the renowned Southern chef Edna Lewis, who was 72 years old at the time. For the first time in a century, the menu included down home cooking like Charleston she-crab soup and spoon bread. The restaurant was restored to its Late Victorian original elegance by the man who bought the business in 1995, Joe Chirico, a restauranteur from southern Italy. The building's mahogany tables, cherrywood trims, brass gaslight fixtures, and mirrored/faux leather wallcoverings in the long, narrow dining room cost $500,000 to restore. Clam bellies, the tender middle of the clam, breaded and broiled were served with toast and were unique to Gage and Tollner. The last meal Chirico served at Gage and Tollner was on February 14, 2004. A developer named Joseph Jemel bought the structure and converted the upper two floors to office space. A number of fast-food restaurants and discount stores occupied the building for years.
The latest phase of the restaurant includes its rebirth as Gage and Tollner in 2021 after several years of planning and renovation, with pandemic-related delays thrown in. The new restauranteurs are Ben Schneider, St. John Frizell, and chef Sohui Kim.
Sources
Davis, L J. Brooklyn's Grand Old Restaurant. Brooklyn: A State of Mind, Scenes chapter. January 1st 2001. 210 - 212.
Gage & Tollner. Timeline, Gage & Tollner. January 1st 2021. Accessed December 22nd 2021. https://www.gageandtollner.com/history/.
Gage & Tollner. The Founders, Gage & Tollner. January 1st 2021. Accessed December 22nd 2021. https://www.gageandtollner.com/the-founders/.
Gage & Tollner. The Deweys, Gage & Tollner. January 1st 2021. Accessed December 22nd 2021. https://www.gageandtollner.com/the-deweys/.
Gage & Tollner. Edna & Peter, Gage & Tollner. January 1st 2021. Accessed December 22nd 2021. https://www.gageandtollner.com/edna-and-peter/.
Gage & Tollner. Joe Chirico, Gage & Tollner. January 1st 2021. Accessed December 22nd 2021.https://www.gageandtollner.com/joe-chirico/.
Marrone, Francis. An Architectural Guidebook to Brooklyn. Edition First. Salt Lake City, UT. Gibbs-Smith, 2001.
Image Sources
https://en.wikipedia.org/wiki/Gage_and_Tollner#/media/File:WSTM_Zefferus_0152.jpg

New York State Cultural Resource Information System (NYS CRIS): https://cris.parks.ny.gov/Default.aspx

NYS CRIS: https://cris.parks.ny.gov/Default.aspx

NYS CRIS: https://cris.parks.ny.gov/Default.aspx

Additional Information